Apple sells out of launch day iPhone X supply in matter of minutes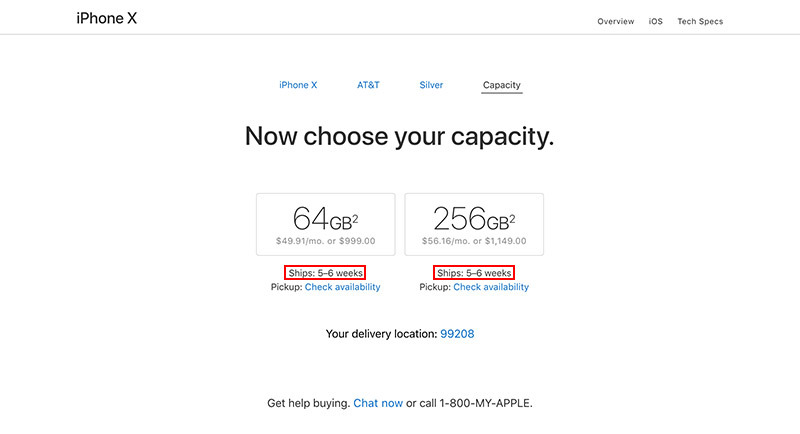 Launch day supply of Apple's iPhone X was exhausted mere minutes after the handset went up for sale early Friday, with rabid demand driving delivery estimates out 4 to 5 weeks for all models, on all carriers.
Apple's flagship smartphone went up for sale just after 12:01 a.m. Pacific on Friday, though only a lucky few were able to snag a copy before ship times began to slip beyond the scheduled Nov. 3 launch date. As of 12:11 a.m., Apple's online store pegged shipments for most models at 2 to 3 weeks, an estimate that quickly rose to 4 to 5 weeks less than an hour later. As of 1:45 a.m. Pacific, shipping estimates stand at 5 to 6 weeks.
Prior to Friday's start to preorders, analysts warned stock on hand would be scarce. KGI's Ming-Chi Kuo, for example, said Apple will likely take receipt of a paltry 2 to 3 million units prior to the November debut. That number is dwarfed by first weekend sales of iPhone 6 — arguably Apple's last "big" iPhone release — which stood at more than 10 million units.
A number of reports leading up to Friday's preorder round noted constrained supply of key iPhone X components. Initially, Apple was seeing low OLED display yields, but those problems were supposedly rectified this summer. Later, rumors fingered the TrueDepth camera as a bottleneck. The advanced depth-sensing camera system requires parts that only a select few manufacturers can provide.
In particular, suppliers were supposedly having trouble producing TrueDepth's "Romeo" element, or the transmission module that includes a dot projector and flood illuminator. Romeo works in tandem with a "Juliet" reception module consisting of sensing elements like infrared and full-color HD cameras.
Kuo believes flexible circuit boards are to blame for the holdup. Most constrained is supply of iPhone X antenna FPCBs made by Murata and Career Tech, with wide-angle camera module FPCBs coming in second. Echoing reports from other outlets, Kuo said dot projectors are also in short supply.
The analyst expects 25 to 30 million iPhone X units to ship in the fourth quarter, while the Nikkei Asian Review expects only 20 million to ship by the end of 2017.
Whatever the final tally, it is clear initial demand for iPhone X is far outstripping Apple's stockpile. The company and its suppliers are working to solve production issues, with Kuo estimating a rapid increase in availability starting in early 2018. For many customers eager to get their hands on Cupertino's latest gadget, that time can't come soon enough.