Apple to stockpile 2-3M iPhone X units prior to launch, component shortage eases in November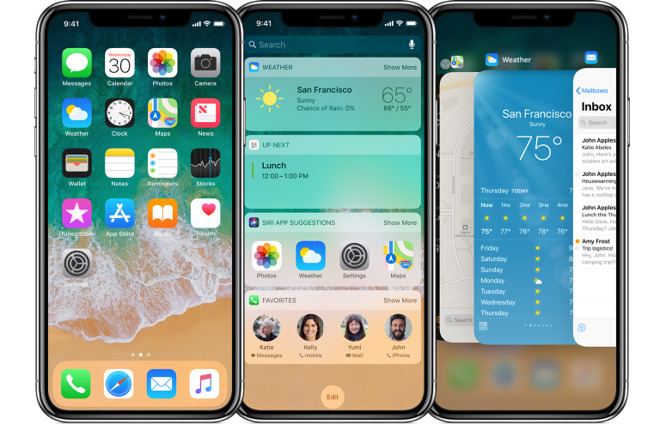 Apple's iPhone X production woes are nearing an end, according to well-informed analyst Ming-Chi Kuo, who says shortages of key components like specialized handset circuit boards should resolved in November.
In a note to investors seen by AppleInsider, Kuo says Apple's assembly yield rate for iPhone X has stabilized, and he expects the company to stockpile between 2 to 3 million units in before the device ships on Nov. 3. While the initial number is exceedingly low, and will most assuredly not meet pent up demand, production should pick up soon after launch thanks to supplier diversification and the resolution of manufacturing issues.
Interestingly, Kuo sees flexible printed circuit boards as iPhone X's main bottleneck. This is in contrast to previous reports, including those from Kuo, claiming hardware associated with the TrueDepth camera system is largely to blame for low production numbers.
In particular, supply of antenna FPCBs is greatly impacting Apple's ability to build in mass quantities.
"Special materials, recipes, design, processes, equipments and tests are required for antenna FPCB, as the specifications for iPhone X antenna (supplied by Amphenol) are higher than those of iPhone 8 and only Murata and Career Tech can meet Apple's requirements," Kuo says. "Murata (originally with a 60% order allocation or higher) won't be able to resolve its issues before 2Q18, and thus has been fully replaced by second supplier Career."
Kuo believes Career will ramp up production in November.
The wide-angle camera module's FPCB is second on Kuo's list of most constrained iPhone X components. Unlike other dual-camera smartphones, Apple's iPhone relies on two separate PCBs, one to control the wide-angle lenser and another dedicated to telephoto hardware. Quality issues at Interflex, which is handling the wide-angle module FPCB that gets shipped to LG Innotek for integration, is believed to be the culprit in this case.
Finally, Apple is seeing issues with the 3D dot projector in its TrueDepth depth-sensing camera. The highly specialized part fires more than 30,000 points of light onto a user's face, which are then read by a receiving module and processed to create a subject depth map. This information is subsequently used to power iPhone X exclusive features like Face ID user authentication.
"We believe the previous design issues of the dot projector sometimes being unable to recognize human faces has been resolved after active alignments or environmental tests were addressed," Kuo says.
The dot projector is one piece of the so-called "Romeo" element, TrueDepth's transmission module that also includes a flood illuminator. "Romeo" pairs with the "Juliet" receiving module, made up of components like infrared and full-color HD cameras.
Kuo cut fourth quarter shipping estimates for iPhone X from 30 to 35 million units down to 25 to 30 million units. Shipments are expected to grow rapidly in the first quarter of 2018, up 50 percent on a sequential basis.