Apple, other tech firms join legal challenge to Trump's DACA plans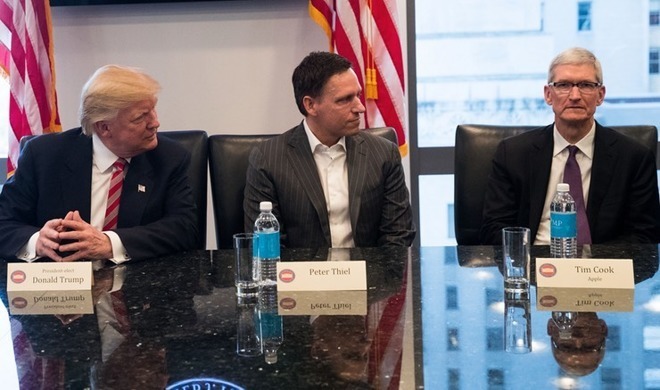 Apple is among a list of high-power technology companies to file briefs in support of a legal effort to halt President Donald Trump's plan to end protections for undocumented immigrants brought into America as children.
On Wednesday, Apple, IBM, Google, Microsoft and a number of other tech firms voiced their objection to Trump's decision to rescind the Deferred Action for Childhood Arrivals (DACA) program, an initiative established by President Barack Obama in 2012, reports Reuters. Among other safeguards, DACA ensures children illegally brought into America are protected against deportation.
IBM said the legal brief in support of a legal challenge to Trump's decision will be filed this afternoon.
In a separate brief, seen by Axios, Apple VP of People Deirdre O'Brien said the company employs more than 250 "Dreamers" in 28 states.
These talented and entrepreneurial people fill important and varied roles across the company, including in operations, research and development, administration, sales and marketing, and retail. Apple and its customers have benefitted greatly from their intelligence, ambition, creativity, resilience, and hard work. These employees are important contributors to Apple's unique culture. That unique culture enables employees throughout Apple to do the best work of their lives and excel at creating the most innovative products and providing the very best customer service.
O'Brien's statement is consistent with a tweet from Apple CEO Tim Cook, who in September said he "stood by" the company's employees who are protected by DACA.
"250 of my Apple coworkers are #Dreamers. I stand with them. They deserve our respect as equals and a solution rooted in American values," Cook said.
While technically incorrect, the term "Dreamers" is the preferred term used to describe children, young adults and working adults who benefit from DACA. A separate proposal, the Development, Relief, and Education for Alien Minors (DREAM) Act, was floated in 2001 as a potential path to residency for certain individuals living illegally in the U.S., but the legislation never passed.
Cook earlier this year signed on to an open letter from more than 350 executives of major U.S. corporations imploring Trump to keep DACA in place. Later, Cook in an interview came down hard on what was then a pending decision to dismantle the immigration protections.
For Silicon Valley, immigration reform is a hot-button topic all big tech firms have a workforce that includes a substantial number of non-U.S. born employees hired through the H-1B visa program. Legal issues relating to foreign employees and their families are of concern for companies like Apple, as are strict immigration rules that could hamper recruiting efforts.
Today's legal briefs come after a group of tech firms, including Apple, Google, Microsoft and Facebook, last week created The Coalition for the American Dream. The group was formed in an attempt to nudge Congress toward legislation that would allow Dreamers to continue to live and work in the U.S., decisions that could be made by the end of the year.
Editor's note: Due to its political nature, comments for this article have been disabled.