iPhone 7, iPhone 6s dominate Q3 smartphone sales, iPhone 8 has strong debut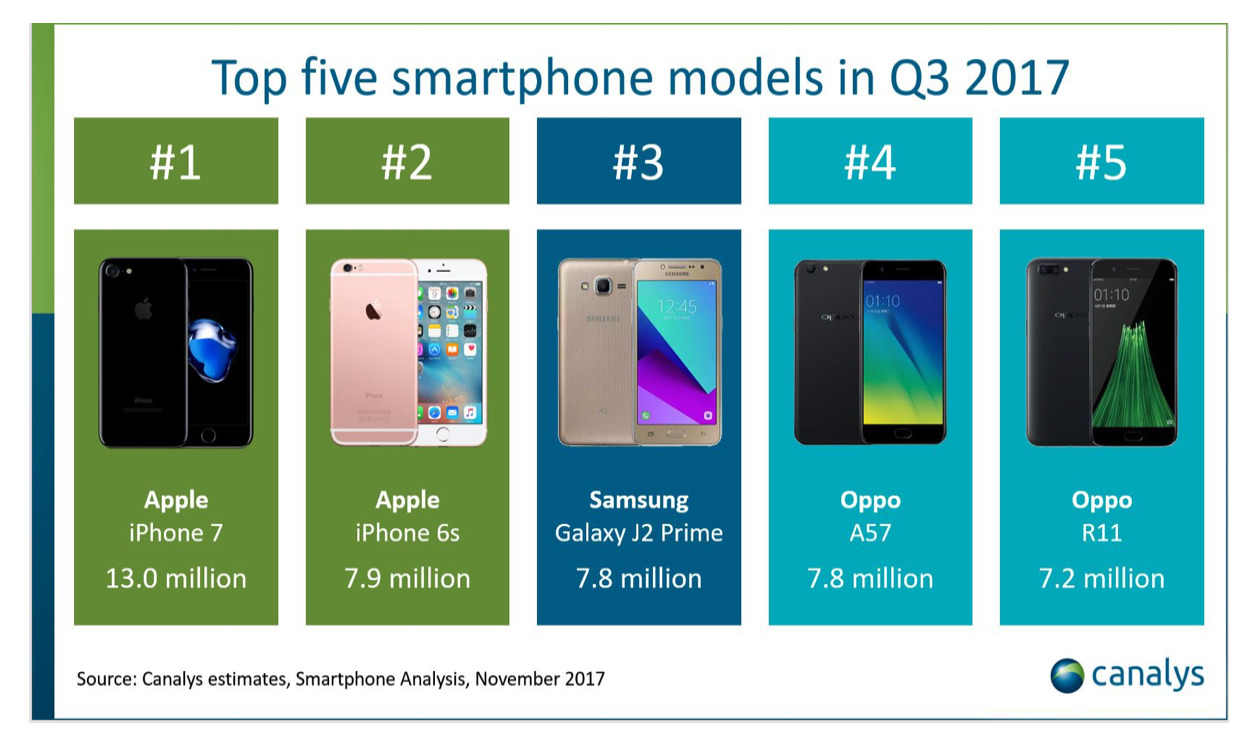 The iPhone held the top two worldwide sales slots in the third quarter of 2017, with the iPhone 7 and iPhone 6s holding the top two spots on the chart.
New data from market research firm Canalys published on Thursday put Apple handily in the top two spots worldwide of devices shipped, with the iPhone 7 and iPhone 6s taking the top two spots. Apple's iPhone 8, available for eight days in the quarter shipped 5.4 million iPhone 8, and 6.3 million iPhone 8 Plus units.
Canalys notes that there was an "uptick" in older models such as the previously mentioned iPhone 6s. The iPhone SE had a strong showing as well, according to the firm.
Correcting the Canalys data for the 92 days in the quarter, the iPhone 7 saw 141,304 phones per day sold. with the iPhone 6s seeing 85,870 devices sold per day. No data was provided for the iPhone SE.
Assuming the Canalys data set about the iPhone 8 is correct, correcting for the eight days available in the quarter, the iPhone 8 sold 675,000 phones per day, with the iPhone 8 Plus selling 787,500 of the larger model.
The "per day" sales for the iPhone 8 family are probably unsustainable, as the first eight days encompasses the press of orders for any new and popular device in the first few days of availability.
Canalys notes that 2017 is the first third quarter that a new iPhone model did not eclipse previous versions with only a few days of availability. However, it is also the first year that Apple has announced three new models on the same day.
"With the launch of the iPhone X, [Apple] now has five tiers of iPhone and delivers iOS at more price bands than ever before," wrote Canalys. "This is a new strategy for Apple. It is aggressively defending its market share, but it will not compromise its rigid margin structure to do so."
Samsung maintains the lead of smartphone vendors, and grew market share with the mid-range Galaxy J2 Prime, and its fleet of low-margin and low-cost Android handsets. The Galaxy J2 Prime retails for $129.99.