Apple explains how to fix macOS High Sierra file sharing after security update breaks feature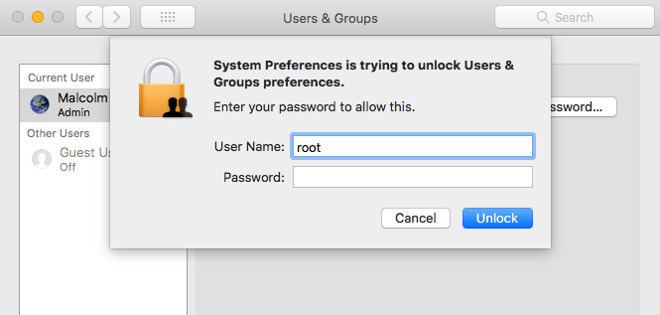 AppleInsider may earn an affiliate commission on purchases made through links on our site.
Though today's macOS High Sierra security update patched a critical root user bug, it introduced a problem that prevents Mac users from authenticating or connecting to file shares on their Mac.
Briefly outlined in a document posted to Apple's Support pages, the issue appears to impact only a portion of macOS High Sierra users who downloaded and installed today's security update.
The number of people affected by the file sharing bug is unknown, but it seems a system library error is to blame for failed authentications. Impacted users took to social media to report the problem, which is quickly solved with a minor Terminal procedure.
As noted by Apple in its Support Document, users experiencing file sharing issues need to do the following:
1. Open the Terminal app, which is in the Utilities folder of your Applications folder.
2. Type sudo /usr/libexec/configureLocalKDC and press Return.
3. Enter your administrator password and press Return.
4. Quit the Terminal app.
That Apple introduced a second issue with its fix for the recently discovered root access bug is unfortunate, but the remedy is a small price to pay to ensure that your Mac is secure.
On Tuesday, researchers went public with a macOS High Sierra flaw that allows anyone to log in as a Mac's "root" System Administrator without requiring a password. Using the same method, nefarious users can also bypass the macOS lock screen and, in some cases, gain root access to a Mac remotely if certain screen sharing, remote access or VNC sessions are enabled.
Apple promised a fix just hours after the security hole hit media outlets. The company delivered the patch early today as Security Update 2017-001, which was made available through the Mac App Store.