First look: Apple's downtown Brooklyn store has custom floors, ceiling to dampen bustling city distractions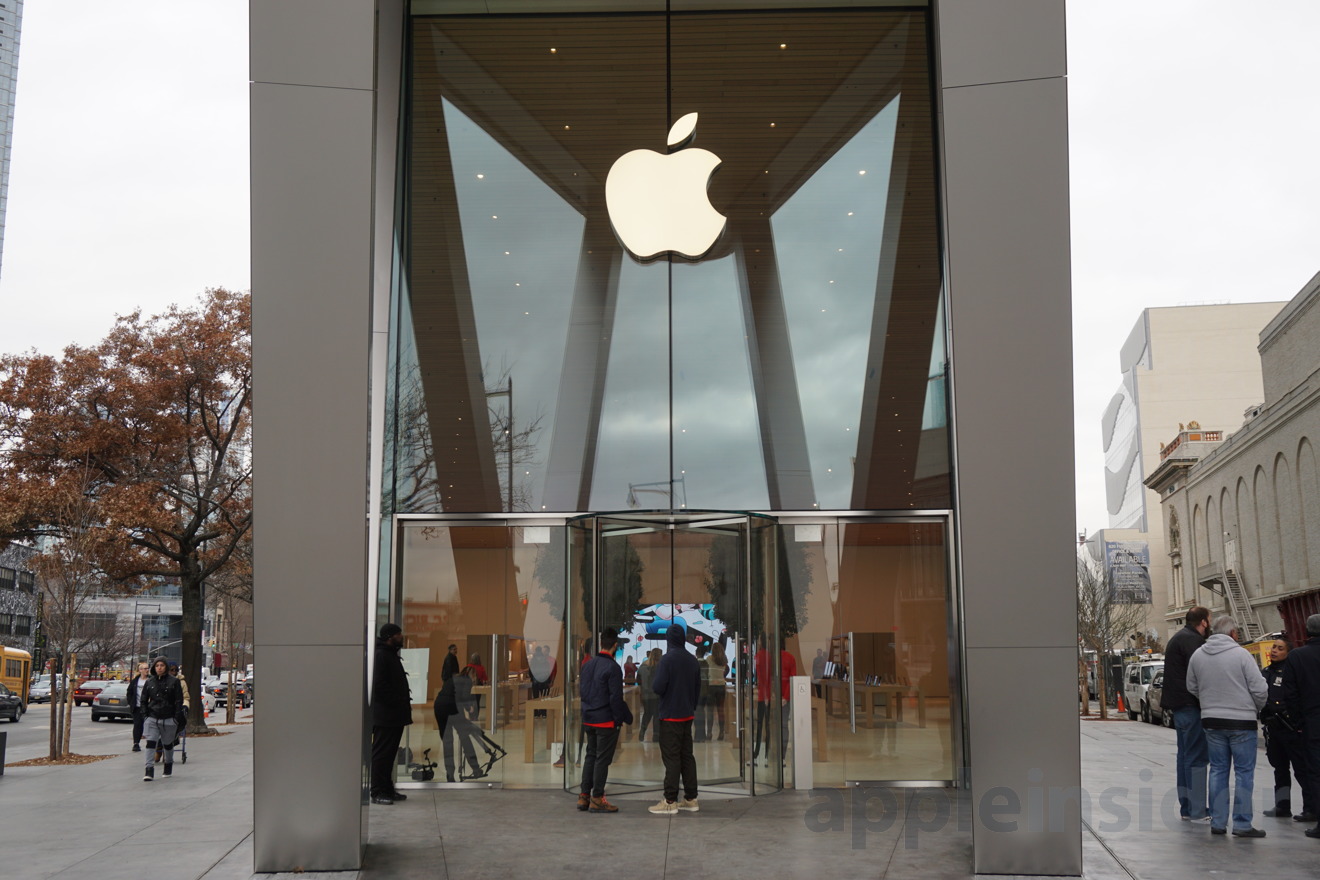 AppleInsider is supported by its audience and may earn commission as an Amazon Associate and affiliate partner on qualifying purchases. These affiliate partnerships do not influence our editorial content.
New York City is not known for its peace and quiet, and downtown Brooklyn's Atlantic Terminal offers plenty of commotion both above and below ground. It's for that reason that Apple's latest flagship retail store was designed to minimize those distractions, with custom made floors and ceilings that dampen street noise and even cut down on ground vibrations.
Ahead of its grand opening to the public this Saturday, AppleInsider took a tour of the new Apple store, located at the intersection of Flatbush Avenue and Ashland Place. Just steps from the Atlantic Terminal transportation hub, as well as the Barclays Center arena, it's a heavily trafficked corner — and also a noisy one.
Because of that, Apple went above and beyond to ensure that customers who come into the store feel right at home, in a comfortable escape from the bustling streets outside.
Jason Barlia, market director for Apple's stores in New York City, told AppleInsider that the floor itself was engineered to be isolated from the rest of the building. That's because Atlantic Terminal is the intersection of five major subway lines — something you can feel under your feet when a train pulls into the station.
"Having an isolated floor minimizes any vibration that you might feel as a result of those things," Barlia explained.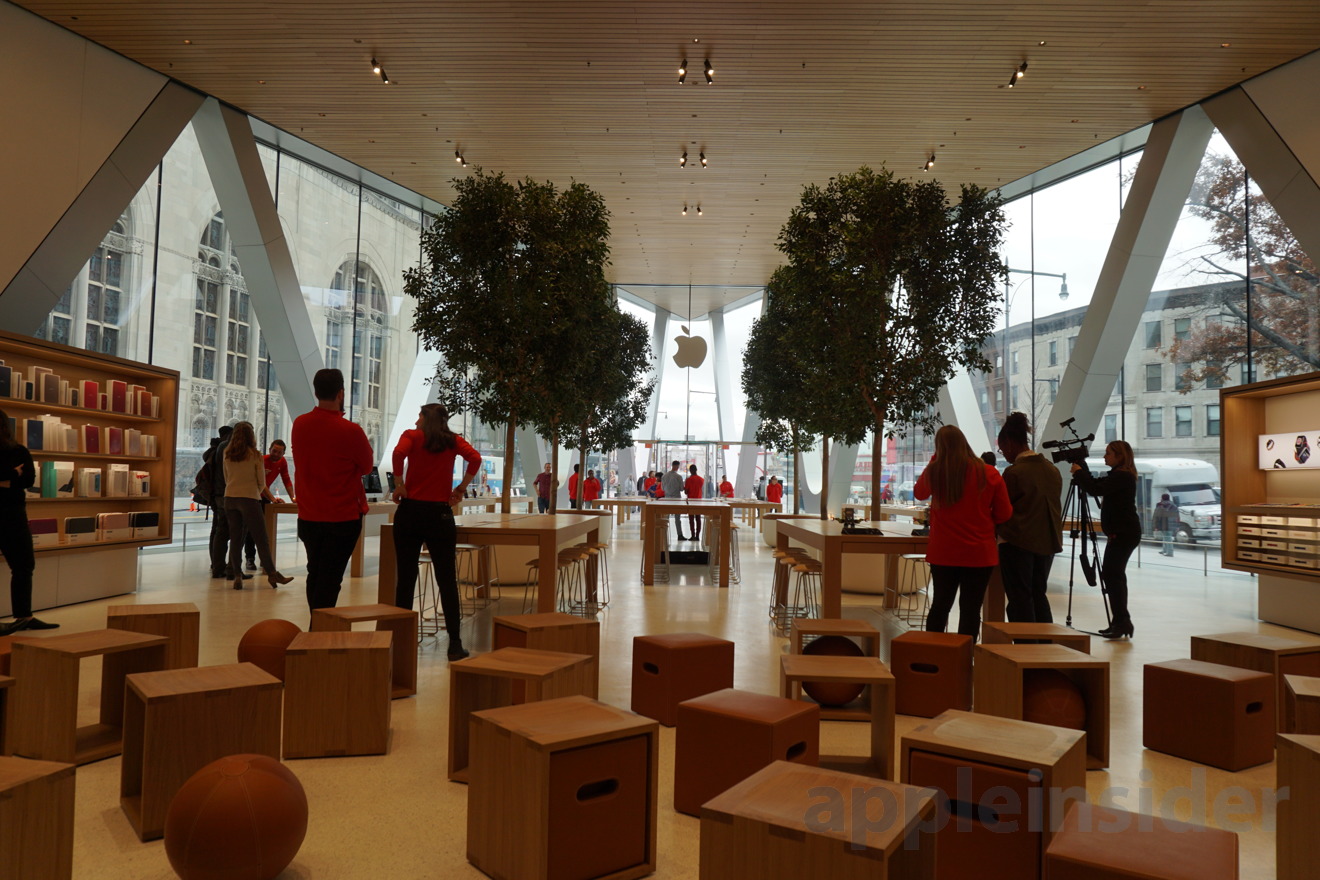 The store is designed not only to keep noise and vibrations out, but also to aid in the acoustics from within the space itself. Overhead is a sloping timber canopy, starting at about 30 feet high outside the store, designed to create what the company calls a "premium sound experience."
"These wood panels have perforations that look, from the outside, like the character of the wood," Barlia said. "They actually have space in them so that the sound gets absorbed into them, but doesn't bounce back out of them."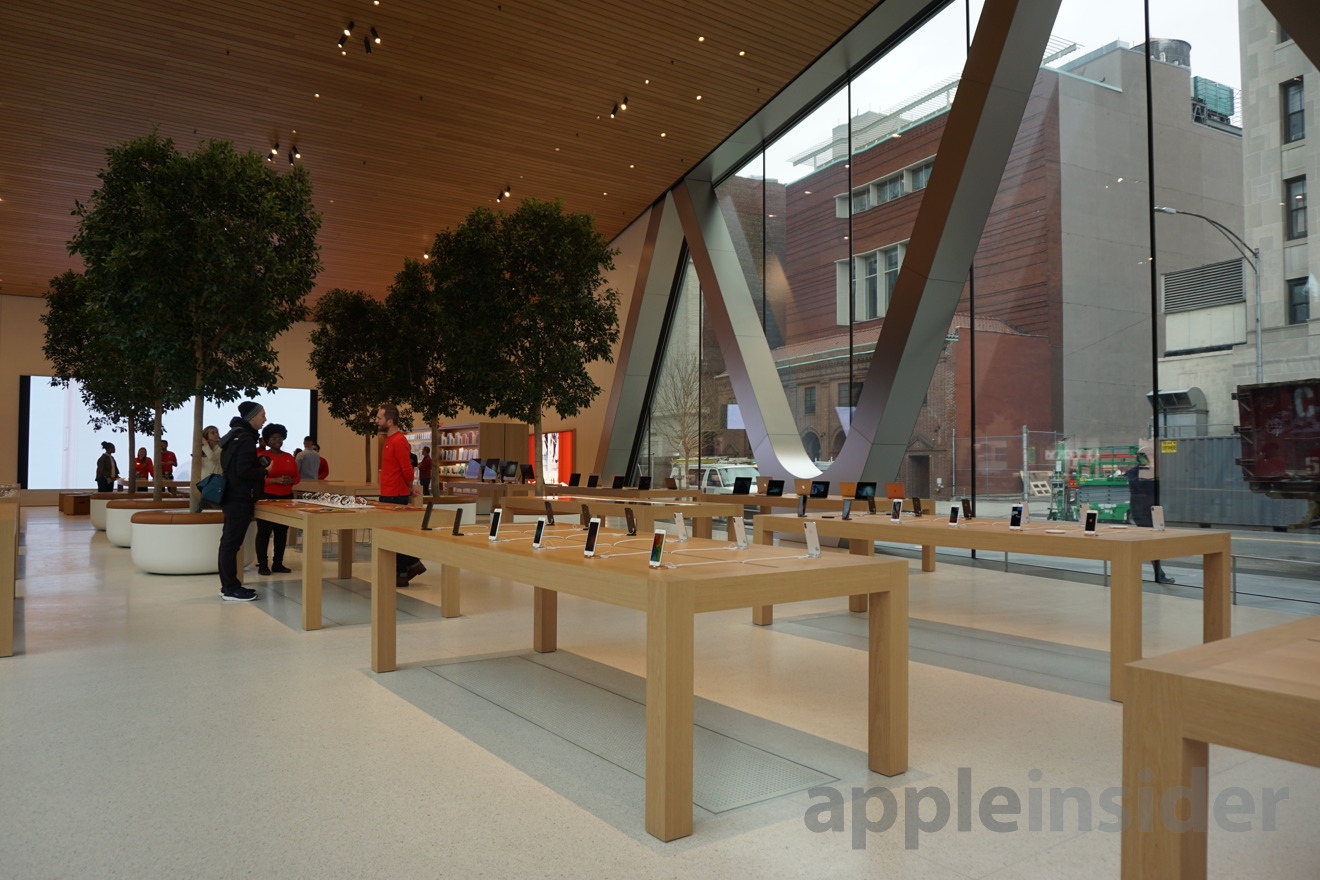 Despite the focus on peace and quiet, the location doesn't want to completely block out the surrounding busy neighborhood. Visually, downtown Brooklyn is in full display, with huge glass panels surrounding the store, blurring the lines between inside and outside.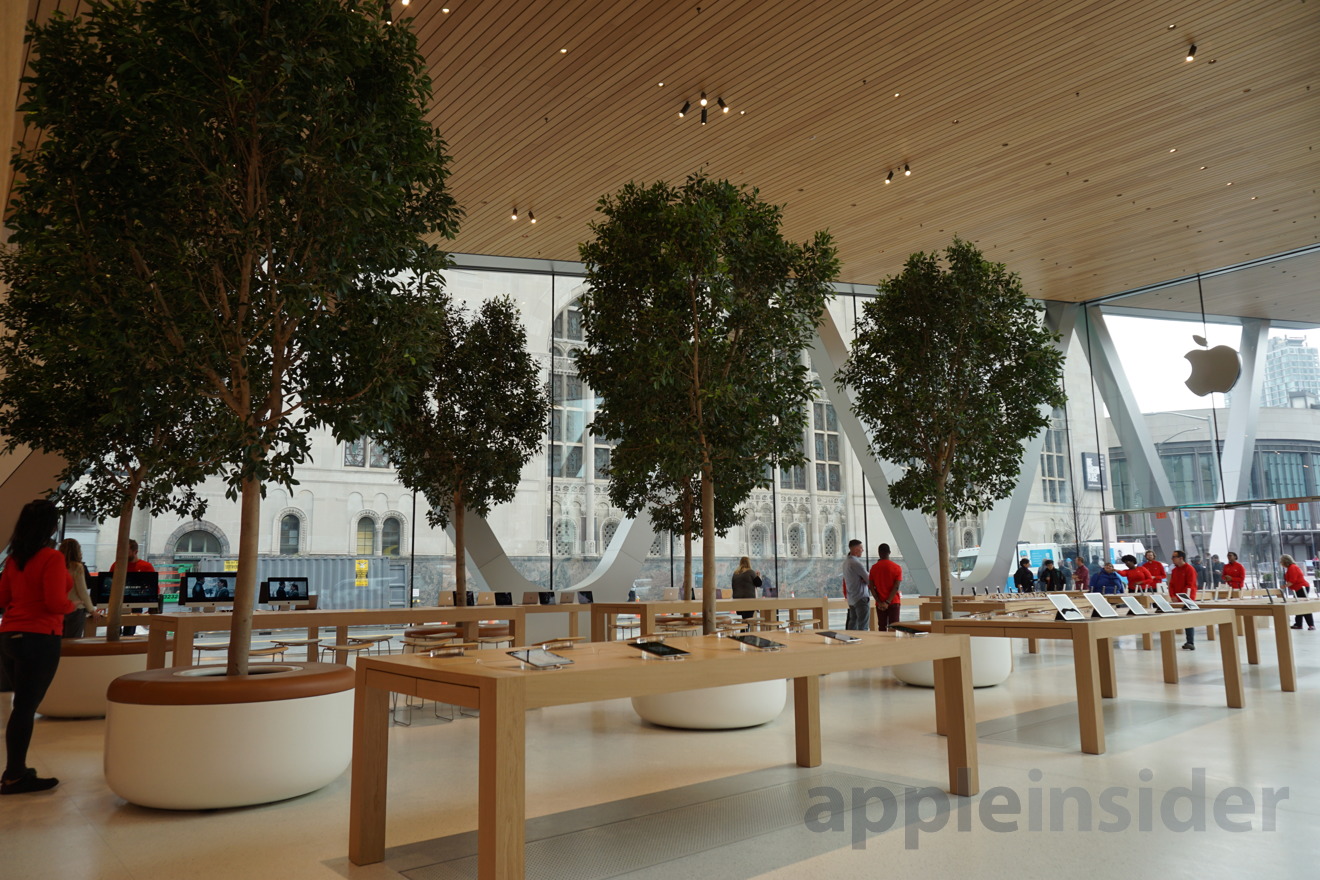 When asked about whether the broken glass delayed the opening of the store, or how much it cost to have a massive replacement pane crafted, officials from Apple declined to comment.
The new store at 123 Flatbush Ave. is also notable because it's the first in New York City to feature what Apple dubs the "Genius Grove." Potted ficus trees surround empty tables where customers will get help from Apple Geniuses by appointment and walk-in.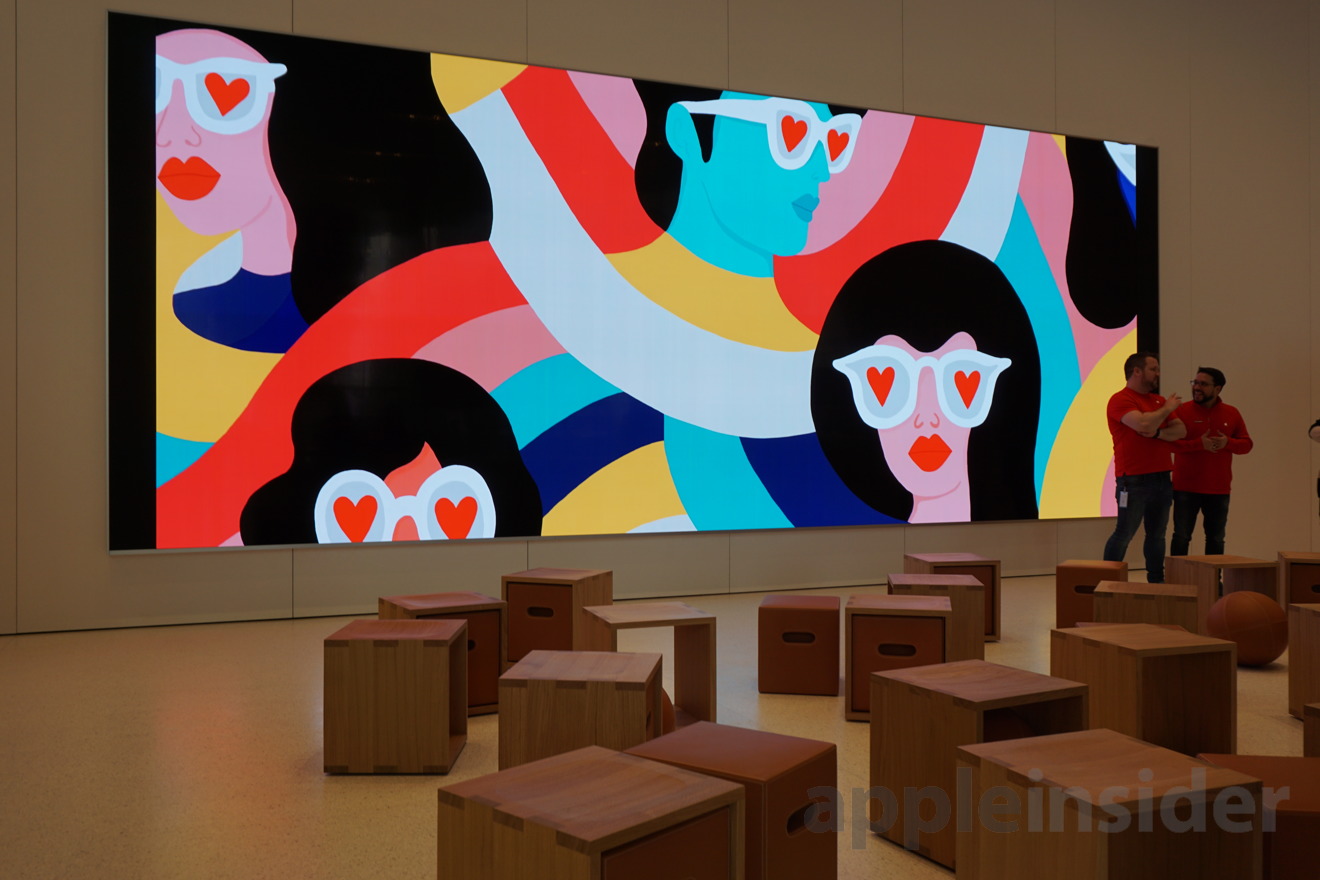 Apple even brought the trees into the store early in the construction process to make sure they would acclimate to the environment.
The downtown Brooklyn Apple store leader is Edwin Morales, who has been with the company for 8 years. For the last two years, Morales has been a store leader at the company's Pudong location in Shanghai, China.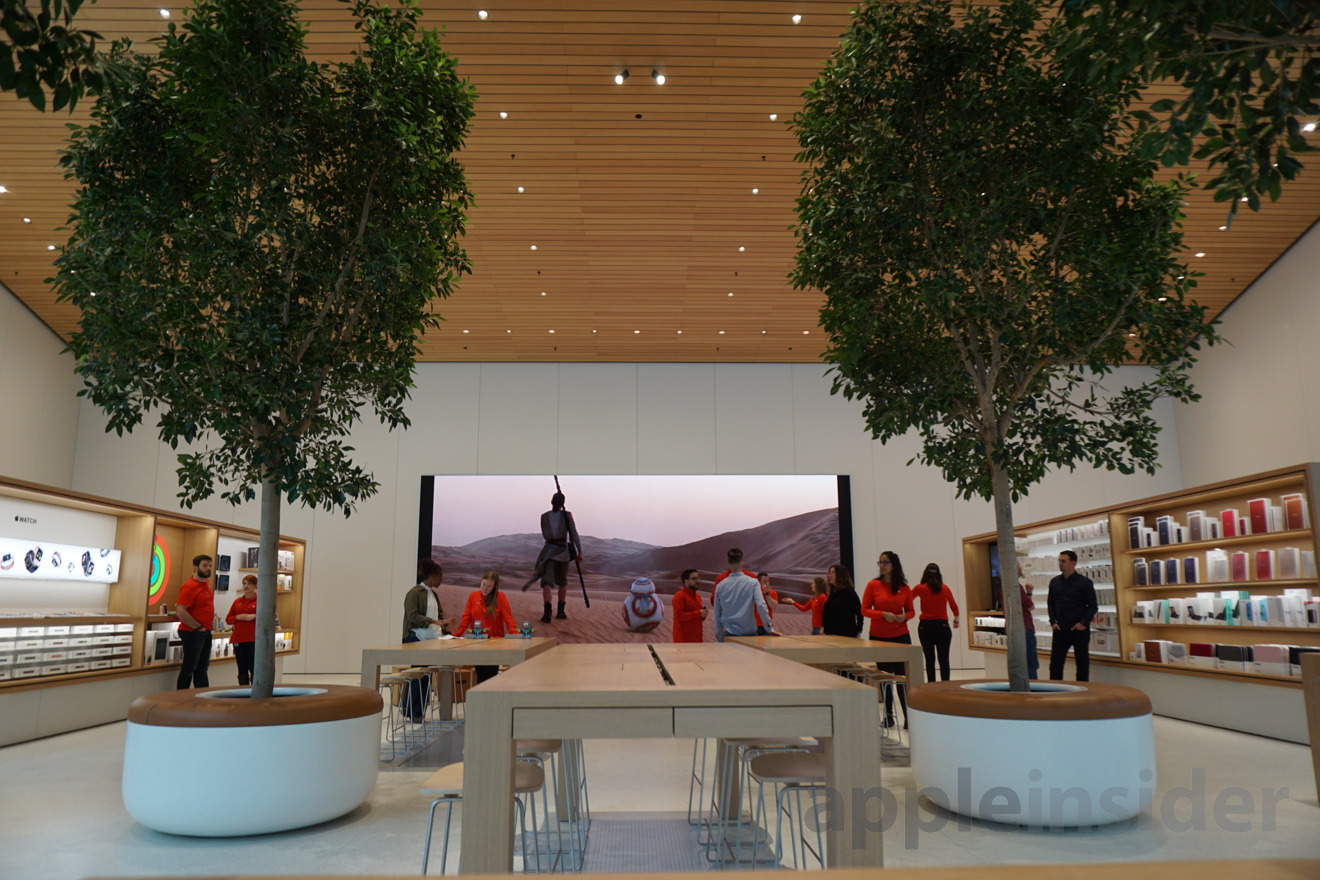 In all, the Brooklyn store — Apple's second location in New York City's most populous borough — will have 160 employees. Over half of them have moved to work at the location from other Apple outlets around the U.S.
To serve New York's international audience, the employees collectively speak 20 different languages.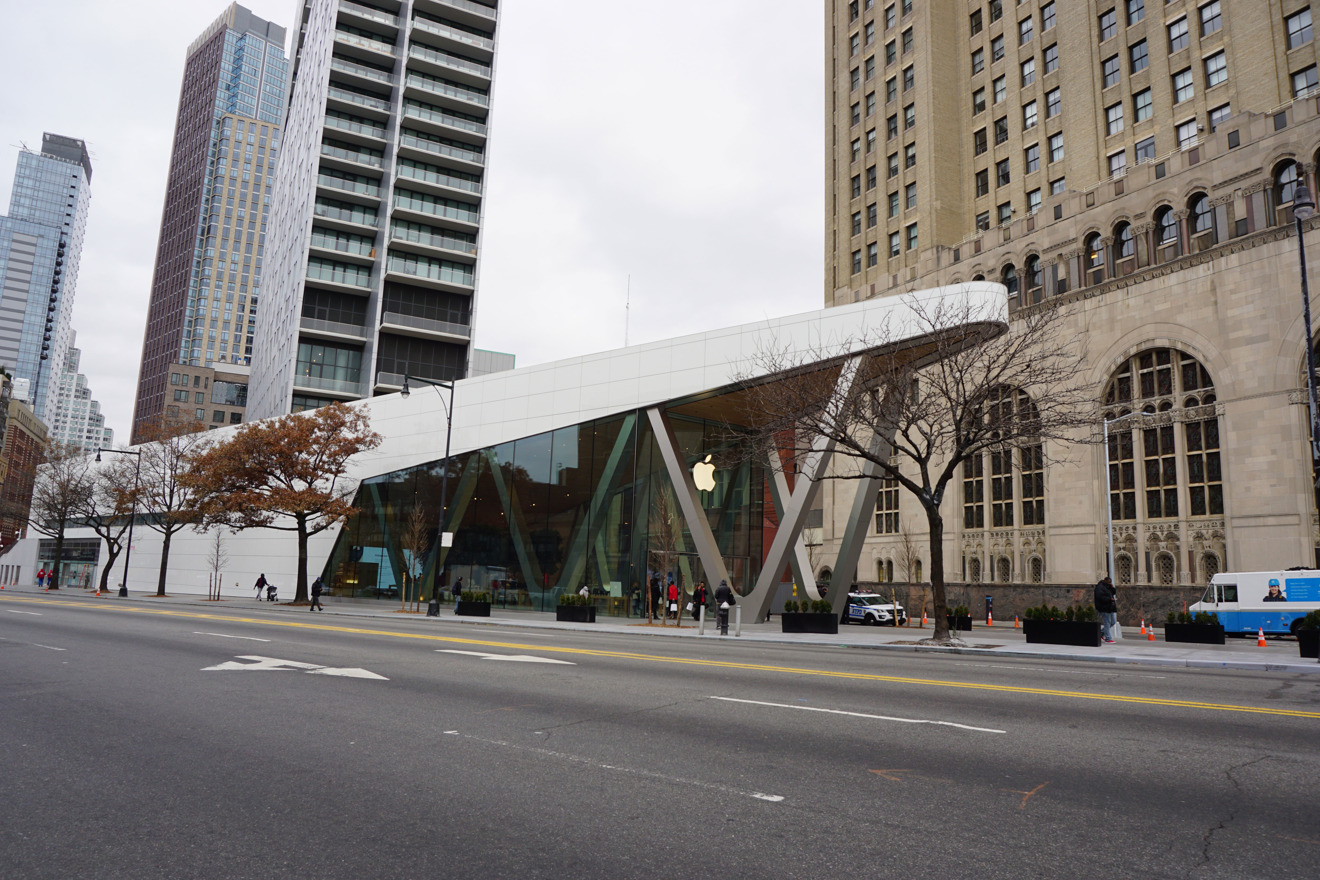 Apple Downtown Brooklyn opens this Saturday, Dec. 2, at 10 a.m. Members of the press were provided with t-shirts at Thursday's preview, and the first customers to visit Saturday's grand opening will receive their own.
For a closer look, see the full gallery below: