iPhone X delivery times fall to within one week in US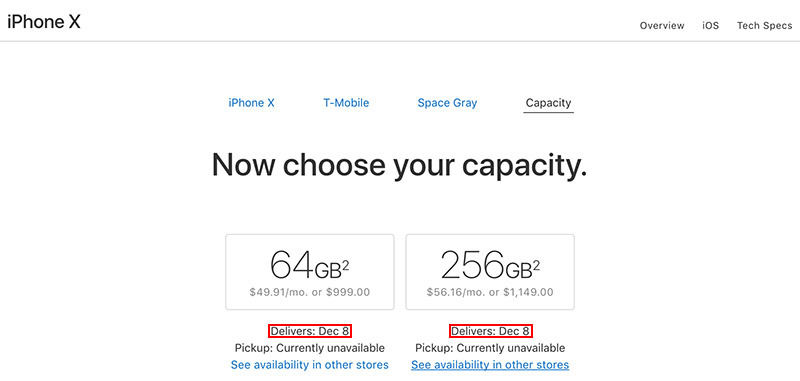 After a rocky start marked by a quick initial sellout and lingering supply issues, Apple is quickly catching up with iPhone X demand, with current U.S. delivery estimates pegging ship times at six business days.
All iPhone X models up for sale on Apple's online store are showing a common delivery date of Dec. 8, down from an estimate of one to two weeks logged last week. A week prior to that, Apple was quoting shipping lead times of two to three weeks.
According to reports, Apple has been working with its manufacturing partners to clear bottlenecks holding up production of its most advanced iPhone device to date.
In a note to investors last week, KGI analyst Ming-Chi Kuo said supply chain improvements were to thank for Apple's improved iPhone X ship times, specifically a diversification of LCP LTE antenna orders and higher yields of iPhone's TrueDepth dot projector. Previous reports blamed iPhone X manufacturing holdups on hardware associated with the complex TrueDepth camera, a cutting-edge depth-sensing array fabricated from highly sophisticated — and highly sensitive — components.
With ample supply of critical parts, Apple partner Foxconn is producing between 450,000 to 550,000 iPhone X units per day, up from 50,000 to 150,000, Kuo said. The rapid ramp-up is expected to drive an increase in fourth quarter shipments, some 10 to 20 percent higher than previous forecasts.
Apple's latest iPhone X supply revision brings shipments well within a week for the first time since the handset went up for preorder in October. A crush of initial orders led to a stockout in just ten minutes, while continued demand pushed deliveries out past a month. At its peak, iPhone X ship-by estimates were sitting at 5 to 6 weeks.
While online order ship-by times are improving, in-store supply is still severely constrained. Spot checks of brick-and-mortar Apple Stores located in major metropolitan areas show all iPhone X models as out of stock.