iPhone X shipment times improve to 1-2 weeks ahead of holidays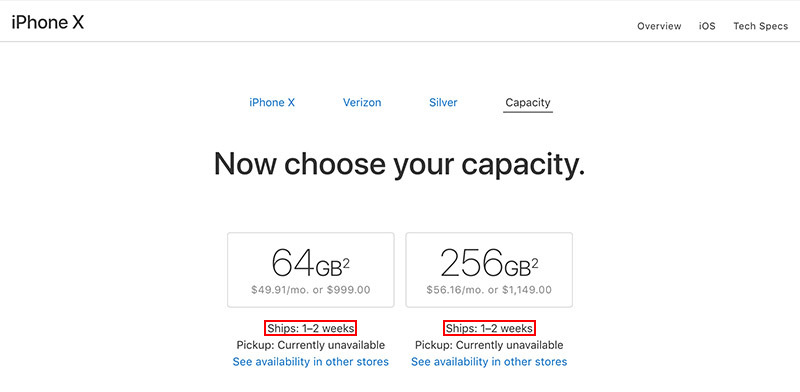 Just in time for the lucrative holiday shopping season, Apple on Wednesday updated iPhone X ship-by times to one to two weeks, a one-week improvement over previous delivery estimates offered earlier this month.
All iPhone X models sold through Apple's U.S. website are now showing delivery times pegged at one to two weeks, meaning orders placed today will arrive on doorsteps in time for the gift giving season.
The stock improvement arrives one week to the day after Apple last updated shipping estimates for its hot handset, brining expected delivery dates under a month for the first time since the device went up for preorder in October. After selling out of iPhone X inventory just minutes after taking preorders live, Apple saw overwhelming demand push back device shipments to as much as 5 to 6 weeks.
Today's newly revised ship-by estimates suggest the company has addressed production bottlenecks industry insiders expected would continue until at least the first half of 2018.
Specifically, suppliers were reportedly having issues manufacturing the so-called "Romeo" element of the iPhone X TrueDepth camera, a state-of-the-art depth-sensing apparatus Apple is using as a replacement for Touch ID. "Romeo," comprised of TrueDepth's dot projector and flood illuminator, pairs with the "Juliet" receiving module made up of components like infrared and full-color HD cameras.
Reports in October claimed Apple was also seeing issues with antenna and camera FPCBs, component shortages that led analyst Ming-Chi Kuo to estimate the company would have only two to three million iPhone X units available at launch.
In-store supply is still severely constrained, however, as spot checks in New York, San Francisco and other major metropolitan areas show all iPhone X variants out of stock.