Review: CalDigit 2TB Tuff USB-C hard drive a solid choice for mobile MacBook Pro users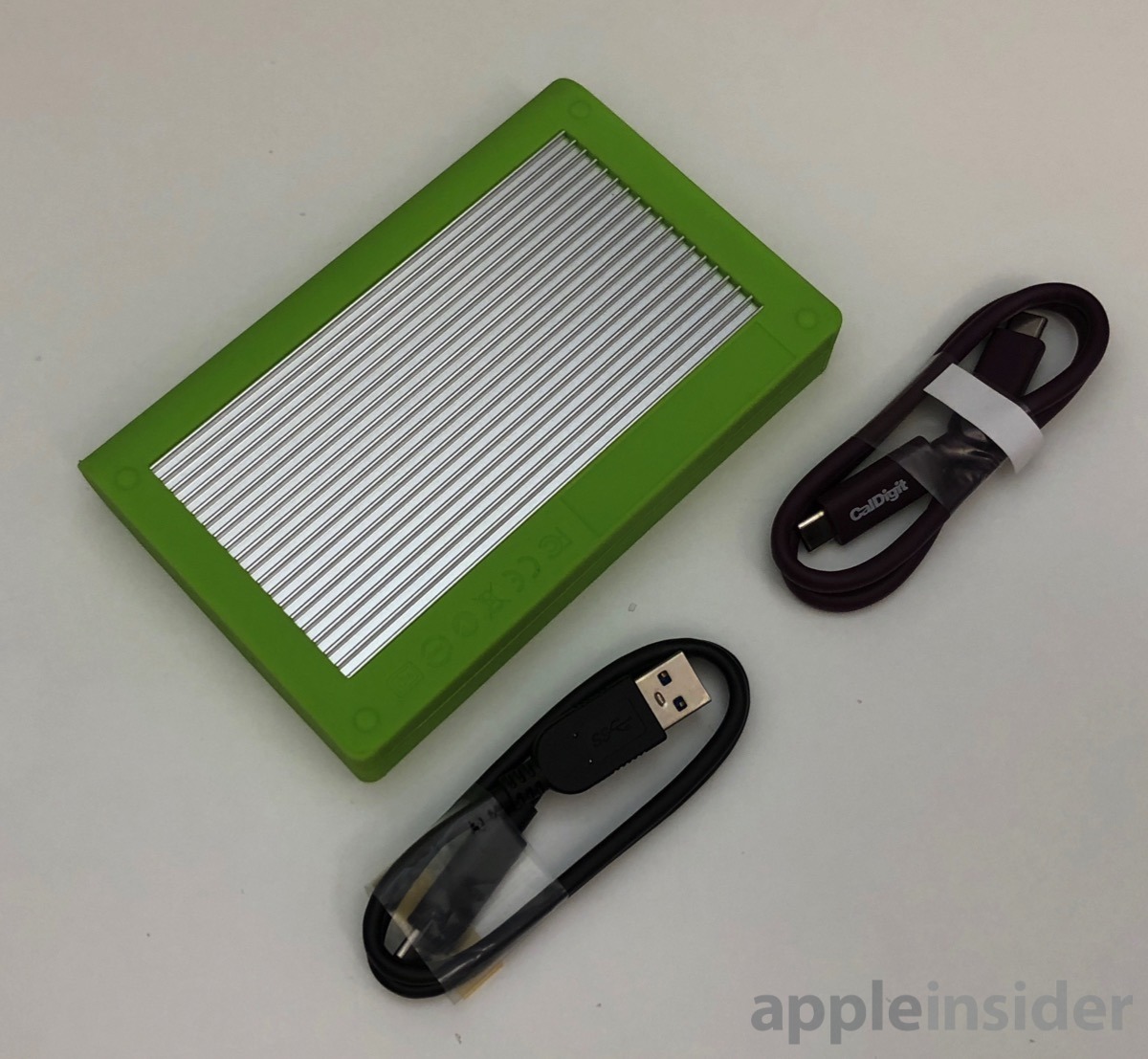 There's no reason for MacBook or MacBook Pro users with USB-C to rely on adapters for ruggedized mass storage. AppleInsider looks at the CalDigit Tuff hard drive, aimed squarely at mobile professionals seeking to safeguard data against drops or falls.
The MacBook Pro "Donglegate" concept is overblown. Yes, adapters are needed periodically like they have always been since there have been computers, but the hue and cry about hundreds of dollars needed for today's computing are over-stated by the reluctant to adopt to the new technology.
Making the "gate" even less of an issue are manufacturers like CalDigit, coming to the rescue with native USB-C peripherals, like the Tuff series of rugged drives.
AppleInsider was provided the 2TB 2.5-inch hard drive model to examine.
In the box
CalDigit's packaging is multi-purpose. A hard plastic storage box encloses the drive, and a pair of cables — one USB-C on both ends, and the other USB-A to USB-C. Both are short, but a portable drive doesn't need a long cable.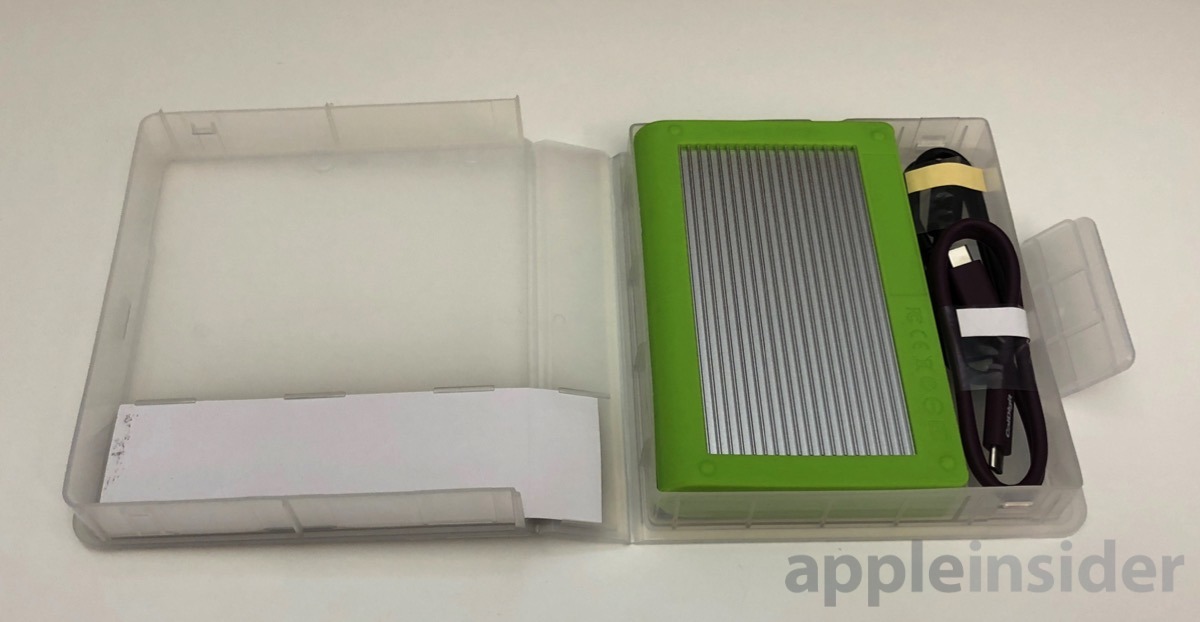 The plastic enclosure is a nice touch. A nature photographer we spoke with suggested that multiple units could be stored, and externally labeled, making for easy drive and file retrieval.
Yes, it's a hard drive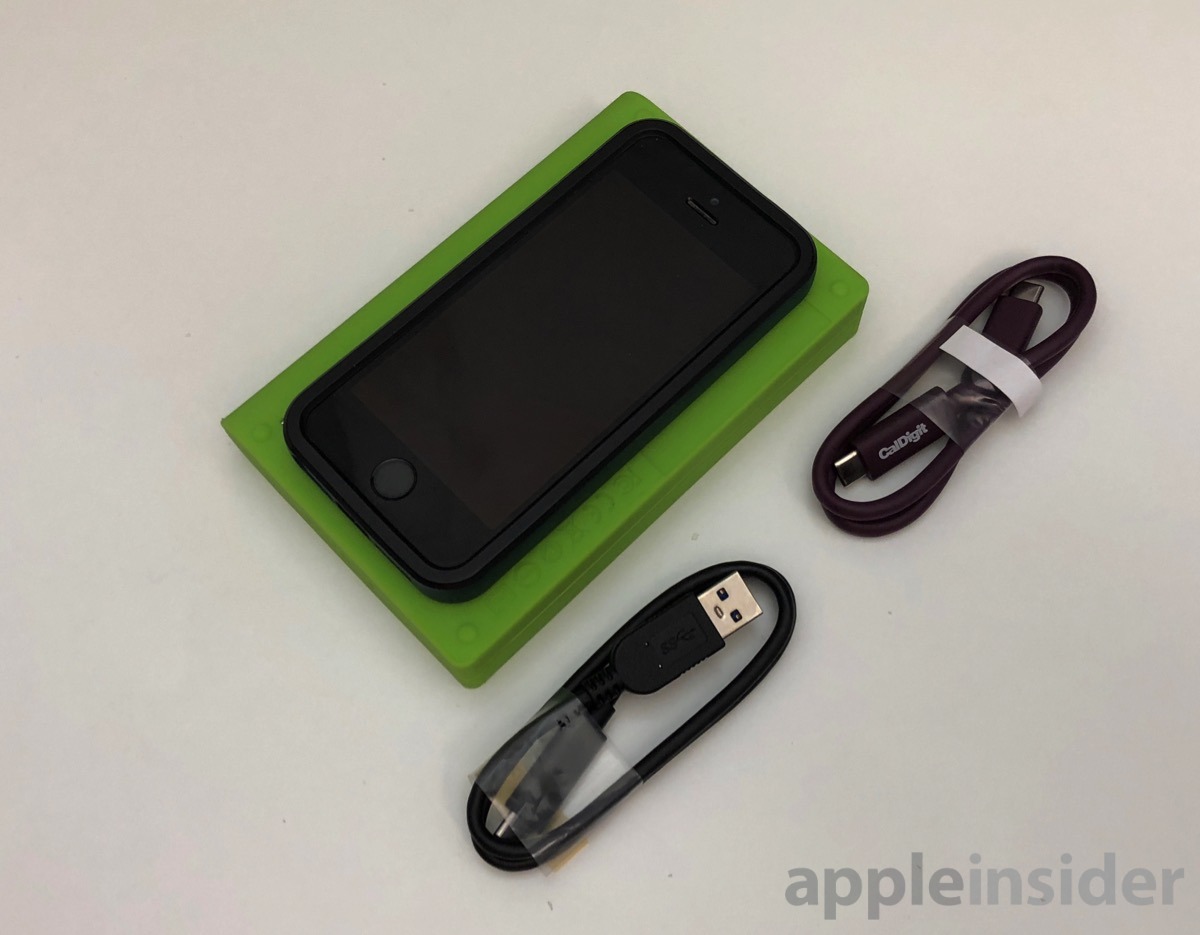 All the durability in the world makes no difference if the drive is horrifyingly slow. The Tuff is not slow — but doesn't take advantage of native USB-C speed with a hard drive.
Connected to a 2016 MacBook Pro with the included USB-C to USB-C cable, we copied 100GB of large files, consisting of nothing smaller than 3GB to the drive. The 2TB hard drive-based Tuff delivers about 128MB per second of write or read speed under Sierra or High Sierra.
Mixed media, consisting of 100GB with half being no smaller than 3GB, and the other half AAC files between 3MB and 10MB copied at about 81MB per second — which is expected, given the nature of hard drive seeking and small file copies.
Speeds were identical for both tests when performed with the USB-A to USB-C cable.
Neither test delivered close to USB-C speed — but we weren't expecting them to. There is a 1TB SSD version of the drive which CalDigit says gets closer, but AppleInsider doesn't have one to test.
But, it takes a beating
The Tuff is rated to the IP57 spec. The spec calls for dust resistance, as well as survival in a column of water three feet tall, for up to 30 minutes.
We did it one better after the speed tests — we submerged it in a four-foot trashcan filled with dirty, gritty water after we made sure the rubber port grommet was firmly in place. The drive survived after (accidental) overnight submergence in nearly freezing weather.
CalDigit also notes MIL-STD-810G certification. While the governmental document spelling out the spec is excruciating in length, it mandates that an enclosed electronic device be able to survive a four-foot drop onto a hard surface.
We dropped it from the top of a six-foot ladder to grass and repeated the speed tests with no issue. We then did the drop to a driveway, and minus the cushioning enclosure popping off after a series of bounces, the drive still worked fine.
Even after the submersion, and the drops, there was no obvious damage to the metal enclosure. But, the rubber bumper is basically thrashed.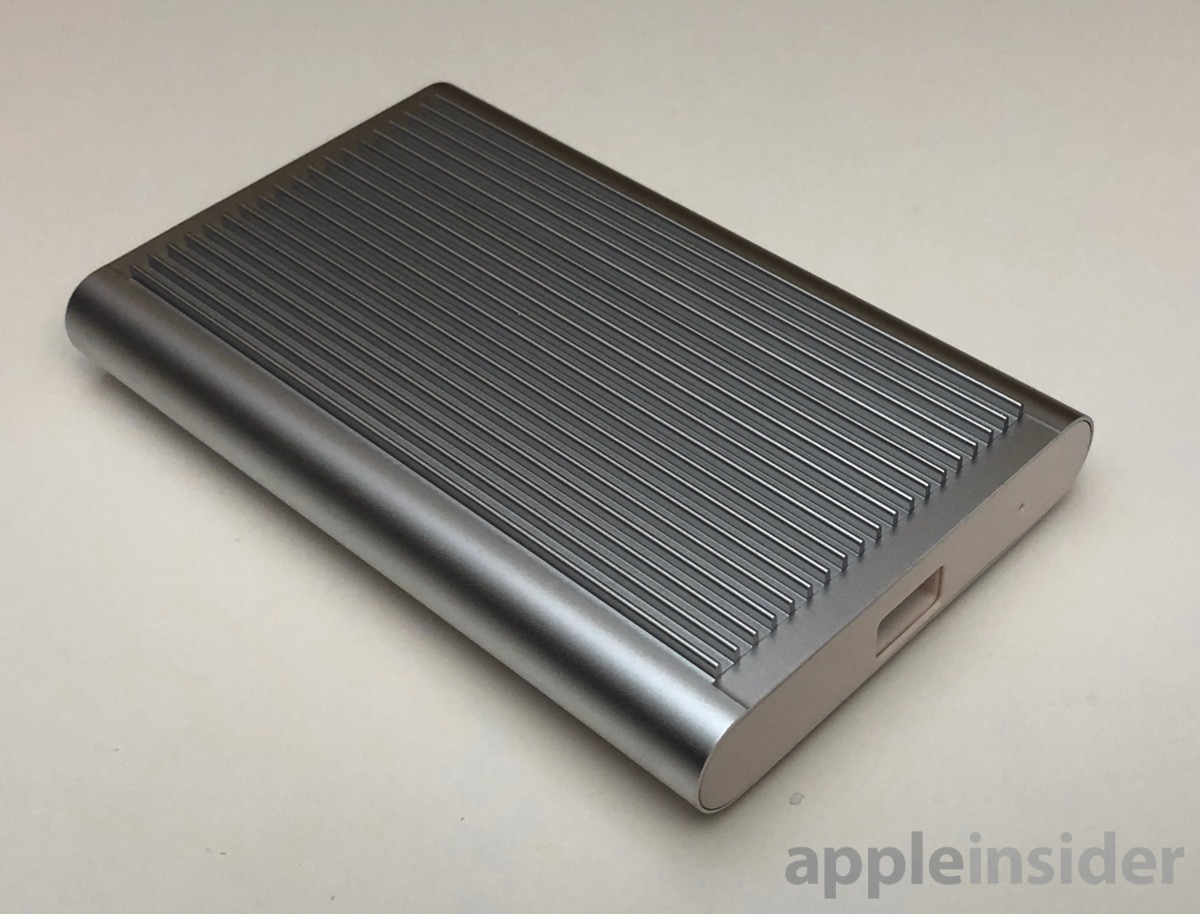 We aren't going to repeat the drop tests without it, as there is no way that the drive would survive. But, mission accomplished — the bumper sacrificed itself for the drive — and if we chose, we could get a new bumper for $15 straight from CalDigit.
There is no obvious way into the case to replace the drive.
But... why?
Not everybody needs ruggedized storage. It comes at a sometimes hefty price premium, and the CalDigit Tuff is no exception. If you've made it this far through the review, you probably have at least a passing interest in rugged storage, and you're curious about pricing.
Our tested configuration with a 2TB 2.5-inch hard drive retails for $179. If you want SSD speeds, then that will set you back $399. A bare 2.5-inch hard drive sells for about $85, and a 1TB SSD can be had for less than $289. Non-rugged USB-C enclosures are generally available for $10.
Simply, if you don't need a rugged drive, shop elsewhere — you'll pay less for more storage. But, if you need a drive that will take the drop in the mud puddle, the CalDigit Tuff line offers the best balance of price and capacity that we've seen yet. For that purpose, AppleInsider gives it:
4.5 out of 5

Where to buy