Apple's iPhone 7 Plus was second most-popular smartphone sold in China during 2017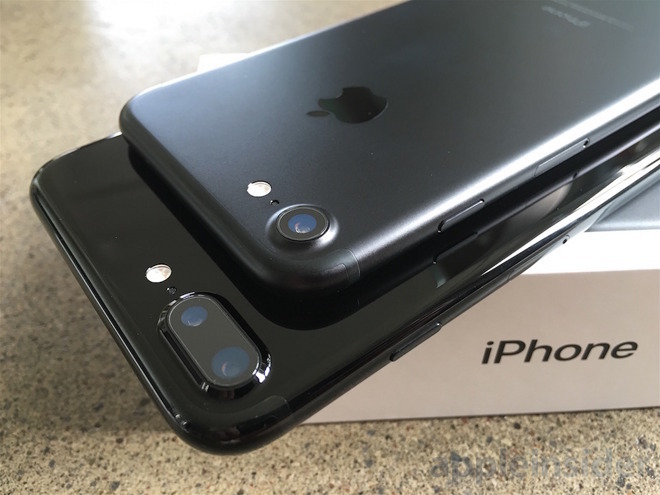 Analysis into the Chinese smartphone market reveals Apple continues to be a major force in the region, with both the iPhone 7 and the iPhone 7 Plus appearing in a list of the top ten mobile devices sold in the country in 2017 alongside locally-produced rivals.
The iPhone 7 Plus was the second most popular smartphone in China across the year, according to the report from research firm Counterpoint, achieving a 2.8 percent market share. The iPhone 7, Apple's other device in the top ten, reached fifth place overall with a 2.4 percent market share.
The top spot on the list was the locally-produced Oppo R95 with a 3 percents share, with the firm's A57 and R11 handsets netting fourth and sixth place with 2.6 percent and 2.3 percent shares respectively. Vivo appears twice in the rankings, with its X9 in third with a 2.7 percent share and the Y66 in seventh with 2.1 percent.
At the bottom of the top ten chart are the Honor 8 Lite in eighth with 1.9 percent, the Xiaomi RedMi Note 4X with 1.8 percent, and the Honor Enjoy 6X in tenth collecting a 1.7 percent market share.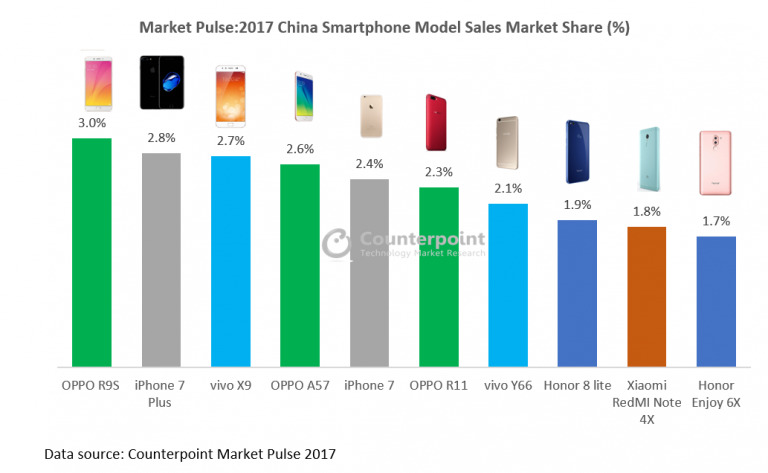 China's smartphone market is extensively saturated with devices, consisting of a large number of domestic vendors clamoring for customers. Despite efforts to increase promotion and develop new products in the year, Counterpoint notes the Chinese smartphone market ended the year with weak demand and flat growth, despite the hype of bezel-less products in the latter half of the year.
All models that reached the top 10 achieved average monthly sales volumes of at least 1 million for the year. It is also highlighted that mid-tier models monopolized slots in the chart for the year, with the iPhone 7 series a notable exception due to being sold at a premium in the region.
The iPhone 7 series are said in the report to have demonstrated plain performance in the first half of 2017, but sales significantly improved in the second half of the year after a price cut strategy was implemented. Sales of the 128GB variant of the iPhone 7 Plus were especially energized by the change in price to under $900, effectively representing a discount of 16 percent.
The higher sales of the iPhone 7 Plus over the iPhone 7 is declared by Counterpoint to be a demonstration that price may not be the only concern among consumers in the Chinese market. Apple users may value more on better specs than extra budget, the report states.