Universal Audio's $499 Arrow interface connects over Thunderbolt 3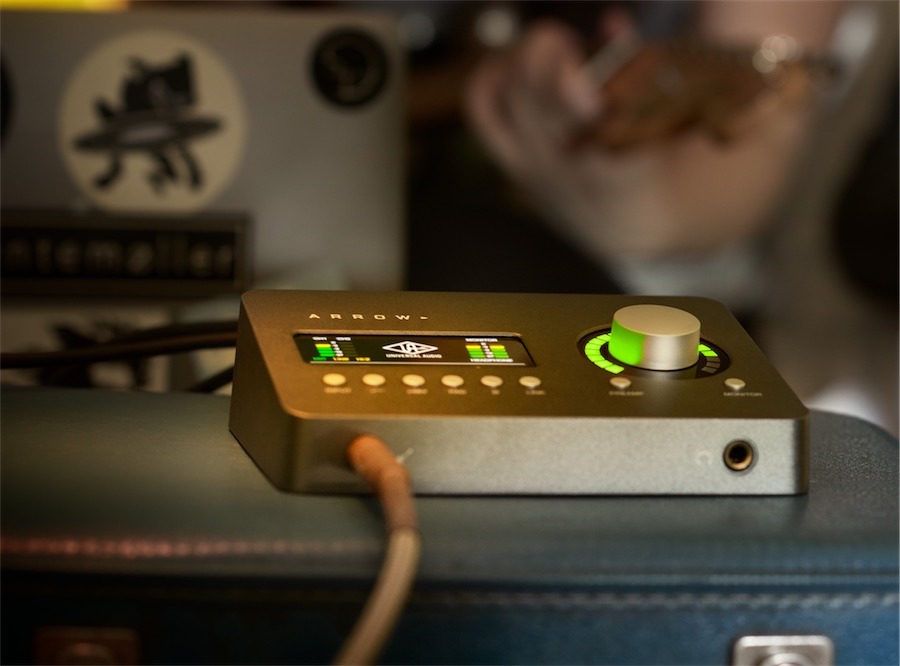 Universal Audio has shipped the Arrow desktop audio interface, a high-end peripheral for music creation and audio recording that connects to a Mac with Thunderbolt 3, with the portable unit including a number of built-in plug-ins to help refine the overall sound of recordings.
Enclosed in a compact all-metal enclosure, the Arrow is a 2x4 interface that provides a number of essential audio connections, all fed through to a Mac over Thunderbolt 3. On the back are a pair of analog inputs, consisting of combined microphone with Unison mic preamps and 1/4-inch line connections, along with the Thunderbolt 3 port, while on the front is a dedicated instrument input.
The same unit can also be used to monitor or output audio, with two 1/4-inch outputs on the back and a headphone port on the front. On top are an array of buttons, a display showing levels, and a dial with a light-up ring around the outside showing the level for the setting it currently controls.
Able to record 24-bit audio at 192kHz, it includes an UAD-2 Solo Core processor that can be used to record through a variety of audio tools and effects with minimal latency, regardless of the buffer setting offered by the user's audio software. It also includes 14 onboard UAD plug-ins in a Realtime Analog Classics bundle that can be quickly configured and used in recordings.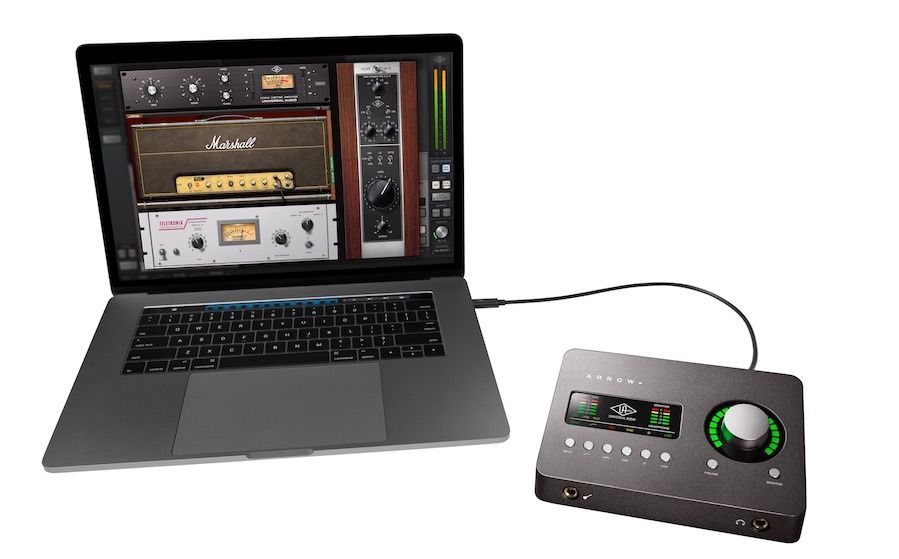 Onboard effects and plugins include the 610-B Tube preamp, Pultec Pro equalizers, the Precision Mix Rack Collection, and the Teletronix LA-2A Classic Leveling Amplifier. For guitarists and other connected instruments, they can use the included Marshall Plexi Classic Amplifier plugin, as well as a Raw Distortion plugin, and the Softube Bass Amp Room.
The UAD library compatible with the interface currently includes over 100 titles, ranging from Moog filters to Lexicon reverbs, with more additions to the collection expected in the coming months. According to Universal Audio, Unison-enabled plug-ins can be enabled using the supplied Console software, with preamp plug-ins able to physically reconfigure the impedance of the device itself, giving a more accurate effect.
Connecting over Thunderbolt 3, the interface takes advantage of bus power to allow it to function using a single cable, without the need for a second for power. This potentially makes the unit even more portable, minimizing the required cables needed to record with the device.
Universal Audio's Arrow is available to purchase now, priced at $499.