Amazon narrows the field of candidates for its $5B second headquarters to 20 cities across North America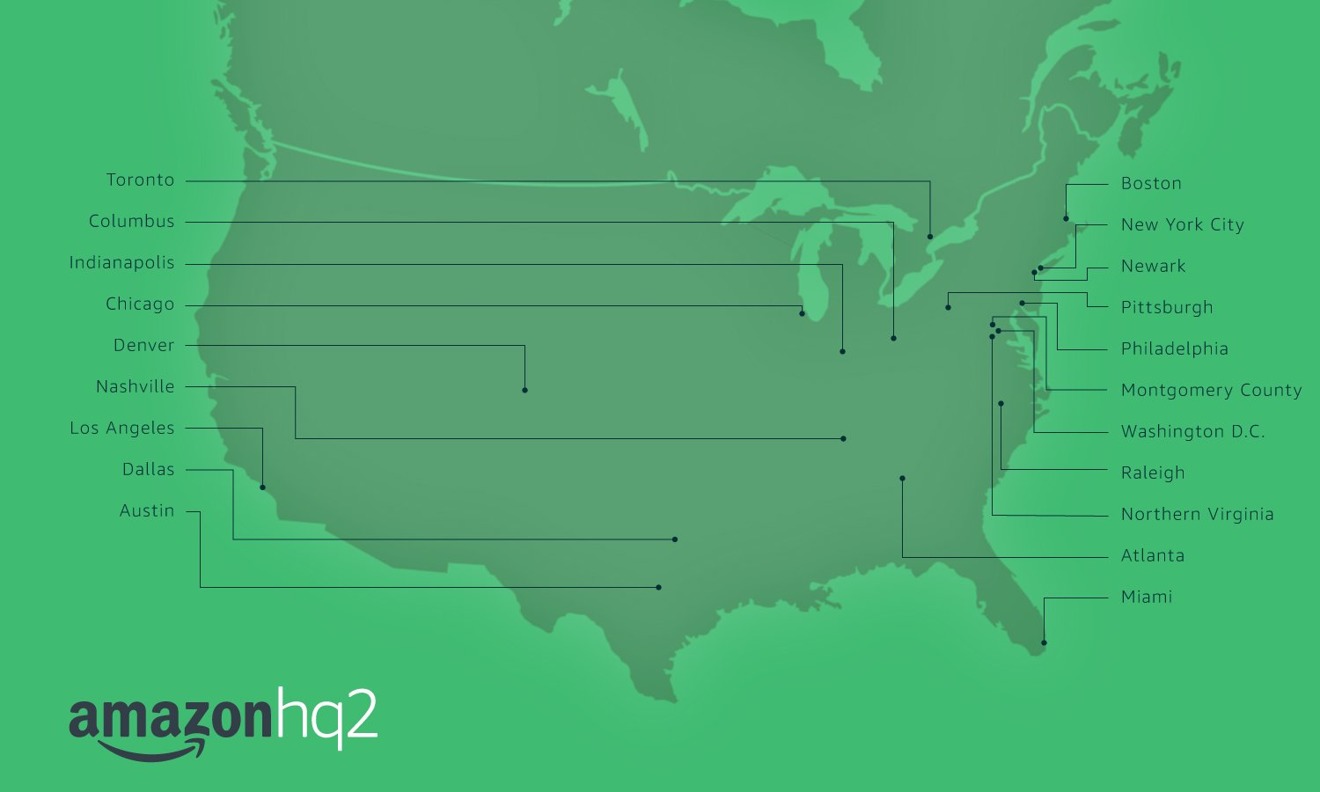 Amazon has revealed its list of candidates for building a new headquarters in North America, publishing a shortlist of 20 cities and metropolitan areas that are still in the running to host the online retail giant's second base of operations.
The retail firm has whittled the list down from 238 initial applicants to 20, according to a statement released on Thursday. The list of contenders consists of 19 cities in the United States and one in Canada, with the list generally skewing towards the East Coast, the opposite side of the country to Amazon's existing headquarters in Seattle, WA.
The winning candidate stands to benefit from an influx of high-paid jobs, with Amazon claiming up to 50,000 employees may work at "HQ2" once it's operational. Amazon also plans to spend more than $5 billion on the new facility, an expenditure in the same ballpark as Apple Park, Apple's newest headquarters.
Along with Amazon's direct hiring and investment, it is also thought the construction and ongoing operation of the facility will create tens of thousands of additional jobs, and tens of billions of dollars in additional investment to the surrounding community.
The remaining applicant cities hoping to host Amazon are:
Atlanta, GA
Austin, TX
Boston, MA
Chicago, IL
Columbus, OH
Dallas, TX
Denver, CO
Indianapolis, IN
Los Angeles, CA
Miami, FL
Montgomery County, MD
Nashville, TN
Newark, NJ
New York City, NY
Northern Virginia, VA
Philadelphia, PA
Pittsburgh, PA
Raleigh, NC
Toronto, ON
Washington D.C.
"Thank you to all 238 communities that submitted proposals. Getting from 238 to 20 was very tough all the proposals showed tremendous enthusiasm and creativity," said Holly Sullivan of Amazon's Public Policy. "Through this process we learned about many new communities across North America that we will consider as locations for future infrastructure investment and job creation."
The Maryland, Virginia, and Washington D.C. locations are the ones with the tightest proximity, all within 20 miles of each other.
Amazon plans to spend the coming months working with each city to further examine their proposals, including whether the company's hiring plans can be accommodated, and how well the selection could benefit employees and the local community. A decision is expected to be made later in 2018.