DJI launches $799 Mavic Air drone with 4K camera as a smaller, lighter counterpart to the Mavic Pro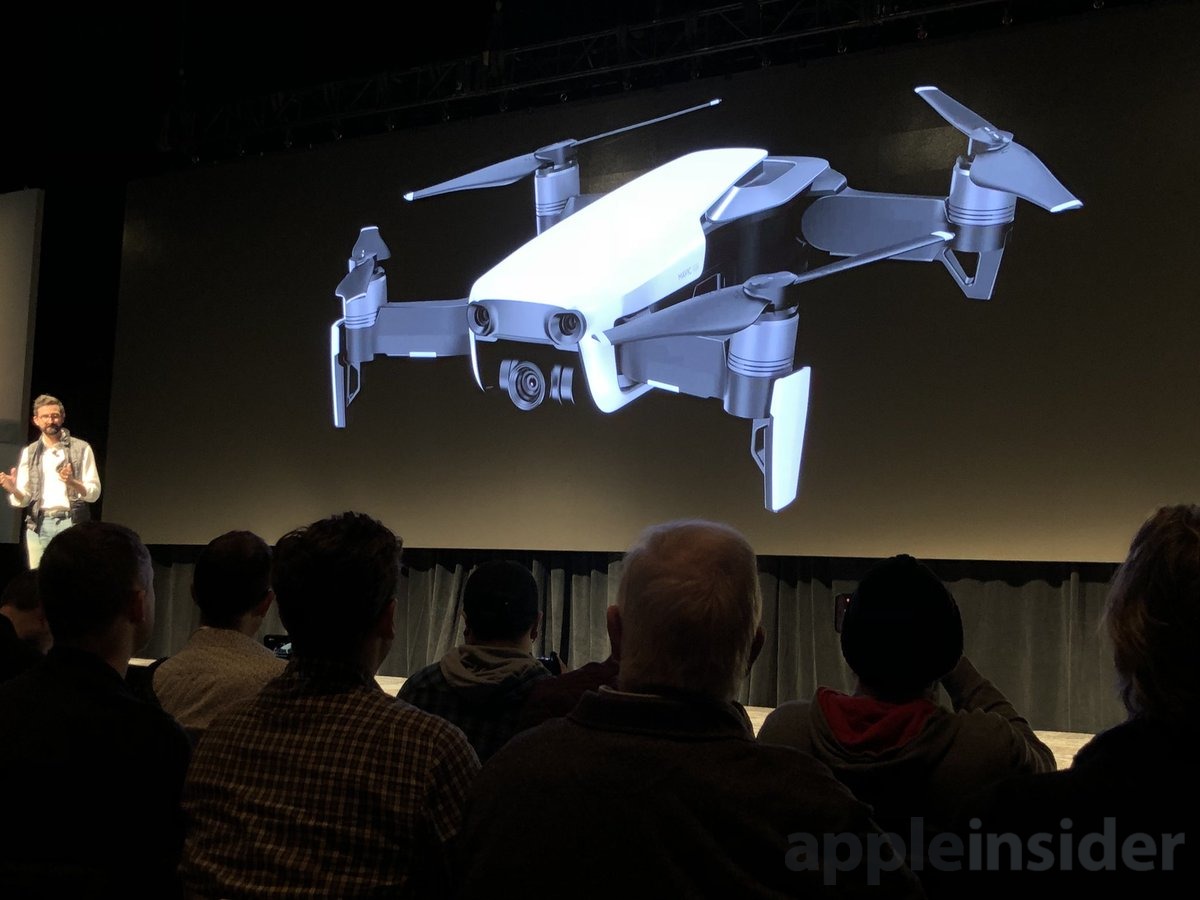 AppleInsider is supported by its audience and may earn commission as an Amazon Associate and affiliate partner on qualifying purchases. These affiliate partnerships do not influence our editorial content.
DJI has launched its Mavic Air drone, a foldable quadcopter that offers a middle ground between the Mavic Pro and the Spark drones, with the new model featuring a 4K camera on a three-axis gimbal and the ability to control it using gesture controls.
Leaked yesterday but unveiled at an event today, the Mavic Air is a smaller unit compared to its stablemate, the Mavic Pro. Weighing 41 percent less than the Mavic Pro at 430 grams, it is also half the physical size, with folding arms and propellers sitting flush against the frame, giving it a folded footprint close to the size of a modern smartphone.
Attached to a three-axis gimbal for free movement, the Mavic Air is equipped with a camera that can capture 4K-resolution video in H.264 at 30 frames per second, as well as full HD videos at up to 120 frames per second, and offering a HDR capture mode as well. For stills, the drone is able to produce 32-megapixel spherical panoramic images, by stitching together multiple shots, as well as 12-megapixel stills.
The drone has 8GB of storage for photos, which can be expanded by a micro SD card. Connectivity is provided by wi-fi, and a USB-C port.
DJI claims a maximum flight time of up to 21 minutes, with the company also saying that it can fly stably in windy conditions of up to 22 mph and at high elevations of up to 16,404 feet (5,000 meters) above sea level. In Sport mode, it can fly at up to 42 mph, and can even be used with the DJI Goggles for a first person view of the drone's journey.
The remote control is the first in the range to have detachable control sticks that can be stored within the controller. The use of omnidirectional antennas located on the foldable landing gear also helps to boost the signal range, with a 1080p real-time video viewable from the controller when the drone is up to 2.5 miles away.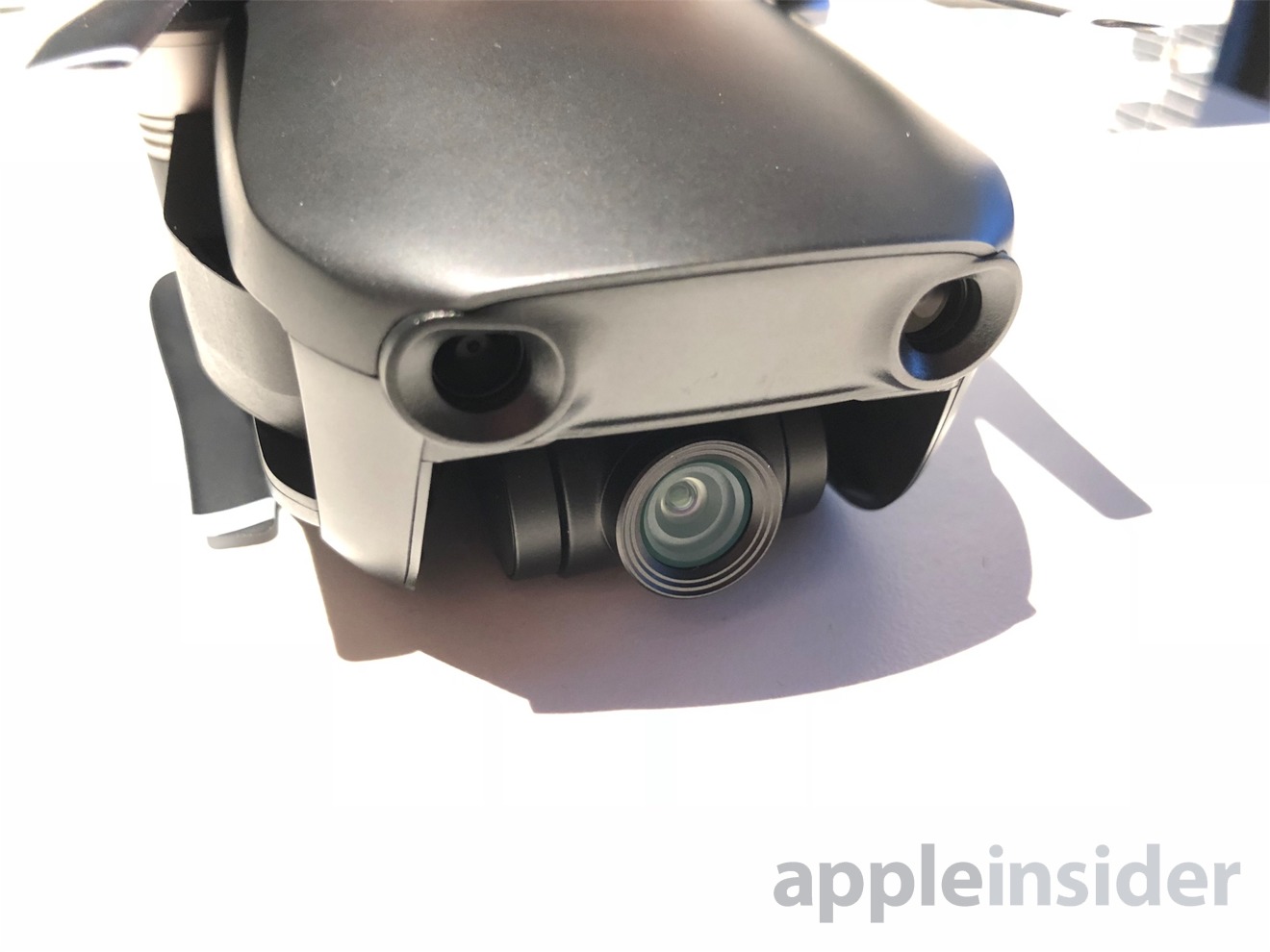 As seen in other consumer-focused drones in DJI's range, the Mavic Air offers QuickShot video modes with pre-determined flight paths that keep the subject in-frame. Along with the Rocket, Dronie, Circle, and Helix paths seen previously are two new modes, with Asteroid starting with a spherical image that zooms in and descends towards the subject on the ground, while Boomerang circles around the subject in an oval-shaped flight path.
The ActiveTrack intelligent flight mode has been improved to allow it to sense multiple subjects in a frame, as well as being able to keep the main subject in frame during high-motion activities. SmartCapture, the gesture system introduced with the Spark, lets users provide hand-based commands to the drone from up to 20 feet away, including to launch, land, push and pull the position, follow, and take a photograph.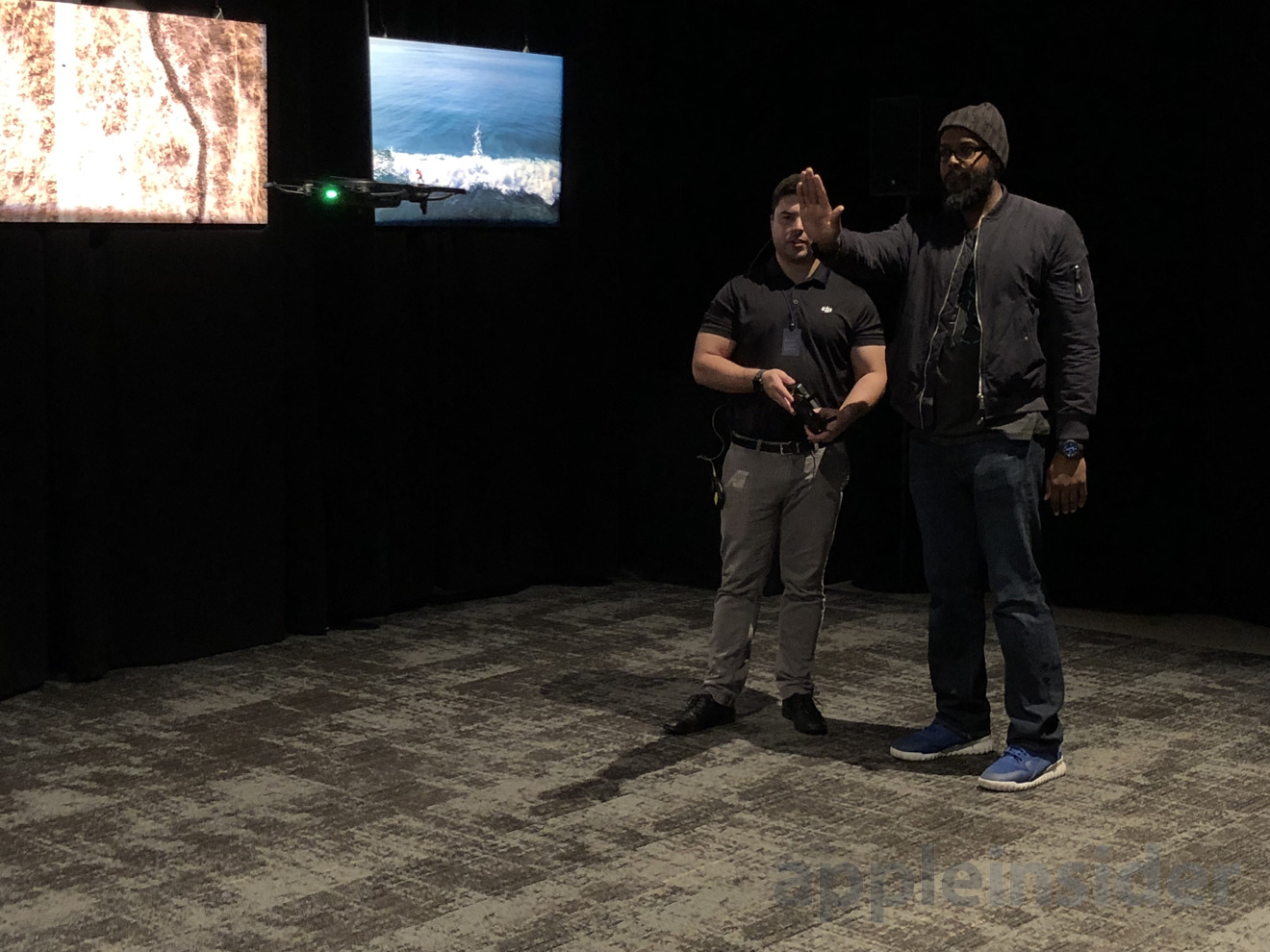 The onboard systems to avoid collisions, FlightAutonomy 2.0, now uses seven onboard cameras and infrared sensors to build up a 3D map of the drone's surroundings, to help it fly in a safer manner. Improved front and back dual camera vision systems can sense obstacles up to 66 feet away, while the new Advanced Pilot Assistance Systems can help pilots with keeping away from anything that could endanger the craft.
Mavic Air will be available in three colors: Onyx Black, Arctic White and Flame Red. The US retail price including the drone, battery, remote controller, carrying case, two pairs of propeller guards and four pairs of propellers, is $799, with preorders available today. When ordered directly from DJI, tax is included in the price and orders are expected to ship on Jan. 28. B&H and Adorama are also taking preorders with no tax on orders shipped outside NY and NJ.