Spike in job openings at Apple hints at renewed focus on design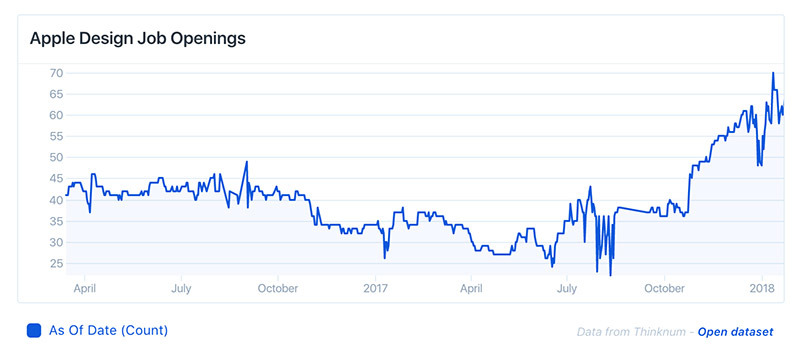 The past few months have seen an unusual hike in job openings for designers at Apple, potentially hinting at work on a grand new project or a renewed focus on design.
According to statistics accumulated by Thinknum, a new data-driven web publication that tracks Apple job openings, among a slew of other publicly available metrics, the number of new positions for designers at the Cupertino tech giant has been climbing steadily since October.
As seen in the graph above, openings for design-related jobs hit a peak of 70 new positions on Jan. 12, a marked uptick from an average of 40 or less dating back to mid-2016. Between April 2016 and October 2017, the number of new design jobs hit a high end of 49 and trough of 22, the latter coming in August of last year.
Apple constantly has feelers out for new and promising employees, but the recent rise in interest for designers is unusual. Thinknum broke down related job openings posted over the past 24 hours and found listings for product managers, motion scientists, product managers, optical engineers, touch ASIC digital architect, iPhone System Engineer, Siri engineers, iPhone product managers, plastic tooling engineers and prototype iOS Engineers.
"Know this, though: Apple is hiring more creative people for future products that have something to do with the iPhone than they have in a long, long time," writes Thinknum publisher Joshua Fruhlinger.
The publication points out that a "large number" of the designers and engineers being sought will work at the company's Apple Park campus. Apple is currently in the process of moving key teams from its Infinite Loop campus to the new facility, where employees will continue work on flagship products like iPhone and Mac.
What, exactly, the glut of new design-related positions means for Apple's future ambitions is unclear. While mere speculation, the increase could signal work on a new product category or it might simply be a planned buildout to bolster groups refining existing product lines. In any case, the company's design and engineering ranks are about to swell.