2018 iPhone SE predicted to be a minor upgrade, if it happens at all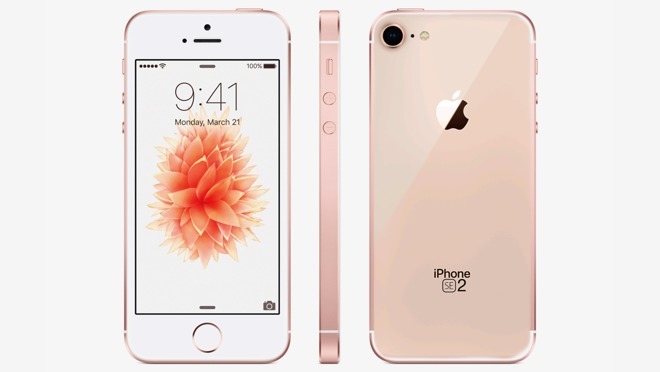 While rumors of a next-generation iPhone SE continue to swirl, analyst Ming-Chi Kuo of KGI Securities is skeptical, telling investors on Monday that he's not sure Apple has the resources to debut its fourth iPhone model in just a matter of months.
On the heels of the iPhone 8, iPhone 8 Plus and iPhone X debut last fall, Apple is rumored to be working on a next-generation iPhone SE. It has been suggested that the handset could be unveiled in the first half of 2018.
Ming-Chi Kuo, of KGI Securities, isn't convinced. In a note to investors Monday, a copy of which was obtained by AppleInsider, he said Apple is unlikely to have enough spare resources to develop a new iPhon model debut early this year.
"The announcement of three new iPhone models in the same quarter in 2H17 was the first time Apple made such a major endeavor, and we believe the delay of the iPhone X, which had the most complicated design yet, shows that Apple doesn't hav enough resources available for development," he wrote.
Kuo doesn't dismiss the possibility of an "iPhone SE 2" entirely, but he did say that if it were to be upgraded in the next few months, the changes would likely be minor. He doesn't expect additions like wireless charging, a 3D sensing camera, or an edge-to-edge display, as those additions would undercut more premium models like the iPhone 8 and iPhone X.
Kuo's note appears to be in response to a recent rumor which suggested a next-generation iPhone SE would boast a glass back for wireless charging. It has also been suggested that the handset will enter into production soon, and begin shipping in May or June.
If Apple does release a new iPhone SE this year, Kuo believes the changes will be minor, such as a faster processor to run the anticipated "iOS 12." He cautioned that the changes could be so insignificant that most consumers may not notice them.
Kuo has been the chief source of future Apple hardware rumors for years, building a respectable track record in predicting where the company will go next. He believes Apple has three new iPhones on tap for this fall: A jumbo-sized 6.5-inch "iPhone X Plus," a next-generation iPhone X, and a lower priced 6.1-inch model with an LCD display and Face ID, sans home button.