Apple error sends Search Ads Basic advertising reports to wrong developers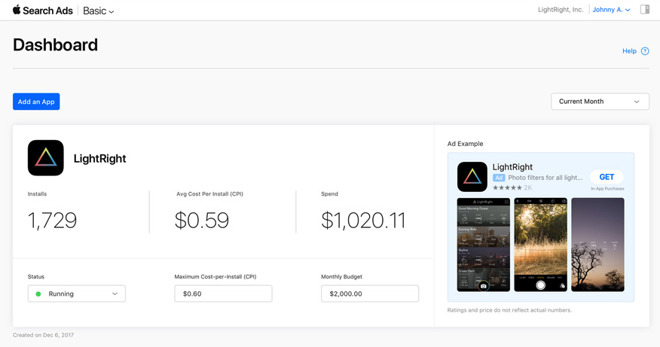 AppleInsider may earn an affiliate commission on purchases made through links on our site.
An issue with the way Apple provides reports to iPhone and iPad app developers about advertising and installation rates has been uncovered, with a number of app developers claiming to receive reports for apps belonging to other developers instead of their own creations.
Emails sent to developers as part of Apple's Search Ads Basic usually provide details about installation rates, ad spending, and cost per installation for their apps. TechCrunch reports some developers are instead getting emails relating to other apps enrolled in the program instead of their own.
One email sent to Steve Troughton-Smith and published on Twitter shows he received information for two apps he claims belong to other developers, including the number of installations, CPI, and ad spend for each app. Some replies to Troughton-Smith's post reveals other developers have received the same type of email, each containing the wrong apps.
Based on the developer response, it appears the issue affects a limited audience and isn't widespread, and only those enrolled into Search Ads Basic. It also appears to be the only issue with the service at the moment, with developers advising both iTunes Connect and the Developer Portal services continue to function as normal.
Introduced in December, Search Ads Basic provides developers a way to set up an advertising campaign for their apps within the App Store, paying only when a user installs the app on their device. The Basic version was created as an alternative to the existing Search Ads platform, renamed Search Ads Advanced, with the Basic tier providing fewer options for focusing a campaign and a budget ceiling of $5,000 per month, while also simplifying the process.
The accidental sharing of this sort of data to the wrong developer is certainly a breach of confidentiality, as such advertising data is valuable and companies typically don't want this information provided to competitors. That being said, only three bits of data are offered for each app, with the remainder held in a password-protected dashboard, rather than a release of all an account's information.
It is also unknown how accurate the released information is, as the data set provided may not relate to each identified app.
This is not the first time developers have mistakenly been given data on the wrong apps. In January 2015, developers logging into iTunes Connect discovered the My Apps section displayed apps that belonged to other companies and individuals.