Apple's proposed Australian flagship store faces public opposition, called 'Pizza Hut pagoda'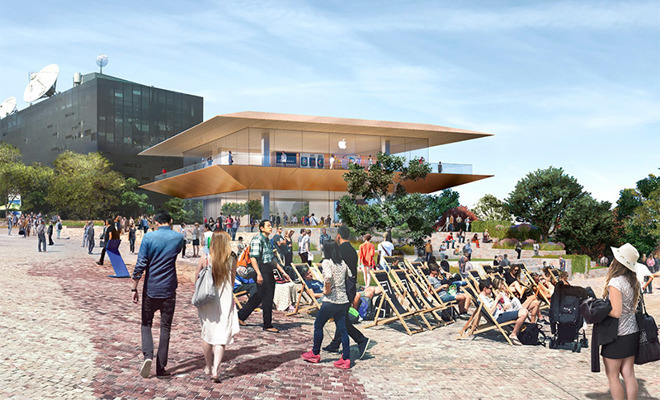 AppleInsider is supported by its audience and may earn commission as an Amazon Associate and affiliate partner on qualifying purchases. These affiliate partnerships do not influence our editorial content.
Apple is facing a rare adverse reaction to the design of a proposed global flagship store in Australia, with the Melbourne City Council on Tuesday voting to lobby the government and Apple for a new aesthetic.
The city council has received some 800 submissions from the community rejecting Apple's Federation Square design, reports ABC News.
Apple's store has caused a rift in local sentiment since its plans were revealed in December. While some embrace the bold architectural statement, others have called for a less grandiose vision that complements surrounding buildings.
Ironically, when Apple took the wraps off the Federal Square outlet last year, SVP of Retail Angela Ahrendts touted the design's adherence to existing structures on the mall.
"Apple Federation Square respects the original vision for the plaza, with a bespoke design concept and extensive landscaping bringing increased opportunities for the community to enjoy this renowned cultural hub," Ahrendts said at the time.
If and when it's constructed, the store will be the first retail outlet at the complex and was made possible through a partnership with Federation Square and the Victorian government. Apple's plans include the addition of 500 square meters of new public space and new landscaping that increases greenery while creating space for passersby to meet and relax.
When Apple first announced plans for the store, some onlookers quipped the company was courting controversy by selecting Federal Square as its build site. The space with its museums, art galleries and eateries is widely recognized as one of the most important cultural hubs in Melbourne.
Council members unanimously backed Greens party councilor Rohan Leppert in a motion to lobby the government for a redesign that would include public input. If the motion fails, the council intends to take the matter to Upper House MPs who have the power to quash Apple's proposal.
Though council members are split on opening Federation Square to commercial development, some, like Nicholas Reece, believe Apple's presence could benefit the area. That statement of support comes with a caveat that the store be "done in the right way." In other words, the current design doesn't cut it.
"It reminds me of a Pizza Hut pagoda and I just think it's like something that's rolled off an Apple Store production line," Reece said.
Whether the motion will be successful remains to be seen, as lead architects for both Federation Square and the Victorian government were involved in project planning and endorsed the proposed design prior to its announcement.