Despite being a HomeKit accessory, HomePod does not work within custom triggers or scenes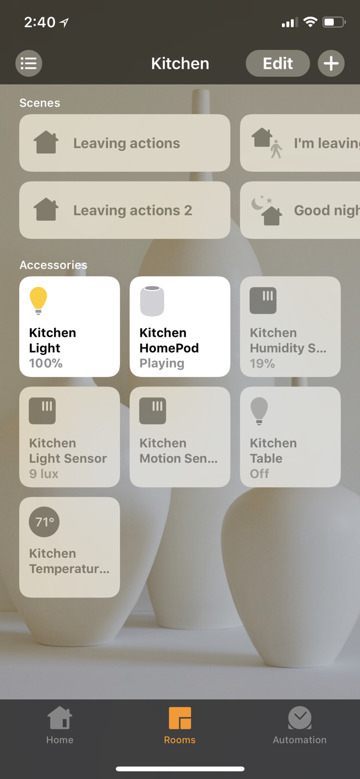 AppleInsider may earn an affiliate commission on purchases made through links on our site.
Though HomePod integrates with Apple's HomeKit, and even shows up as a smart home accessory within the iOS Home app, it cannot be used as a part of an automated trigger or custom scene.
HomePod's inclusion as an accessory within the Home app is noteworthy, as it is the first Apple-built device to have HomeKit compatibility as an accessory. Notably, while an iPad or Apple TV can act as a HomeKit hub, they do not show up as accessories in the Home app and cannot be controlled like smart home devices.
You cannot have the HomePod automatically stop playing music when a HomeKit scene is triggered, such as when leaving home or turning off a light.
The HomePod, though, is different, and its integration with HomeKit will grow even further when support for AirPlay 2 launches. With AirPlay 2, all compatible speakers will show up as HomeKit accessories, allowing users to invoke Siri to play music in specific rooms.
Even though AirPlay 2 isn't here yet, the HomePod still shows up in the Apple Home app. This is where users can adjust various settings and where Apple will deliver future firmware updates for the smart speaker.
In the Home app, you can even tap on the HomePod icon to play or pause music.
However, Apple's HomePod is not shown as an option in the Home app when creating a new trigger or scene.
That means you cannot, for example, have the HomePod automatically stop playing music when you leave the house, even though you can configure lights, switches and other accessories to turn off upon departure.
The configuration could be a glimpse at how AirPlay 2 integration will work when it launches later this year, allowing speakers to join the HomeKit platform in a more passive role.
Of course, HomePod can still be used to control triggers and scenes however. With Siri integration, HomePod allows for voice control of Apple-compatible smart home accessories. Just don't expect the HomePod itself to be automated by custom creations in the Home app.