Apple's Irish tax bill close to finalization, "in the ballpark" of $16 billion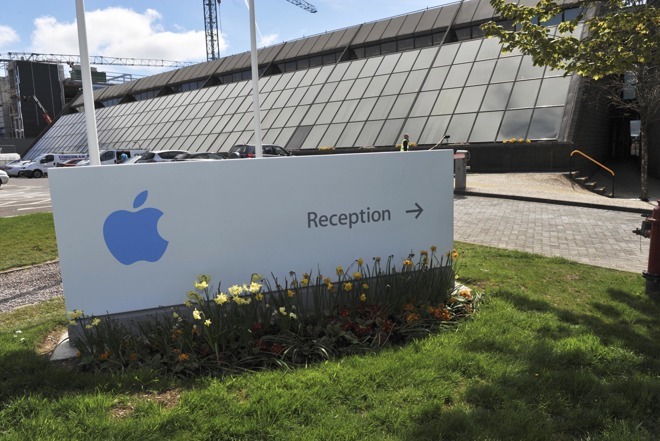 The head of Ireland's Revenue Commission has advised the calculations of Apple's unpaid tax bill are almost complete, with the final total the iPhone producer will be expected to pay the government thought to be around 13 billion euro ($16 billion), close to initial estimates for the European Commission-mandated payment.
Speaking to an Irish parliamentary committee about the tax bill on Thursday, Reuters reports Revenue Commissioner's chairman Niall Cody was asked if his office is obliged to check if the final amount of tax payable by Apple will be in line with estimates from the European Parliament. The country's head tax collector confirmed "It's in that ballpark," indicating the figure will be close to the original amount ordered by the European Commission in 2016.
The government body has yet to finish the task of calculating the owed tax, Cody confirmed, claiming "over 95 percent of the calculations are completed." The final total will be confirmed in the next few months, as Cody advised the government had "agreed with the Commission that all our calculations will be with them before the end of April."
The back tax payment demand was issued after the European Commission declared Irish tax rates on Apple's European profits were illegally low, down to 0.005 percent in 2014 and as low as 1 percent in 2003. The Commission called these cuts "illegal tax benefits," which effectively allowed Apple to pay substantially less tax than other businesses over many years.
It was also ruled that the tax arrangement between Apple and Ireland was "reverse engineered" on the fly to guarantee the smallest possible tax bill.
Ireland has so far made slow process in acquiring the taxes from Apple, with the government establishing an escrow fund to hold tax payments until appeals from both the Irish government and Apple are exhausted. Progress has been so slow that the European Commission warned in October that it would bring Ireland to the European Court of Justice over the delays.
In January, Irish Prime Minister Leo Varadkar advised to EU lawmakers that initial payments from Apple could commence in the second quarter of 2018, continuing through to the third quarter. This is later than the original plan detailed by the government in December last year, when finance minister Paschal Donohoe advised the first payments will take place in the first quarter.