With Twitter for Mac dead, here are the best alternatives for tweeting via macOS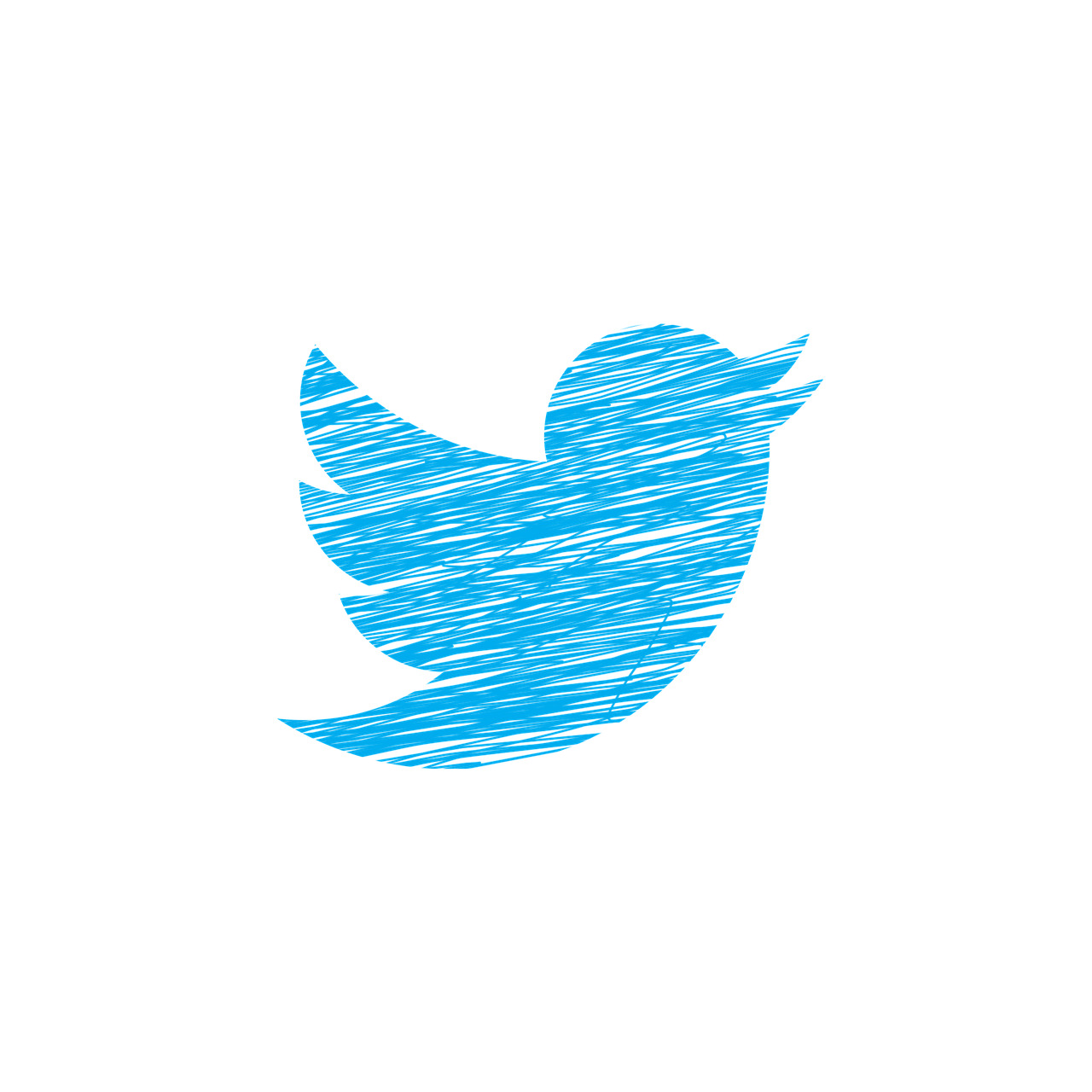 If you've been using Twitter for Mac, it's time to shop around. Twitter's recent announcement it would no longer offer its app for download in the Mac App Store or support existing downloads beyond March has Twitter app-loving Mac users scrambling for a replacement.
Twitter announced in February that it would no longer support its official Mac client, and it will no longer be available to download as of mid-March. The discontinuation may be no love lost for some, however, as the official Twitter client had earned a meager 1.7 stars out of 5 from users on the Mac App Store.
Twitter explained its discussion (on Twitter, of course) by saying the company was going to focus its efforts "on a great Twitter experience that's consistent across platforms." While Mac users wait to see what they might mean for them, it leaves some wondering what options are available to take the native Mac client's place.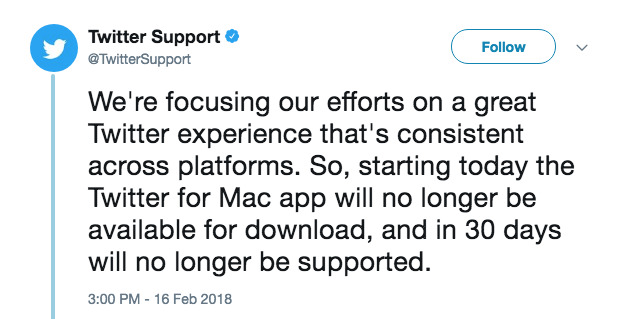 If you've been using Twitter, but not the Twitter client, you are probably familiar with what some have called better, more robust options, even before the Twitter app said goodbye to the App Store. If not, here are a few replacement options for you to consider.
Tweetdeck by Twitter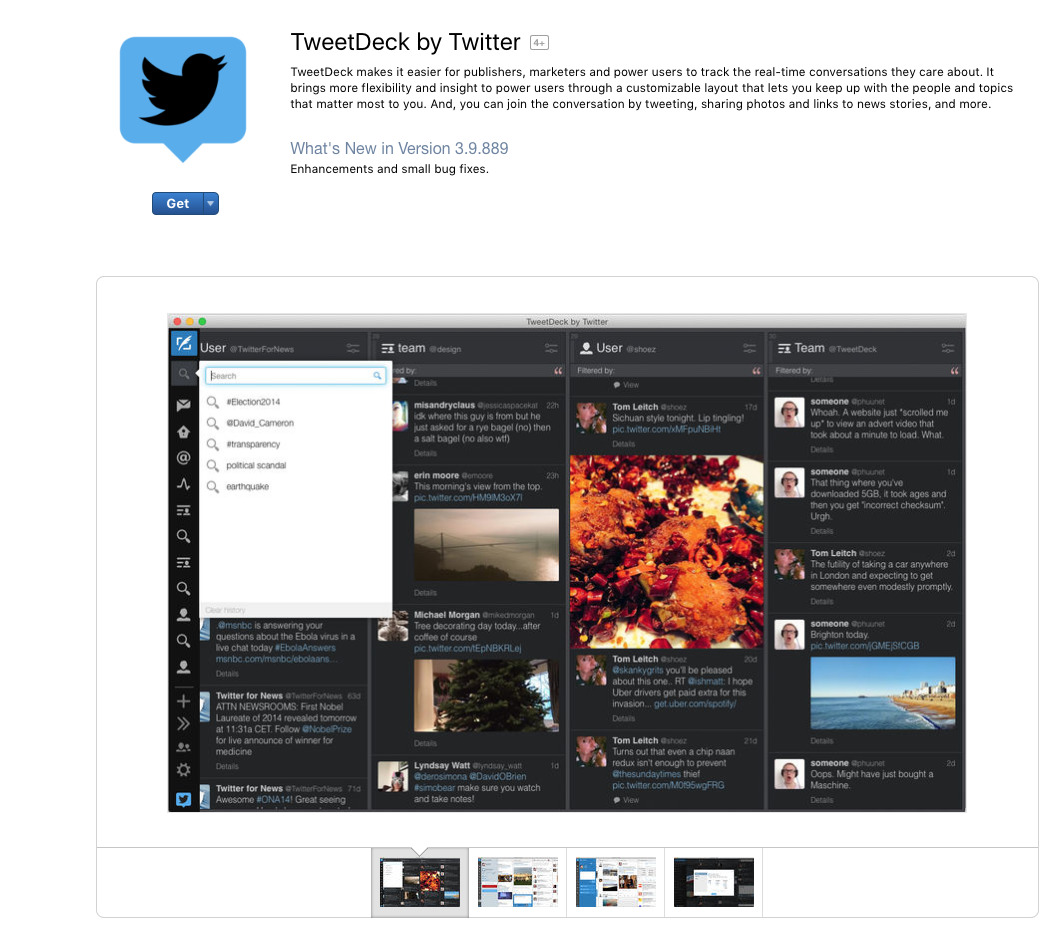 With official support from Twitter, this may feel like the shortest jump for users of the now-defunct Twitter app. Tweetdeck, purchased by Twitter in 2011, allows users to divide Twitter and the Timeline into two distinct columns. The app, according to the App Store, offers more flexibility and customization for its users.
Tweetbot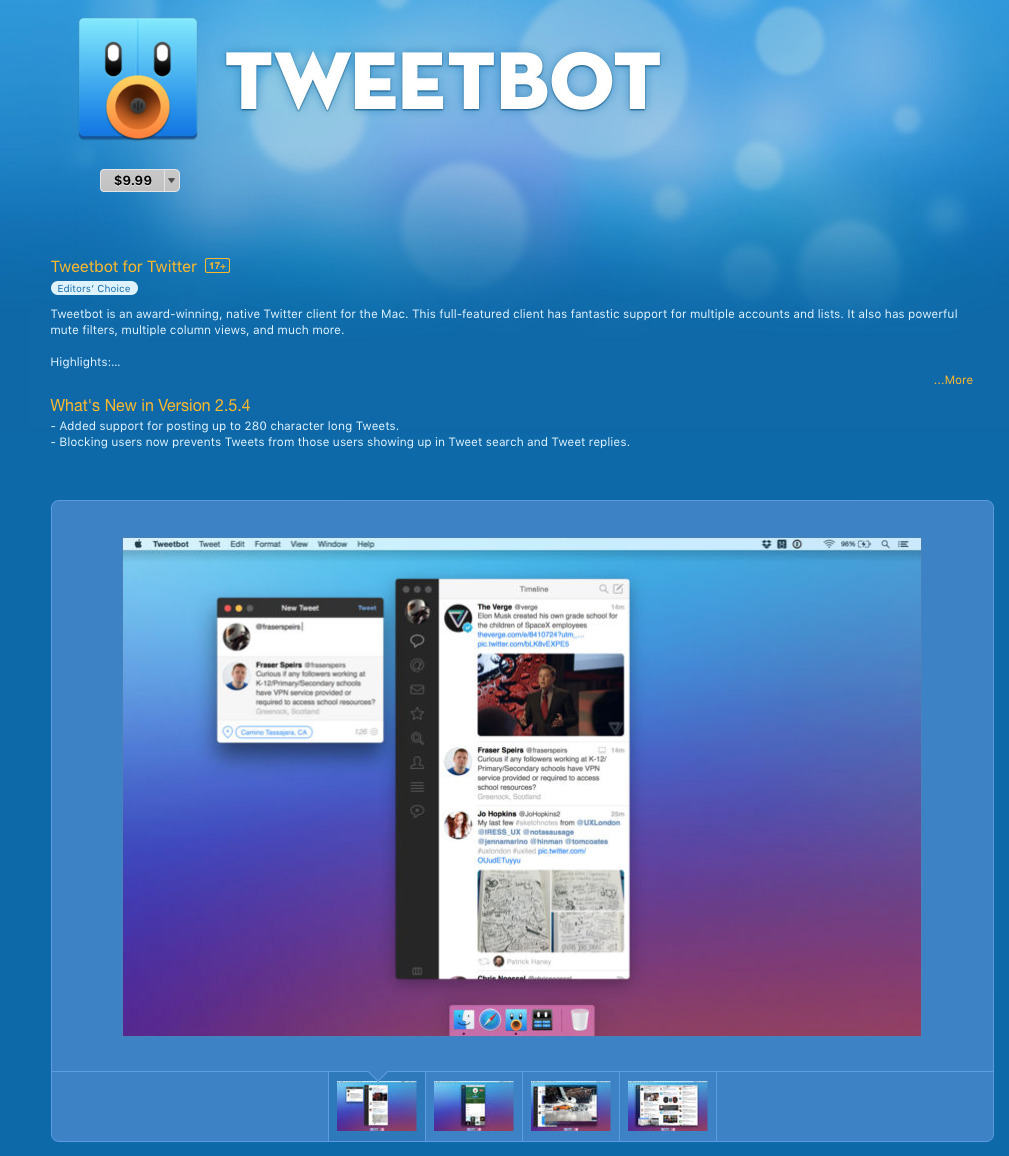 If you like your Twitter with fewer sponsored tweets, no algorithms and no ads, Tweetbot might be the perfect fit for you. Customize the interface, switch up the content you see on your feed, and filter or mute until your heart's content. Tweetbot also supports Twitter's 280-character count, direct messaging, images, videos, GIFs and more.
Quick Tweet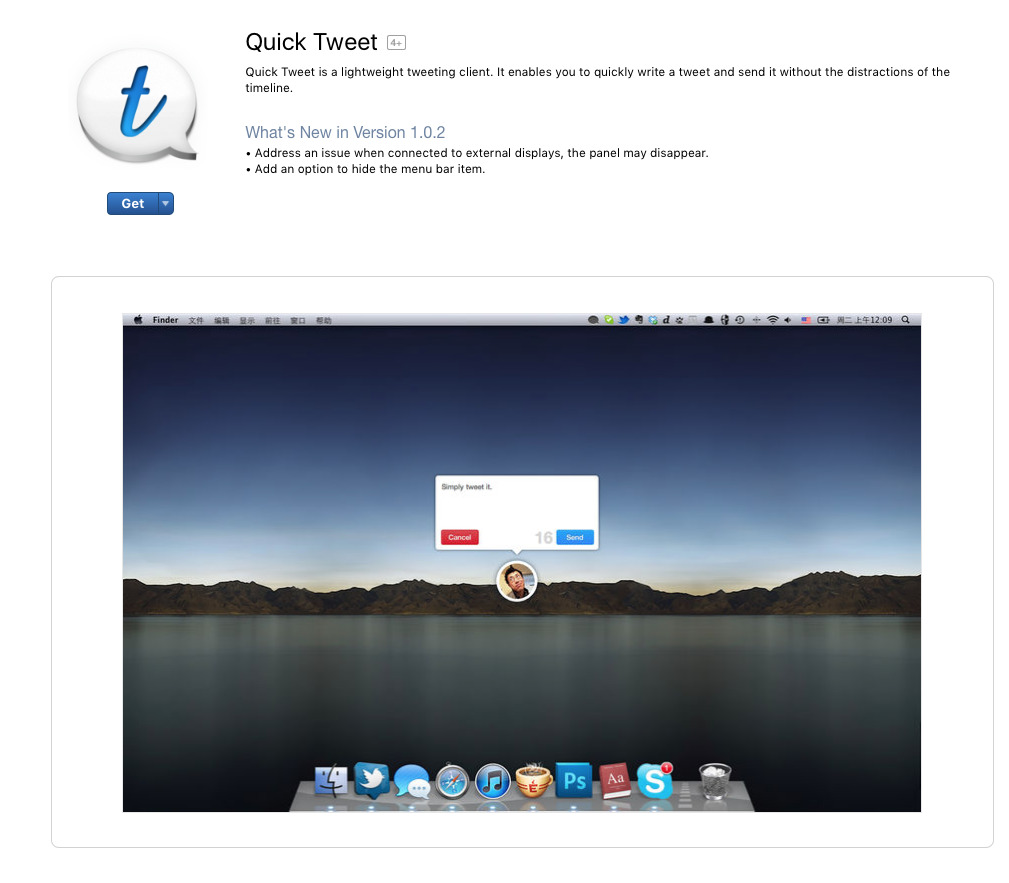 No, it's not a robust Twitter substitute, but if you want to fire off tweets quickly (and then check your timeline on your iPhone), this might do the trick. Quick Tweet works by allowing you to type a message quickly from your desktop without getting bogged down in what's happening on your Timeline.
Twitterrific 5 for Twitter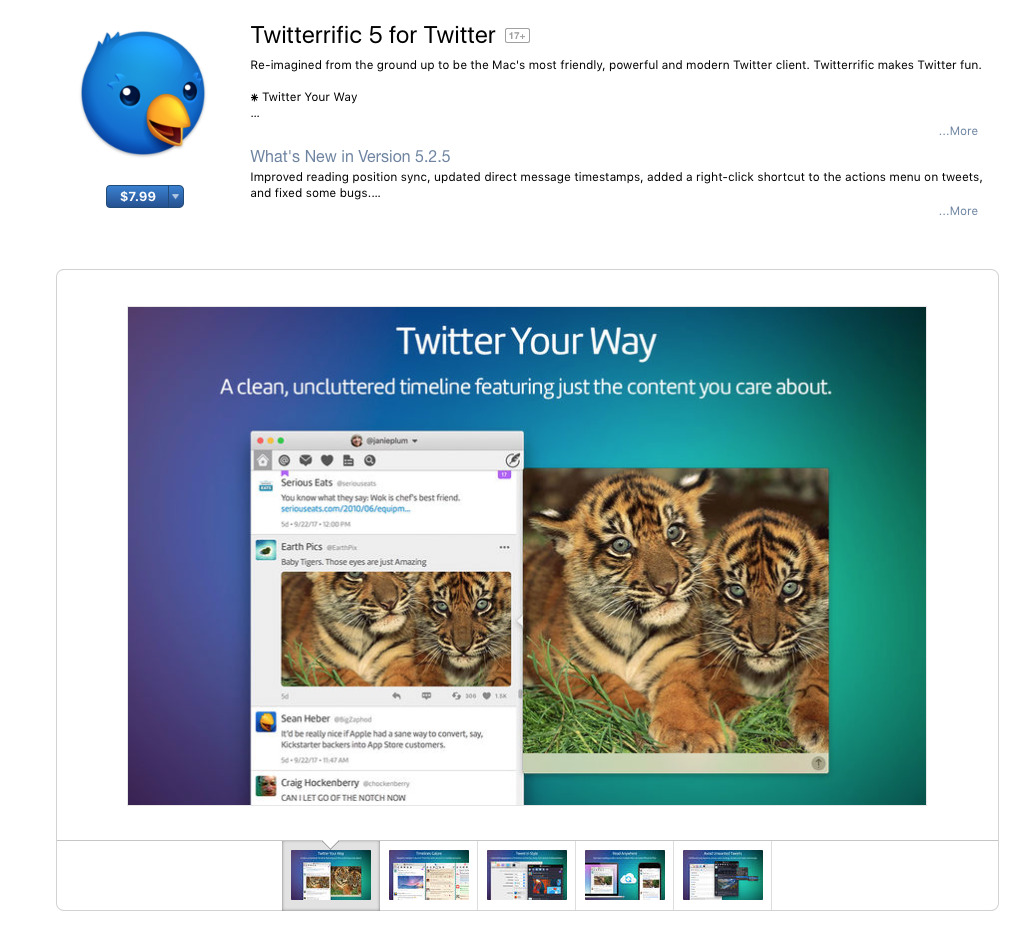 Billing itself as a "seamless Twitter experience," Twitterrific is a popular alternative choice. Like Tweetbot, there are no ads, promoted tweets or "while you were away" updates to sort through. Users can customize fonts and the appearance of media, while also getting support for Mac's Notification Center and using multiple windows for different accounts.
Twitter.com
Price: Free | Availability: Web-based
Maybe the disappearance of Twitter for Mac hasn't been that big of a deal for you because you've been using Twitter.com all along. If you are a Twitter for Mac user, navigating to Twitter.com from your web browser is old-school, but it still works. No, you don't get extra customizations and, yes, you do have to deal with sponsored tweets and algorithms, but it is a quick and easily-accessible fix. And, it appears Twitter may be trying to drive traffic to a website — as Facebook has always done — going forward.
Site-specific browser with Fluid Browser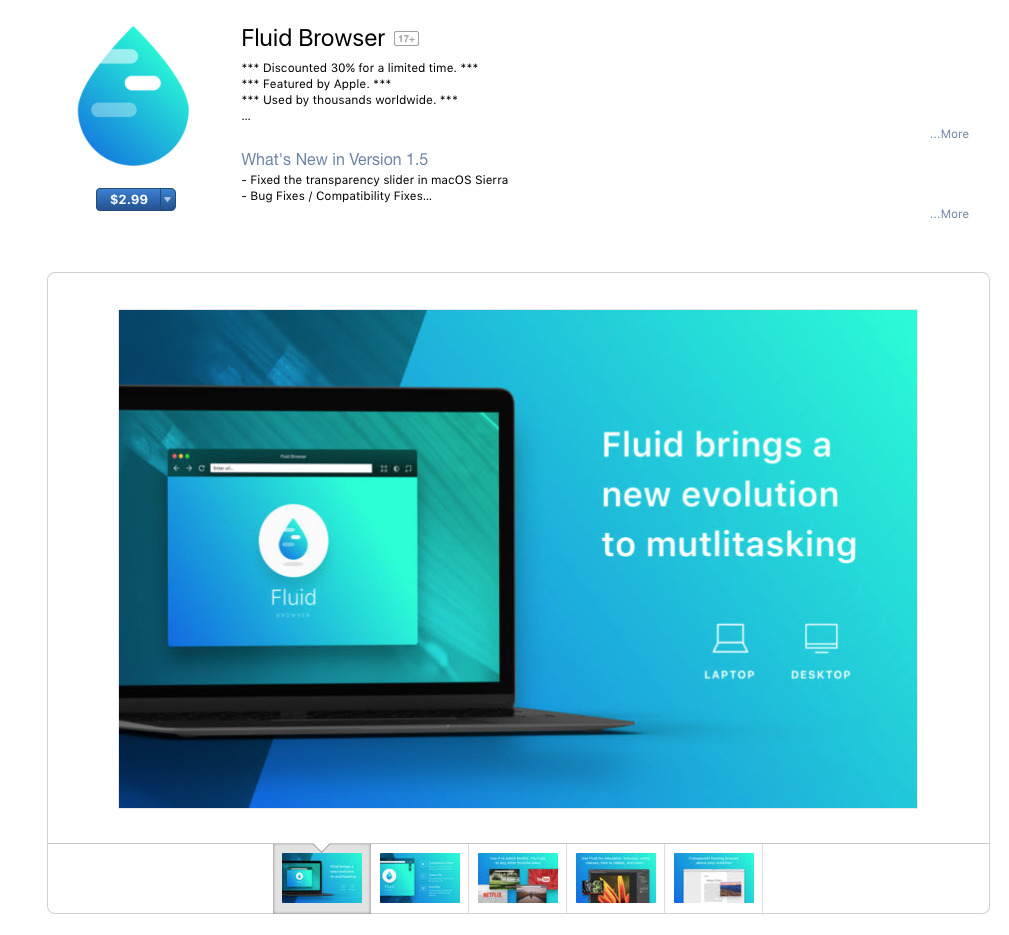 Site-specific browser applications like Fluid can be useful for turning web apps into standalone docks, allowing you to give Twitter its own icon and window and, you, the feel and functionality of a standalone app.
Fluid allows you to bring up a website on your computer as if it were its own desktop application. If you've ever saved a webpage as a shortcut on your iPhone by clicking "Add to Home Screen," the concept behind Fluid is very similar.
Once you download and install it to your Mac, Fluid's step-by-step set-up process is easy to navigate. Simple choose a URL you want to create a desktop app for, name it, set a location where you want the application to live on your computer and you're finished. Then, when you're ready to access Twitter, you can click the macOS "app" you just created and get back to tweeting.