Apple Maps adds locations of bike-sharing stations in over 175 cities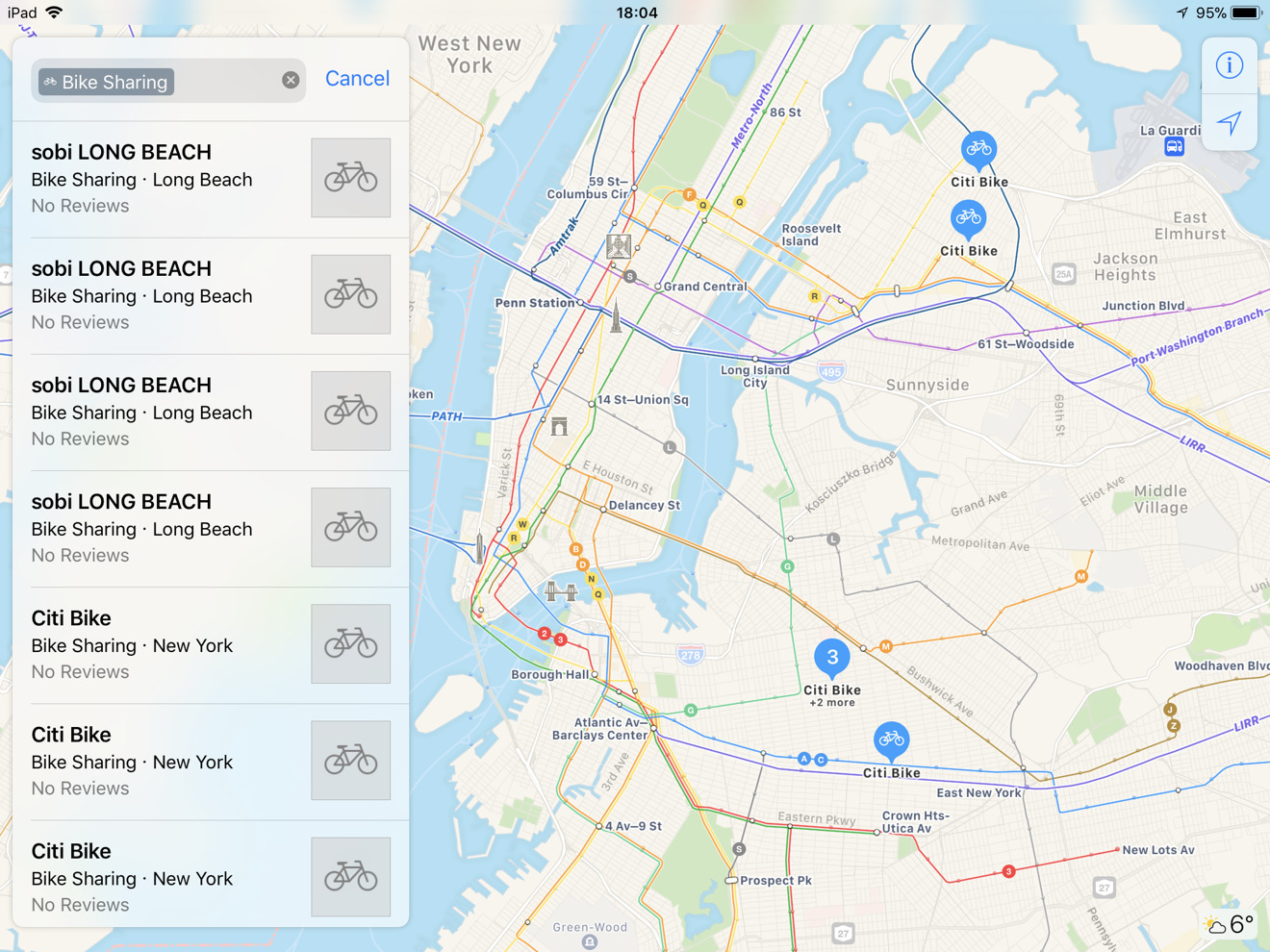 AppleInsider is supported by its audience and may earn commission as an Amazon Associate and affiliate partner on qualifying purchases. These affiliate partnerships do not influence our editorial content.
Apple Maps has been updated to include the locations of bike sharing services in over 175 cities in 36 countries, allowing tourists and those wanting to cycle around an area to quickly find the nearest bike-sharing station that can provide them the two-wheeled vehicles.
Now live in Apple Maps, the new data now appears if users type in "bike sharing" in the search bar, reports TechCrunch, followed by selecting the "Bike Sharing Nearby" option in the suggestions list. Results for specific bike-sharing services can also be brought up if searched by name.
The results that come up include both municipal-driven efforts, like the Santander Cycles in London, as well as privately-owned services. The list of supported services includes Citi Bike in New York City, Ford GoBike in San Francisco, Biketown in Portland, Bicing in Barcelona, BIXI, in Montreal, CityCycle in Brisbane, and Nextbike in multiple European locations.
The listing for each stand provides basic information for the service, including its address and contact details for the operator, and in some cases the service's app. The app suggestion is useful, as Apple Maps doesn't provide more detailed information about each location, such as how many bikes are available to ride or if it is a dock-less service, forcing users to look elsewhere for that data.
The new data is supplied to Apple Maps from Ito World, a data analysis and visualization firm, which operates a global bike share data feed. Ito World combined and normalized the data from multiple sources, creating a single data model that can be more easily integrated into services, like Apple has done with Maps.
Apple has been gradually improving the data Maps provides for public transport, as it tries to compete with Google Maps. In recent months it has expanded its public transit directions feature to Tucson, AZ and Tampa, FL, and has worked to provide interior maps for a number of major airports to help passengers find their way through the large terminals.