StarTech debuts a new Thunderbolt 3 Dock with SD card reader and 85W of charging power
By Stephen Silver
Thursday, March 15, 2018, 08:58 am PT (11:58 am ET)
StarTech has unveiled a new Thunderbolt 3 dock, which offers SD Card reading capability, dual-4K display connection, as well as six USB 3.0 ports.




The StarTech TB3DOCK2DPPD is an upgrade from a previous version that lacked the SD card reader. Dual 4K display connectivity is provided by the DisplayPort, with a second monitor connected through the down-stream Thunderbolt 3 port with a USB-C to HDMI or DisplayPort cable, which is not included.

Other features include USB Power Delivery 2.0 through Thunderbolt 3 with up to 85W of power, five USB 3.0 type A ports, one USB 3.0 type C port capable of 5 gigabits per second, a Gigabit Ethernet port, and an audio/microphone port.





The TB3DOCK2DPPD has a retail price of $404.99, but the company notes that prices may be lower at its resellers.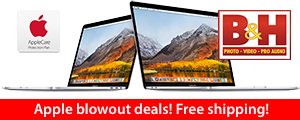 2017 12" MacBooks
Price
Save
1.2GHz/8GB/256GB (Gold)
$799.00+
$500
1.2GHz/8GB/256GB (Rose Gold)
$799.00+
$500
2018 13" Touch Bars
Price
Save
2.3GHz/8GB/256GB (Gray)
$1,649.99+
$150
2.3GHz/8GB/512GB (Silver)
$1,879.00+
$120
2.3GHz/16GB/256GB (Gray)
$1,949.00+
$50
2.7GHz/16GB/512GB
$2,449.00+
$50
2.7GHz/16GB/1TB
$2,849.00+
$50
2018 15" MacBook Pros
Price
Save
2.2GHz/16/256GB/555X
$2,549.00+
$50
2.2GHz/16/512GB/555X
$2,575.00+
$225
2.9GHz/16/1TB/560X
$3,199.00+
$300
2.9GHz/32/2TB/560X (Gray)
$3,999.00+
$700
2.9GHz/32/4TB/560X (Gray)
$5,999.00+
$700
Click here for dozens more configurations
+ Free shipping within the contiguous U.S.
Lowest Prices Anywhere!

13" MacBook Pros
Price
You Save
3.1GHz/8GB/256GB Gray
$1,679.00
$120.00
3.1GHz/8GB/256GB Silver
$1,704.00*
$95.00
3.1GHz/8GB/512GB Gray
$1,849.00*
$150.00
3.1GHz/16/512GB Gray
$2,099.00
$100.00
15" MacBook Pro
Price
You Save
2.8GHz/16/256/555 Silver
$2,199.00*
$200.00
2.8GHz/16/256/560 Gray
$2,299.00
$200.00
2.9GHz/16/512/560 Gray
$2,599.00
$200.00
2.9GHz/16/1TB/560 Gray
$2,999.00
$200.00
3.1GHz/16/512/560 Gray
$2,799.00
$200.00
3.1GHz/16/2TB/560 Gray
$3,899.00
$300.00

*

price with Promo Code:

APINSIDER

prices.appleinsider.com for more configurations