Apple's services business booms amid continued reports of weak iPhone X demand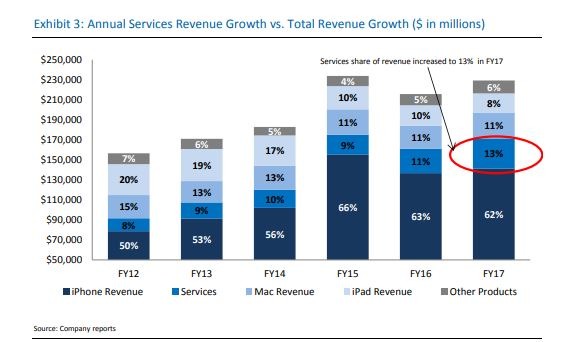 Apple's services business is booming, and it could serve to offset reported softness in demand for the iPhone X, as well as smooth out the valleys in seasonal earnings drops expected to arrive this quarter.
According to a research note by RBC analyst Amit Daryanani, Apple is projected to see around 20 percent growth in services revenue this year thanks to "increased monetiziation [sic] of install base" and "growth in the aggregate iOS install base."
Apple CEO Tim Cook during a quarterly conference call last year said the company aims to double the size of its service business to $48 to 50 billion by 2020. That goal is well on its way to being met, as the segment currently generates over $30 billion, Daryanani notes.
"We believe [Apple] stock should continue to outperform the market driven by strong FCF generation, ability for outsized capital allocation and a growing iOS install base that generates sustained and recurring FCF growth," Daryanani wrote.
Apple's services portfolio includes the App Store, iTunes, Apple Music, AppleCare, Apple Pay, iCloud and licensing. In its most recent quarter, Apple posted $8.5 billion in revenue in its services category, up 13 percent year over year.
Daryanani's note comes at a time when various industry analysts have pointed out soft demand for the iPhone X, saying the handset is not selling as expected in part due to its high price tag
Nomura Instinet's Jeffrey Kvaal, in a note issued Monday and cited by CNBC, saw "signs of trouble" in iPhone demand, sentiments echoed by Longbow Research analysts Shawn Harrison and Gausia Chowdhury, according to Fortune.
"Our demand checks suggest little improvement in iPhone demand in 2018," Kvaal writes. "Corresponding supply chain downticks suggest iPhone expectations have yet to bottom."
The analyst sees "further signs of trouble at the high end of the market," suggesting price is a major barrier to entry. Low interest in high-cost handsets does not appear to be an Apple-specific issue, as Kvaal's colleagues in Korea note Samsung Galaxy S9 preorders were down 30 percent.
The narrative of lower-than-expected iPhone X demand has been forwarded by a number of high-profile analysts, including KGI's Ming-Chi Kuo, who in a note to investors in January said he believes Apple has reduced orders for the device.
For its part, Apple says iPhone X helped drive its highest-revenue quarter ever, with the average selling price of iPhone rising to an all-time high of $796.42. In a follow-up conference call, CEO Tim Cook touted iPhone X sales performance, saying the device outsold its iPhone 8 and 8 Plus stablemates every week since its launch in November.