Apple's Tim Cook visits Birmingham to receive SCLC's Human Rights Award [u]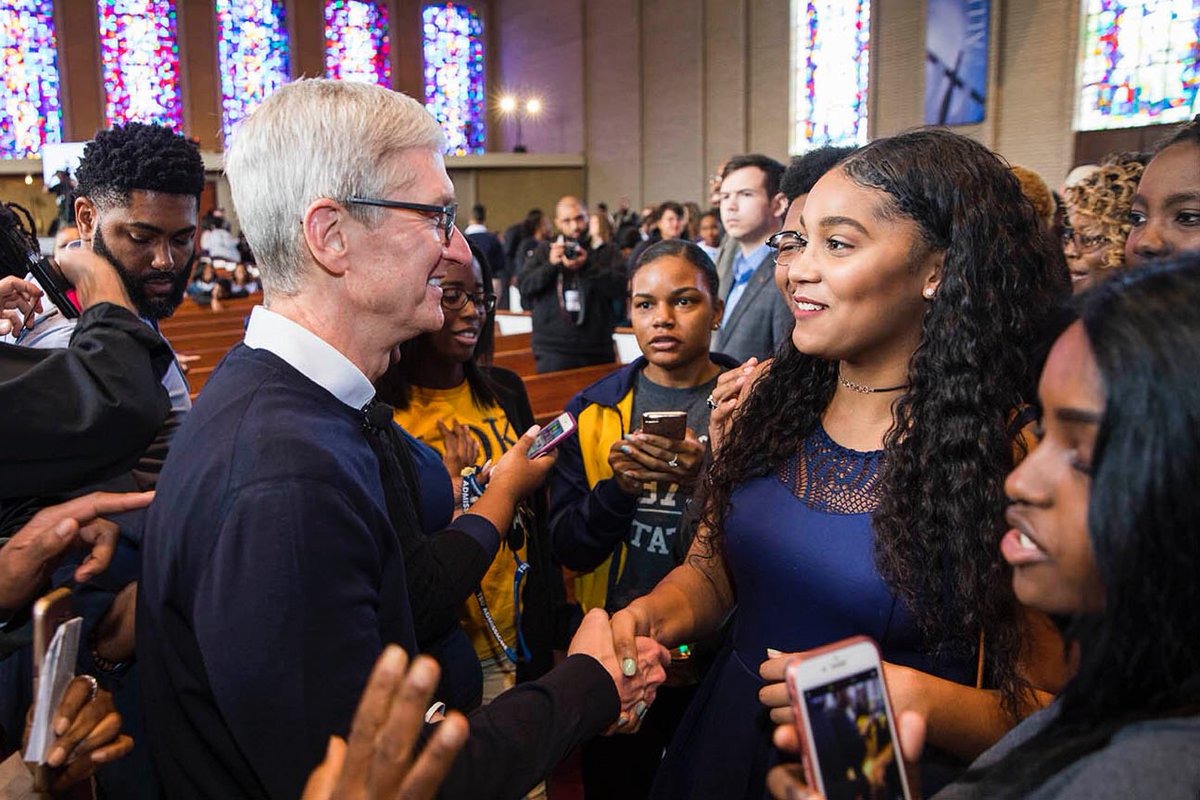 AppleInsider is supported by its audience and may earn commission as an Amazon Associate and affiliate partner on qualifying purchases. These affiliate partnerships do not influence our editorial content.
Apple CEO Tim Cook was in Birmingham, Ala. on Wednesday, marking both the 50th anniversary of the murder of civil rights leader Martin Luther King Jr. and the rollout of Apple's Swift programming curriculum across all Alabama Community College (ACCS) branches. He was also in town to receive the Human Rights Award from the Birmingham Metro Southern Christian Leadership Conference.
Cook attended a symposium hosted by the SCLC at Birmingham's Sixth Avenue Baptist Church, where he commented on King's contributions to society and fielded questions from students about the technology industry, reports AL.com.
"I don't think any of us in this room are happy with where we are today," Cook said, "but we can celebrate how far we have come. I don't believe we would be here without (King)."
The Apple chief is an avid follower of Dr. King's teachings, often quoting the civil rights leader in tweets and interviews.
"It's an honor to be in Birmingham celebrating Dr. King's life today," Cook wrote on Twitter, adding an abbreviated quote from a letter by King while he was in Birmingham Jail in 1963.
It's an honor to be in Birmingham celebrating Dr. King's life today. "Let us all hope that...in some not too distant tomorrow the radiant stars of love and brotherhood will shine over our great nation with all their scintillating beauty." pic.twitter.com/GN6T54hSqx

— Tim Cook (@tim_cook) April 4, 2018
Touching on student activism related to the Parkland, Fla., school shooting, Cook praised recent efforts, saying young people are "not stuck with old dogmas. They are not fighting these ancient fights. They don't accept 'it's never been done before.' They don't accept 'it can't be done.' They don't accept it 'don't work life that.'"
Cook also visited ACCS's Lawson State Community College during his time in Birmingham. In another Twitter post, Cook can be seen watching students as they work on iMacs.
The CEO is himself from Mobile, Ala., and a graduate of Auburn University, supporting their football team. He's also a well-known backer of socially liberal causes such as LGBT rights and workplace diversity.
The Swift expansion is part of a broader educational campaign that intensified with a March 27 press event in Chicago. While much of the media's attention centered around an updated "budget" iPad, the company also used the event to accelerate its Everyone Can Code program, intended to teach Swift at schools around the world. The company has put an altruistic spin on the initiative, but benefits financially given that Swift's main use is developing for iOS, macOS, watchOS, and tvOS.
Update: Adds information about Cook's symposium at the Sixth Avenue Baptist Church.