2018 iPhone may sport three-lens camera system to boost image quality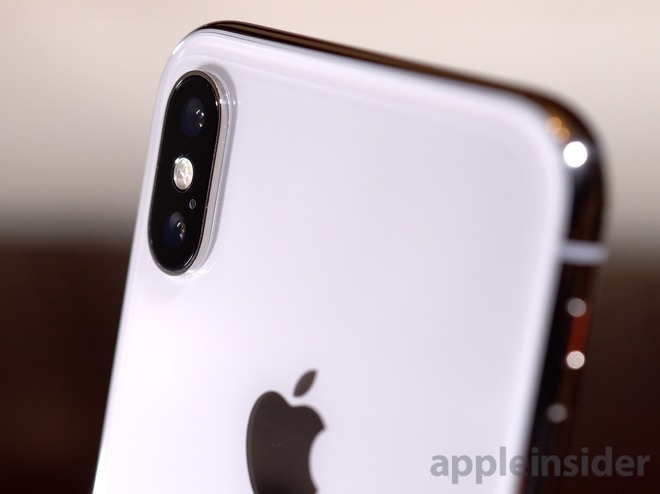 Reports from the supply chain are predicting that at least one model of 2018 iPhone will have a three-lens system to improve photo quality, and possibly increase the optical zoom.
A supply chain based report claims that one of the three expected fall 2018 iPhones will somehow incorporate a 5x optical zoom in the place of the existing 2x installation, with a 6P lens system. The extra lens could possibly add to low-light quality, or be some kind of rangefinder to enhance the camera, possibly with a depth-mapper like used in Face ID to help with ARKit applications.
The Economic Daily News has little else to say on the matter, and isn't clear on the specific details of the lens, or the camera's performance. Furthermore, the publication has a poor track record on predicting Apple's future plans.
Early discussions from 2017 about what would ultimately be called the iPhone X predicted that Apple would adopt another lens on the rear camera protrusion for range-finding. Early suspicions pegged a front and back VCSEL on the device, with the final device having only the one on the front of the device for Face ID.
Should there be three lenses, it might be similar to the Huawei P20 Pro, which has a three-lens system. However, the picture quality has not always been heralded to be better than that in the iPhone X, despite the company declaring victory in the smartphone camera wars with the release.
The current crop of rumors suggests Apple has a 6.5-inch OLED iPhone on tap for launch in the second half of 2018. This handset would presumably serve as a sort of "iPhone X Plus," taking the general size of a Plus-sized iPhone and adding an edge-to-edge OLED display.
Apple is also said to be working on a new LCD model with a large 6.1-inch display. Analysts predict that this model will be targeted toward the low-end and mid-range smartphone markets.
The low-cost flagship is expected to have a lower-resolution display to achieve a price point between $650 and $750. But it's likely that this model will feature Face ID and advanced cameras to replace Touch ID.