Mac sales return to growth in Q1 amid continued PC market decline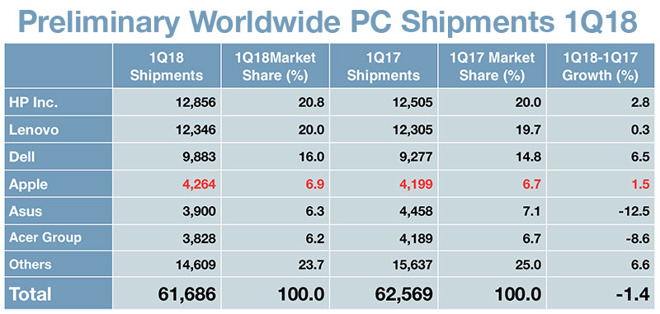 AppleInsider may earn an affiliate commission on purchases made through links on our site.
Following a contraction over the holiday shopping season, Apple's Mac shipments returned to growth during the first quarter of 2018 amid a deteriorating PC market, according to fresh statistics from market research firm Gartner.
Gartner estimates Apple shipped nearly 4.3 million units over the three-month period ending in March, up 1.5 percent year-over-year. The fourth-place performance gave the company a 6.9 percent share of the market, a figure last seen in the third quarter of 2017.
Mac experienced a downturn last quarter when Apple reported a 4.8 percent drop in sales compared to the year prior.
Mirroring recent quarters, HP finished in the top spot with 12.9 million units shipped to take a 20.8 percent share of the market, up 2.8 percent year-over year. Lenovo followed close behind with 12.4 million units shipped and 20 percent of the market. Dell was the quarter's biggest positive mover, ending the period up 6.5 percent with a 16 percent share on 9.9 million units shipped.
Asus and Acer again saw their slice of the pie diminished with a respective 3.9 million and 3.8 million units shipped, good for 6.3 percent and 6.2 percent of the market. For Asus, the 12.5 percent year-over-year decline dropped the firm into fifth place behind Apple, while Acer finished in sixth with an 8.6 percent decline in growth.
Though not as poor a showing as recent quarters, global PC shipments continued a downward spiral, with Gartner estimating a 1.4 percent contraction from the same time last year.
Apple put in a similar showing in the U.S., a region that accounted for 1.5 million shipments, up 0.5 percent year-over-year. Mac captured 12.6 percent of the market during the first quarter, according to Gartner. The performance landed Apple in fourth place behind Dell, HP and Lenovo. Of the top three, only Dell exhibited growth of 7.6 percent during quarter one, while HP and Lenovo shipments both dipped 4.8 percent over the same period.
Research firm IDC released its own set of numbers on Wednesday, putting Apple in fifth place worldwide with 6.6 percent of the market on 4 million shipments, down 4.8 percent year-over-year.
IDC estimates HP finished in first place globally with 13.7 million units shipped, up 4.3 percent to net a 22.6 percent marketshare. Second place Lenovo saw zero growth with 12.3 million shipments, but managed to capture 20.4 percent of the market. Dell rounded out the top three with 10.2 million units shipped, good for 16.9 percent of the market, while Acer shipments dropped 7.7 percent to 4.1 million units.