Mac sales continue decline in Q3, Apple drops to 5th place worldwide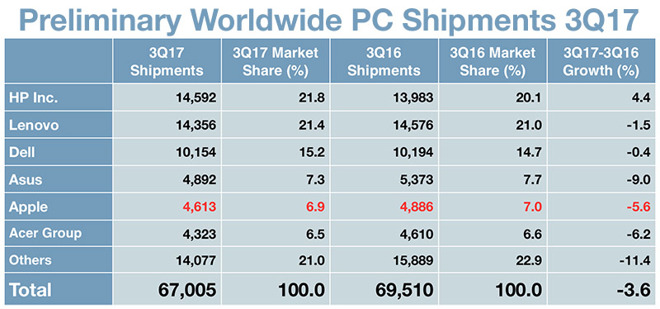 AppleInsider may earn an affiliate commission on purchases made through links on our site.
Following the downward spiral of the overall PC market, Apple's Mac sales continued to atrophy in the third calendar quarter of 2017 to put the company at fifth place among fellow vendors, according to fresh estimates from research firm Gartner.
According to Gartner's latest numbers, published on Tuesday, Apple managed to ship 4.6 million units over the third quarter, down 5.6 percent year over year. The performance was good enough to capture 6.9 percent of the market, identical to Apple's second quarter results as determined by the market research firm.
The numbers are peculiar considering the three-month period marks the first full reporting period of sales for new Mac models debuted in June. As AppleInsider noted when Apple revealed quarterly earnings in August, market research firms like Gartner often underestimate Mac sales.
Despite owning the largest year-over-year decline out of Gartner's top-five vendors, Asus edged out Apple to take the No. 4 spot with 4.9 million units shipped and 7.3 percent of the market, down 9 percent from the same time last year. By contrast, the Taiwanese manufacturer suffered a 10 percent contraction in shipments during the second quarter.
HP finished first for the second quarter in a row with 14.6 million PCs shipped, enough to take 21.8 percent of the worldwide market. With sales up 4.4 percent on the year, the U.S. tech titan was the only major vendor to exhibit growth this quarter.
Chinese PC manufacturer Lenovo continued to see declines, dropping from 14.6 million units shipped in 2016 to 14.4 million units in the most recent quarter. While not as substantial a slip as last period's 8.4 percent decline, the 1.5 percent decline in sales further adds to HP's growing lead.
Dell rounded out the top three with 10.2 million units shipped to take a 15.2 percent marketshare, down 0.4 percent year over year.
Coming in sixth, Acer sold 4.3 million units for a 6.5 percent share of the market, down 6.2 percent year on year.
With significant declines from all but one of the top-five vendors, worldwide shipments contracted 3.6 percent on a year-over-year basis, according to Gartner.
"While there were signs of stabilization in the PC industry in key regions, including EMEA, Japan and Latin America, the relatively stable results were offset by the U.S. market, which saw a 10 percent year-over-year decline in part because of a very weak back-to-school sales season," said Mika Kitagawa, principal analyst at Gartner.
According to Kitagawa, demand for enterprise PCs continued to drive sales across all regions, with Windows 10 upgrades leading the way.
Apple fared similarly in the U.S., where Mac is more widely distributed among consumers. For the third quarter, Mac shipments dipped to 1.9 million units, down 7.6 percent year over year. The performance landed Apple up a spot in third place with a 12.8 percent marketshare. Mac beat out Lenovo, which dropped from third to fourth on massive shipment declines of 25.2 percent. The Chinese company shipped 1.8 million units in the U.S. over the three month period ending in September.
HP came in first in the U.S. with 4.7 million units shipped to take a 31.6 percent marketshare, while Dell placed second with 3.8 million shipments to capture 25.6 percent of the market. Asus rounded out the top five with 643,000 units shipped, down 22 percent year over year.
As usual, IDC released its own set of numbers on Tuesday, which put Apple in fourth place with 4.9 million shipments good for 7.3 percent of the worldwide PC market. That figure is up 0.3 percent from the same time last year.
IDC puts HP in first with 15.3 million units shipped for a 22.8 percent marketshare, up 6 percent. Lenovo saw 0.1 percent growth on the year to take second place with 14.5 million shipments, good enough for 21.6 percent of the market, as Dell placed third on 10.8 million units shipped and a 16.1 percent marketshare. As it did last year, Asus rounded out the top five with 4.2 million units shipped, down 14.6 percent year over year.