What's new in Apple's latest watchOS 4.3.1 beta
By Andrew O'Hara
Monday, April 16, 2018, 02:03 pm PT (05:03 pm ET)
Apple's first and second watchOS 4.3.1 beta releases include only minor changes to the wearables platform, with the most substantial addition being a new pop-up message warning users that support for legacy apps will soon be killed off.



Like the first 4.3.1 beta released two weeks ago, Monday's second beta version is sparse on features. In fact, no new user-facing features or modifications were found in beta 2.

Apple did incorporate two notable changes in beta 1, however, including a warning message telling users that Apple will drop support for watchOS 1 apps in the future. Developers have been aware of the policy shift for months, and Apple stopped accepting apps built on the old watchOS SDK in April.

Also included in the new watchOS beta is a hint that an upcoming update could support third-party watch faces.

Developers received the initial beta of watchOS 4.3.1 just two weeks ago, alongside iOS 11.4 and tvOS 11.4.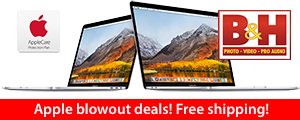 2017 12" MacBooks
Price
Save
1.2GHz/8GB/256GB (Gold)
$799.00+
$500
1.2GHz/8GB/256GB (Rose Gold)
$799.00+
$500
2018 13" Touch Bars
Price
Save
2.3GHz/8GB/256GB (Gray)
$1,649.99+
$150
2.3GHz/8GB/512GB (Silver)
$1,879.00+
$120
2.3GHz/16GB/256GB (Gray)
$1,949.00+
$50
2.7GHz/16GB/512GB
$2,449.00+
$50
2.7GHz/16GB/1TB
$2,849.00+
$50
2018 15" MacBook Pros
Price
Save
2.2GHz/16/256GB/555X
$2,549.00+
$50
2.2GHz/16/512GB/555X
$2,575.00+
$225
2.9GHz/16/1TB/560X
$3,199.00+
$300
2.9GHz/32/2TB/560X (Gray)
$3,999.00+
$700
2.9GHz/32/4TB/560X (Gray)
$5,999.00+
$700
Click here for dozens more configurations
+ Free shipping within the contiguous U.S.
Lowest Prices Anywhere!

13" MacBook Pros
Price
You Save
3.1GHz/8GB/256GB Gray
$1,679.00
$120.00
3.1GHz/8GB/256GB Silver
$1,704.00*
$95.00
3.1GHz/8GB/512GB Gray
$1,849.00*
$150.00
3.1GHz/16/512GB Gray
$2,099.00
$100.00
15" MacBook Pro
Price
You Save
2.8GHz/16/256/555 Silver
$2,199.00*
$200.00
2.8GHz/16/256/560 Gray
$2,299.00
$200.00
2.9GHz/16/512/560 Gray
$2,599.00
$200.00
2.9GHz/16/1TB/560 Gray
$2,999.00
$200.00
3.1GHz/16/512/560 Gray
$2,799.00
$200.00
3.1GHz/16/2TB/560 Gray
$3,899.00
$300.00

*

price with Promo Code:

APINSIDER

prices.appleinsider.com for more configurations