Apple considering third-party Apple Watch face support, watchOS beta code reveals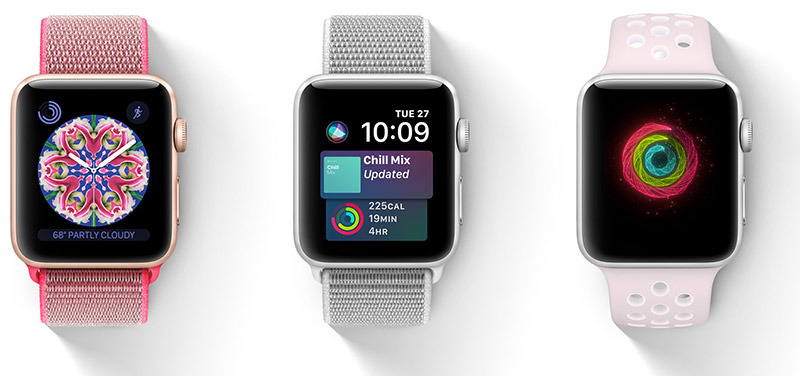 A line of code unearthed in Apple's latest watchOS 4.3.1 beta release suggests a future version of the operating system will allow third-party developers to deploy customizable watch faces, a feature for which many users have pined since Apple Watch debuted in 2015.
A log message buried in the first watchOS 4.3.1 beta, issued to developers earlier this month, and discovered by 9to5Mac hints at potential third-party integration with Apple's NanoTimeKit. The private framework is responsible for a number of assets traditionally left inaccessible to developers, including access to watch face configurations beyond complications.
The new beta includes a NanoTimeKit developer tools server for watch face customization that, in its current state, appears designed to communicate with Xcode. For now, the server is inactive, meaning third parties are unable to tap into the framework, but that might change in a future version of watchOS.
Accompanying the developer tools server is a log message that reads, "This is where the 3rd party face config bundle generation would happen."
While the toolset is inaccessible, its inclusion in watchOS 4.3.1 suggests Apple is at least considering opening that section of NanoTimeKit to outside app makers.
Whether a full-featured watch face customization toolset will ship to developers in a future version of watchOS, perhaps watchOS 5, remains unknown.
Such integration would be a first for Apple, a company known to keep major user-facing features under lock and key. Much like iOS, Apple is loath to allow user or developer access to key watchOS user interface assets like watch faces. Consumers have at times decried the strategy, but Apple's strict policy helps maintain a consistent, secure and bug-free user experience across its mobile device lineup.
Apple's stringent guidelines have not dissuaded attempts to install custom watch faces on the wearable. Shortly after the first-generation Apple Watch launched in 2015, a developer was able to roll his own watch face source code compatible with the then-new watchOS 2.
To satisfy calls for comprehensive personalization options, Apple routinely delivers new built-in watch face options with each watchOS iteration. Ranging from analog-style utility faces to fun animated faces featuring Disney characters like Mickey and Minnie Mouse, the designs incorporate customizable colors, third-party complications and more.
Most recently, watchOS 4 in 2017 introduced a powerful Siri watch face that taps into Apple's artificial intelligence technology, a kaleidoscope design with Photos integration and new Toy Story character options.