Apple's Chinese sales at risk after FCC forwards security ban targeting Huawei, ZTE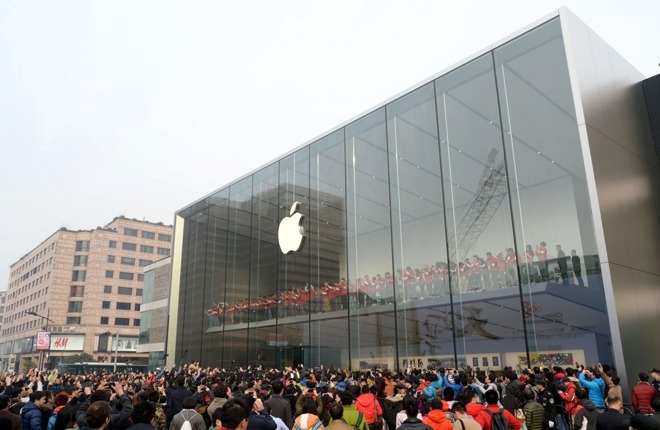 Apple could soon find itself caught in the middle of a quickly escalating trade skirmish between the U.S. and China. The U.S. Federal Communications Commission on Tuesday moved forward with plans to limit sales of certain Chinese telecommunications products, a move that leaves America's high-tech industry open to tit-for-tat retaliations.
In a unanimous vote, the FCC moved one step closer to restricting federally subsidized carriers from dealing with suppliers determined to be a national security risk, reports The New York Times.
The body is leveraging access to the Universal Service Fund, a set of subsidies meted out to American telecommunications firms in a bid to expand access to connectivity services including phone and internet. Administered by the Universal Service Administrative Co., the program collects and pays out more than $8.5 billion a year.
Chinese firms Huawei and ZTE are widely thought to be targets of the regulations, which are pending until the FCC finalizes the motion with a second vote. Both companies have been scrutinized by U.S. government bodies as potential security threats. An ongoing examination into Huawei and ZTE business practices, as well as those of other foreign firms, was noted in an FCC draft order related to Tuesday's vote, according to Bloomberg.
"For years, U.S. government officials have expressed concern about the national security threats posed by certain foreign communications equipment providers in the communications supply chain," said FCC Chairman Ajit Pai. "Hidden backdoors' to our networks in routers, switches, and other network equipment can allow hostile foreign powers to inject viruses and other malware, steal Americans' private data, spy on U.S. businesses, and more."
Pai's commentary comes a day after the Department of Commerce instituted a seven-year ban barring ZTE access to critical U.S. components. The order relates to the company's violation of U.S. trade embargoes against Iran and export regulations pertaining to North Korea, and subsequent restraint in penalizing employees who engaged in those activities.
For ZTE, which counts Qualcomm, Dolby, Corning and other American tech companies as critical suppliers for its smartphone and networking hardware, the decision deals a heavy blow that will likely necessitate a major reworking of its various product designs. Potentially more devastating, the ban could also encompass licensing of Google's Android operating system.
With two leading Chinese exporters in the FCC's crosshairs, industry watchers believe China is preparing to level sanctions of its own. An in-kind retaliation could find American technology companies like Apple at the mercy of strict Chinese regulations.
Though Apple's Greater China sales continue to slump, the massive consumer market is key to the company's growth.
Last year, the region generated $44.8 billon for Apple over fiscal 2017, accounting for some 20 percent of total net sales. Down 8 percent year-over-year, Apple's China performance showed signs of stabilization when compared to the 17 percent decline suffered in 2016.
Speaking to The Times, Dean Garfield, president and CEO of the Information Technology Industry Council, presents a more troubling scenario in which China uses its sweeping cybersecurity laws to pilfer computer code from companies operating in the country. The ITI represents major Silicon Valley players, including Apple.
Similar concerns were aired by privacy advocates when Apple announced plans to migrate Chinese iCloud customer data, and accompanying cryptographic keys, to local servers. The move, which was completed in February in compliance with Chinese cyber rules, cedes oversight of the data to government agencies. Paired with an opaque legal system, the regulations provide Chinese government agencies the means to obtain user texts, emails and other information, critics say.
Predictions stemming from the FCC action add to an increasingly complex trade climate that could turn volatile. Last month, U.S.-China relations began to splinter when President Trump leveled tariffs on up to $60 billion in imports, a move that came on the heels of aluminum and steel tariffs. Analysts warn escalating tensions do not bode well for Apple and its contemporaries.
For its part, Apple is looking to mitigate potential threats to its bottom line by becoming a more active participant in Chinese business development circles. Along with significant capital investments, the company is making efforts to bolster relations with China's leadership.
Most recently, CEO Tim Cook last month acted as co-chair of the China Development Forum, an annual government-sponsored conference covering a range of hot-button issues. At the forum, Cook offered a brief statement on what appears to be a looming trade war, saying he hopes "calm heads" prevail.
"I'm cognizant that in both the U.S. and China, there have been cases where everyone hasn't benefited, where the benefit hasn't been balanced," Cook said.
Editor's note: Due to its political nature, comments for this article have been closed.