Apple iOS App Store is trouncing Google Play in services, subscriptions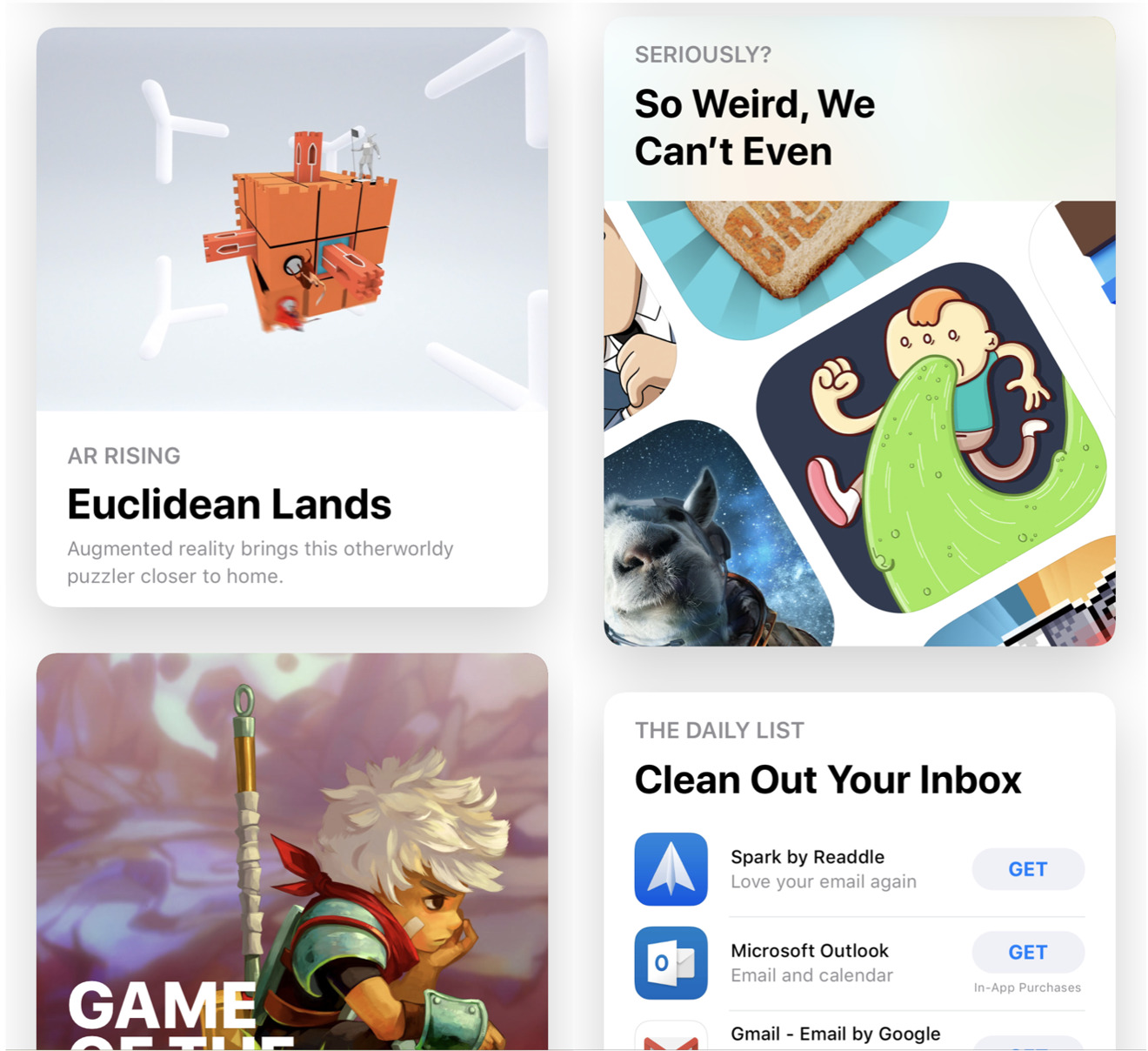 Apple's U.S. customers installed 45 new iPhone apps in 2017, a growth of 10 percent over last year, while Services revenue from In-App Purchases and Subscriptions expanded by 23 percent— driven by games, music and video streaming and dating services. And overall, Apple's U.S. App Store customers drove significantly higher revenue per user ($58) than Google Play ($38).
The report of my death was an exaggeration
It seems like it was just yesterday that prominent bloggers from Quartz, Tech Crunch, The Verge and elsewhere were building a media narrative that mobile apps were dead.
From "The Apple App Store graveyard" to "Forget Apps, Now The Bots Take Over," a series of articles sought to explain how Apple's mobile software platform was doomed and that the next big thing in mobile software was somehow coming in the form of chatbots or AI voice services.
Recent U.S. data from Sensor Tower shows that outlook was indeed wrong. The company noted that customers installed an average of 45 new iPhone apps in 2017, about 4 more than they had in 2016. One contributor to this growth is likely Apple's efforts to highlight content in the App Store and make it easier to search for and discover titles, with high-quality, magazine-like merchandising.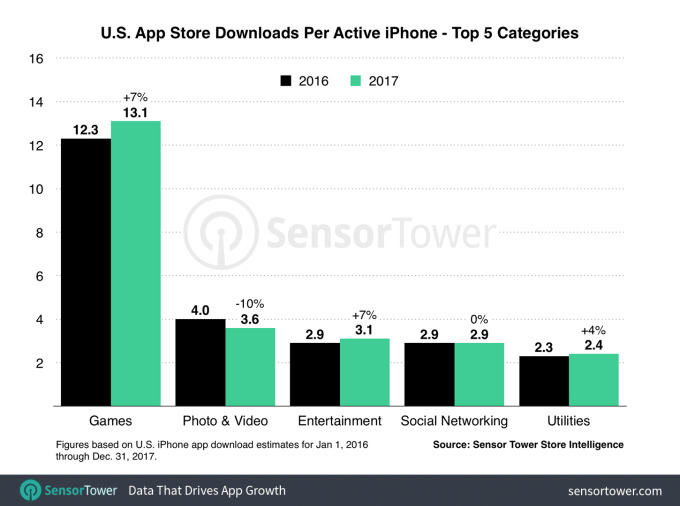 And beyond downloads, users were volunteering to pay for more App Store content as well. Games alone drove about 62 percent of total revenues, or $36 per user, mostly from In-App Purchases. Again, Apple's App Store overhaul specifically calls out games in their own store panel, separate from other apps.
Apple eats up subs
Another new area of growth is subscriptions. Video entertainment services including HBO NOW, Hulu and Netflix grew by 57 percent to reach $4.40 in spending per user.
Sensor Tower reported Music streaming separately, with services such as Pandora and Spotify generating nearly as much revenue per user: $4.10. It's not clear if that figure also includes first-party revenues from Apple Music.
"Lifestyle" apps, largely driven by dating services such as Bumble, Grindr and Tinder, drove subscriptions that were more than twice as high as the previous year, reaching revenues of $2.10 per user.
Social media app revenues reached $3.60, up 38 percent, from in-app tipping in services including Periscope, Live.me, YouTube Gaming; VoIP call credits in Skype; and from subscriptions to services including Microsoft's LinkedIn.
Apple has focused on subscription revenues as a growth opportunity in the App Store, and has also focused on its own subscription content, ranging from Apple Music to new efforts to produce original video and news, as AppleInsider reported a month ago.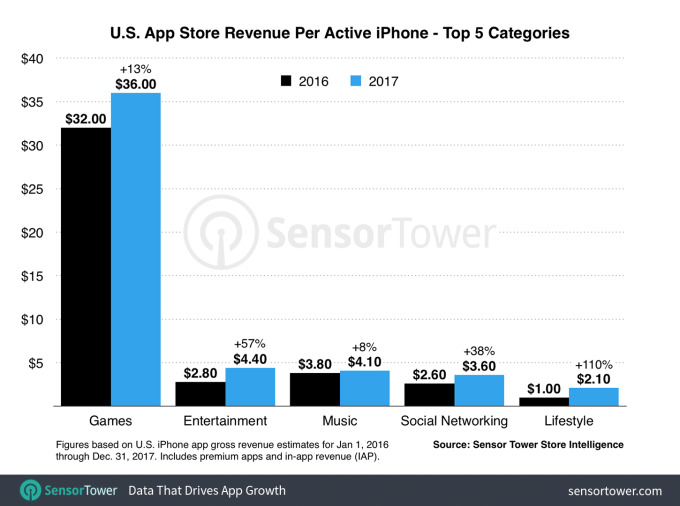 Apple is learning Services faster than Google is learning hardware
While the general tech media has tried to portray Google's hardware initiatives as anything other than the complete failure they have been, they are also missing that Apple is moving into monetizing mobile Services far better than Google, which historically mastered revenue generation from services on the PC platform.
Randy Nelson, Sensor's head of mobile insights, stated, "we estimate that for each active Android device in the U.S. last year, approximately $38 was spent on Google Play-on and in apps-so about $20 less than iOS.
"That tracks with the disparity in revenue generation we see between the stores outside the per-device level. Android users generally spend less on or in apps, Google Play generated about 60 percent of the App Store's revenue last year in the U.S."
Android users can download apps outside of Google Play, and content vendors can bypass Google to sell subscriptions directly, but both Google and Android enthusiasts note that shopping outside of Google Play is exceptionally dangerous due to the malware and spyware that saturates open software markets. Even Google Play keeps finding active Android exploits in its own distribution.