Apple order delays for 2018 iPhone impact TrueDepth component supplier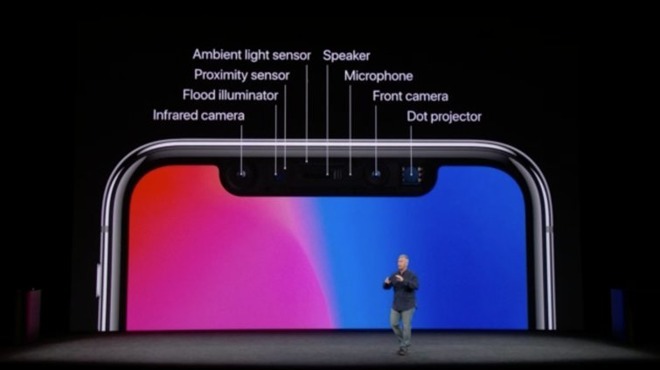 AppleInsider is supported by its audience and may earn commission as an Amazon Associate and affiliate partner on qualifying purchases. These affiliate partnerships do not influence our editorial content.
Shares in AMS, a producer of components used in the iPhone X's TrueDepth camera, dropped in value by 14 percent after the manufacturer warned of lower than expected revenue in the second quarter, possibly due to Apple being slow to finalize its production plans for this year's iPhone refresh.
The Austrian producer of vertical cavity surface emitting laser (VCSEL) modules is thought to be reducing production on lines producing the components for the iPhone X, in preparation to create parts for the fall iPhone releases, reports Reuters. While there is an expected dip in production as orders move from one type of part to another, the reduction is apparently being worsened by Apple being slow in finalizing the specifications of parts.
Apple is the source of half the revenue earned by AMS according to market analysts, so while it isn't directly named by the company in its communications, it is highly probable that the "key customer" is the iPhone producer.
"Due to these product transitions and product changes in a major consumer program preventing pre-production of parts, AMS also expects a significant under-utilization of capacity," AMS warns. As well as warning of the current quarter's reduced revenue, the company noted its first quarter sales were at the low-end of previous guidance.
Despite the reduced production, AMS executives advised investors the firm would bounce back in the second half of 2018, once the unnamed key customer confirms new specifications for products and production ramps back up. Executives noted there are no plans for layoffs at factories because the key customer is apparently committed to using its hardware.
Following the supply of VCSEL modules for the iPhone X, AMS is also expected to win contracts for future iPhone and iPad models using the technology.
In its guidance, AMS is expected to see second quarter sales to lie between $220 million and $250 million, down from the $452.7 million in revenue achieved in the first three months of this year.
AMS is seemingly not the only Apple supplier taking a beating on the stock market while Apple prepares for the production of its new iPhone models. Power management chip provider Dialog Semiconductor saw its share value drop 5.4 percent, while STMicro fell 4 percent in early trading before recovering 3 percent.
AMS' share drop is reportedly the firm's biggest daily decline in a two-year period.
The VCSEL-based TrueDepth camera used in the iPhone X is rumored to be used in multiple iPhones in the annual fall product line refresh, with three iPhones currently expected to launch at that time.