Adobe XD goes free with new Starter plan, Adobe announces $10M fund for designers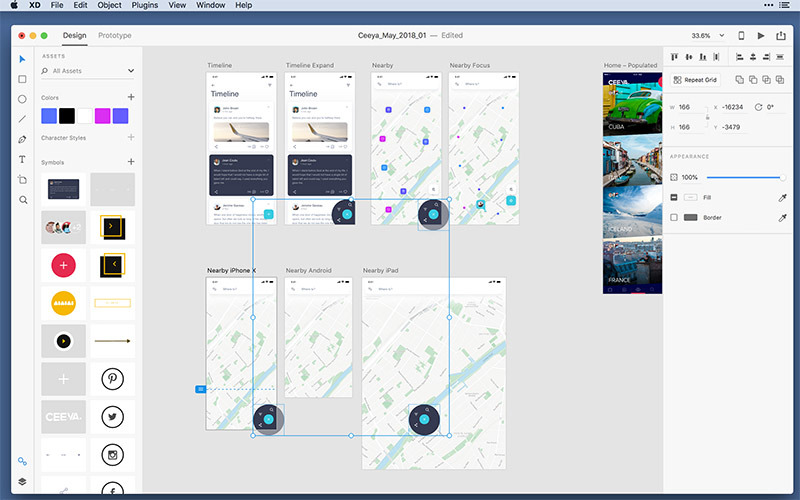 Adobe on Tuesday debuted a new Starter plan for Adobe XD, offering free access to the UI/UX design platform on Mac and Windows, mobile iOS and Android apps and backend services powered by Adobe Creative Cloud.
Launched in October after an extensive beta period, Adobe XD is Adobe's all-in-one tool for creating feature-rich, interactive user interface and experience design prototypes for websites, apps and more.
Users who sign up for the Starter plan gain full access to Adobe XD's desktop toolkits for Mac and Windows 10, as well as mobile preview apps on iOS and Android, including the ability to create an unlimited number of documents, export assets for production and create videos to share with colleagues.
Starter plan subscribers are restricted to one shared prototype and one shared design spec at a time, a limited font set with TypeKit Free and 2GB of cloud storage, whereas paying subscribers net unlimited shared prototypes and design specs, a full TypeKit Portfolio and 100GB of cloud storage.
In addition to the Starter plan announcement, Adobe unveiled a few feature enhancements for its premiere design and prototyping platform. For May, Adobe XD receives Photoshop CC and Sketch integration improvements, the ability to paste content to multiple art boards and drag-and-drop options to swap symbols across a canvas. A new beta feature allows for password protected sharing of design specs.
The updates complement an already powerful software package capable of quickly mocking up fully interactive prototypes using built-in fonts, buttons, symbols, image support, color palettes, an advanced vector graphics system and more.
Adobe on Tuesday also announced a $10 million worldwide fund created to help designers and developers build out the Adobe XD platform through plugins, integrations with third-party services and other innovations. The fund will be meted out to both individuals and early stage companies in the form of grants and equity investments.
Both the Adobe XD Starter plan and Single App plan are available now from Adobe. Existing trial users must update their platform version using the Creative Cloud desktop app or by visiting xd.adobe.com.