New iPhone X Animoji Karaoke ad features South Korean group Hyukoh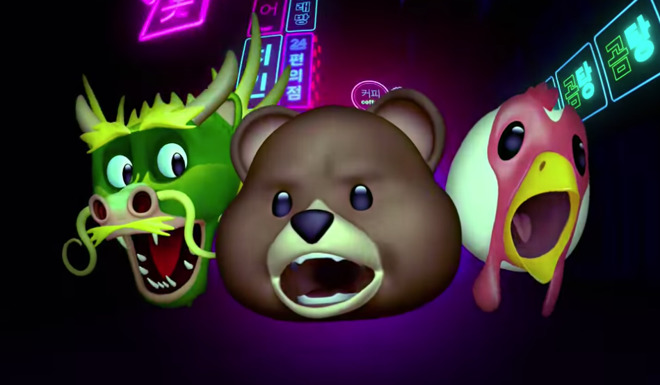 AppleInsider may earn an affiliate commission on purchases made through links on our site.
Apple has released another advertisement using the Animoji Karaoke concept to market the iPhone X, publishing the new 'Taxi Driver' video on its South Korean YouTube channel featuring three of the characters singing along to 'Citizen Kane' by the group Hyukoh.
The minute-long video features the bear Animoji character supported by the dragon and chicken, traveling along a stylized neon landscape simulating a road. Starting off passing through neon signs and stopping for traffic to ass, the visuals change to a bright and winding tunnel, with the change timed to match the music.
The song "Citizen Kane" by group Hyukoh is likely to have been chosen to coincide with its appearance on Apple Music on May 20. The single is being followed by an EP on May 31 titled "24: How to find true love and happiness," reports Bandwagon, mirroring the name of its North American tour taking place later this year.
The South Korean indie band Hyukoh formed in 2014, and released its first studio album "23" in April 2017. The album by the four-member group was successful enough to reach sixth place on Billboard's World Albums Chart the following May, with individual tracks reaching the top of local digital charts shortly after release.
Apple was quick to pick up the online trend, which formed shortly after the release of the iPhone X that includes Animoji as a feature. A TV spot showing off Animoji aired alongside others showing the capabilities of Face ID and the TrueDepth camera array.
In January, more Animoji Karaoke ads were created featuring songs by Grammy nominees, including Childish Gamino's "Redbone" and "Stir Fry" by Migos.
Unlike home-made Animoji Karaoke videos, the Apple-produced ads are professionally animated, and include elements not easily possible for amateurs to reproduce.