Apple to use OLED in all three 2019 iPhone models, report says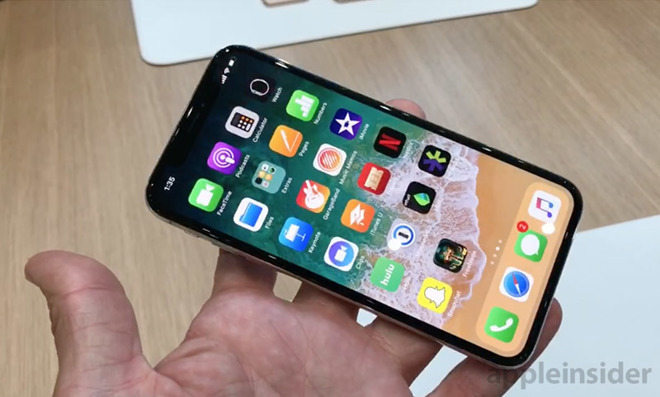 Apple is expected to completely transition its prized iPhone platform to OLED screens in 2019, with a report on Monday claiming the company plans to launch three handset models sporting the technology next year.
Citing industry sources familiar with the matter, South Korea's ETNews reports Apple recently began planning 2019's iPhone lineup and has selected OLED as its display technology of choice.
In line with previous rumors, and mirroring a product offering widely expected to debut this fall, Apple is predicted to bring three new iPhone models to market next year. Unlike this year's release, which is anticipated to include two OLED variants and a low-cost LCD model, each new iPhone will boast an OLED screen.
"Apple has decided to put OLED in all new iPhone models in 2019," an unnamed source said. "However, if there are more than three new models, an LCD model may be maintained."
The publication forecasts difficult times for Apple's existing LCD suppliers including Japan Display, whose stock fell 10 percent shortly after the report went live. Sharp, another LCD supplier, saw its share prices dip 4 percent on the news.
Apple currently relies on smartphone rival Samsung for OLED panels used in iPhone X, the company's first and only handset to incorporate the advanced display technology. That partnership will presumably deepen in 2019, the report said, adding that Samsung might require additional production facilities to accommodate Apple's iPhone strategy.
However, the Korean tech giant's A3 OLED fabrication plant has improved yield rates "considerably" and a new "A4" facility is about to come online, suggesting the company will be able to meet demand without further investment.
Apple is also looking to diversify its OLED supply chain by adding LG into the mix. The sole supplier of OLED screens for Apple Watch, LG was initially expected to be a secondary supplier for this year's slate of iPhones, but continued manufacturing issues have put that role in jeopardy.
Apple is widely expected to launch three iPhone models in 2018. Anchored by a 6.1-inch LCD variant, the lineup is rumored to include two OLED models in a 5.8-inch "iPhone X 2" and larger 6.5-inch "iPhone X Plus." Samsung reportedly kicked off production of OLED panels bound for the two top-end models this month.