New Pokemon games for Nintendo Switch integrate with Pokemon GO, Pokemon Quest coming to iOS this fall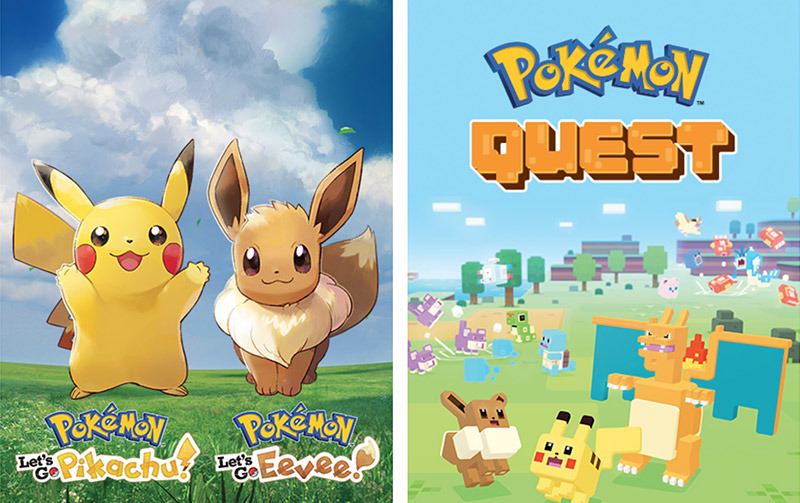 The Pokémon Company on Wednesday announced a new slate of Pokémon games for Nintendo's Switch console, two of which connect to Pokémon GO on iOS and another that will be available on Apple's mobile operating system later this fall.
Revealed at a press conference in Japan, Pokémon: Let's Go, Pikachu! and Pokémon: Let's Go Eevee! are reimagined updates of the hit franchise entry Pokémon Yellow: Special Pikachu Edition, which debuted in 1998.
Both games support integration with Pokémon GO on iOS, as players can capture and transfer over Pokémon captured in the Kanto region. Additional crossover features are expected to be announced as the games near release.
Developed by Game Freak, the same studio that created Yellow, the Let's Go titles are nearly identical. At the start of each game, players take on a partner Pokémon that follows them throughout their journey of capturing, collecting and battling Pokémon.
Depending on which version is purchased, users begin their quest with Pikachu or Eevee. There are also "some" differences in the species of Pokémon players stumble upon, and the rate at which they are encountered, based on game version, the company said.
Designed to lure in new gamers, both Let's Go titles take full advantage of the Switch's intuitive Joy-Con controllers, allowing users to more capture Pokémon with a flick of the wrist or press of a button. Trainers can team up in multiplayer mode to catch Pokémon together.
Separately, a new Poké Ball Plus accessory acts as a stand-in Joy-Con, complete with built-in LEDs, vibration feedback and sound effects. Players can also store Pokémon "inside" the ball and take them along as they go about their daily routines to accumulate various in-game rewards.
Pokémon: Let's Go, Pikachu!, Pokémon: Let's Go Eevee! and the Poké Ball Plus will be available on Nov. 16.
Also on Wednesday, Nintendo released the free-to-play Pokémon Quest for Switch.
Described as a "rambunctious action RPG," Quest puts players in charge of a group of cube-shaped Pokémon who inhabit "Tumblecube Island." The band of Pokémon roam about on their own in search of food and battles. At basecamps, players can level up and customize characters, as well as attract new Pokémon to their gang.
Pokémon Quest is due to arrive on iOS in late June.
Finally, Nintendo offered a few new details on the next entry to its "core" Pokémon series, saying an as yet unnamed title will debut in late 2019.