Google Maps, Waze & other navigation apps finally coming to Apple CarPlay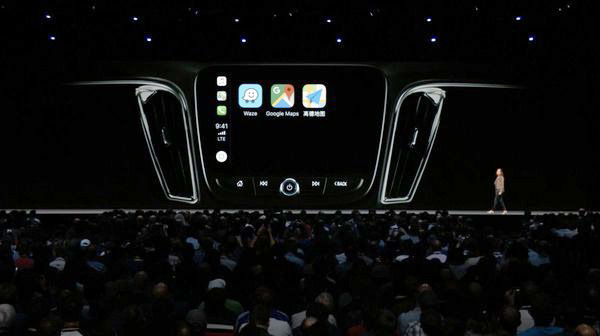 Resolving a long-standing complaint about the platform, the iOS 12 incarnation of CarPlay will finally support third-party navigation apps.
To date the only navigation option in CarPlay has been Apple Maps. While Apple's software offers benefits like deep integration across iPhones, iPads, Macs, and the Apple Watch, other apps are typically more popular, and their exclusion was sometimes a source of frustration.
iOS 12 is due later this year. The upgrade will bring a variety of improvements, such as substantially better performance and ARKit 2 support. Siri shortcuts will make it possible to create complex automations triggered by a tap or a Siri keyphrase, such as "heading home."
According to recent market research, consumers are showing increased interest in, and satisfaction with, smartphone mirroring solutions, namely CarPlay. Collectively, over 85 percent of users were either somewhat or very satisfied with their system. Further, more than 90 percent said they are very likely to recommend the solution to others.
In one-on-one consumer loyalty comparisons, Apple appeared to have a slight edge over Google, with 34 percent of CarPlay users saying they rely solely on the tech for their in-car infotainment needs even without support for third-party navigation tools. Another 33 percent said they use CarPlay most of the time, while a mere 4 percent depend on embedded solutions provided by car manufacturers.
Navigation has been a weak spot for Apple since it debuted the in-house mapping service with iOS 6 in 2012, a product that replaced Google Maps integration. At launch, customers complained of incorrect positioning data, poor routing and issues with the product's marquee Flyover feature. The problems prompted CEO Tim Cook to issue an open apology to customers, and reportedly led to the ousting of former iOS chief Scott Forstall and Apple Maps head Richard Williamson.
Carmakers began integrating CarPlay into their products years ago, but adoption rates have picked up in recent months as longtime holdouts including Toyota and Mazda add the technology to their respective lineups. Even motorcycle manufacturers are jumping on board, with Honda's latest Gold Wing offering CarPlay compatibility.