Apple to host Panic! At the Disco at WWDC18 Bash
By Daniel Eran Dilger
Wednesday, June 06, 2018, 10:12 am PT (01:12 pm ET)
At Apple's 2018 Worldwide Developer Conference Bash on Thursday evening, the company will host a "special DJ" and a "victorious" performance by multi-platinum artists Panic! At The Disco.




Apple is currently building out the Bash grounds and stage at Discovery Meadow in San Jose (above), just around the corner from the Convention Center where WWDC events are being held.

Apple's annual WWDC Bash wraps up the week-long developer convention on Thursday, the last evening for many attendees traveling from around the world to see Apple's latest platform tech and speak with engineers in the event's hands-on Labs.

Last year, Apple invited Fall Out Boy; Good Charlotte in 2016; Walk the Moon performed in 2015; in 2014 the company hosted Bastille, and the year prior to that, Vampire Weekend.
Today's Headlines
No news headlines yet today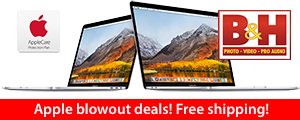 2018 13" Touch Bars
Price
Save
2.3GHz/8GB/256GB (Gray)
$1,699.00+
$100
2.3GHz/8GB/512GB (Silver)
$1,879.00+
$20
2.3GHz/16GB/512GB (Gray)
$2,099.00+
$100
2.7GHz/16GB/512GB
$2,449.00+
$50
2.7GHz/16GB/1TB
$2,849.00+
$50
2018 15" MacBook Pros
Price
Save
2.2GHz/16/256GB/555X
$2,215.00+
$185
2.2GHz/32/1TB/560X
$3,449.00+
$50
2.6GHz/16/512GB/560X
$2,575.00+
$224
2.6GHz/16/1TB/560X (Gray)
$2,999.00+
$200
2.6GHz/32/1TB/560X (Gray)
$3,399.00+
$200
2.6GHz/32/2TB/560X (Gray)
$3,999.00+
$400
Click here for dozens more configurations
+ Free shipping within the contiguous U.S.
Lowest Prices Anywhere!

13" MacBook Pros
Price
You Save
3.1GHz/8GB/256GB Gray
$1,679.00
$120.00
3.1GHz/8GB/256GB Silver
$1,704.00*
$95.00
3.1GHz/8GB/512GB Gray
$1,849.00*
$150.00
3.1GHz/16/512GB Gray
$2,099.00
$100.00
15" MacBook Pro
Price
You Save
2.8GHz/16/256/555 Silver
$2,199.00*
$200.00
2.8GHz/16/256/560 Gray
$2,299.00
$200.00
2.9GHz/16/512/560 Gray
$2,599.00
$200.00
2.9GHz/16/1TB/560 Gray
$2,999.00
$200.00
3.1GHz/16/512/560 Gray
$2,799.00
$200.00
3.1GHz/16/2TB/560 Gray
$3,899.00
$300.00

*

price with Promo Code:

APINSIDER

prices.appleinsider.com for more configurations