Supply chain needlessly predicting doom and gloom for 2018 iPhone early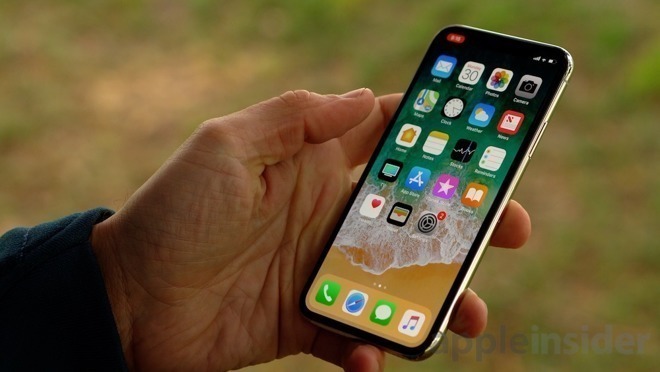 Apple has allegedly warned its supply chain partners to expect orders for components used to produce iPhones in this fall's refresh to drop by around 20 percent, a report claims, with the overall suggestion that Apple is becoming less ambitious regarding sales of the new models later this year.
New orders for iPhone parts from Apple are "quite conservative," a supply chain source advised Nikkei Asian Review. "For the three new models specifically, the total planned capacity could be up to 20 percent fewer than last year's orders," the unnamed source told the report.
For the iPhone X, iPhone 8, and iPhone 8 Plus, Apple allegedly prepared for up to 100 million units to be produced. Two supply chain sources said similar orders for this year's new models indicate the total number of shipments will be closer to 80 million units.
The three iPhone models currently speculated to arrive this fall include two models with OLED screens measuring 6.5 inches and 5.8 inches, while a third is equipped with a 6.1-inch TFT LCD. Nikkei claims all three will have the TrueDepth camera array and use Face ID, but the LCD model will be singled out as a cost-effective model while the OLED versions will have more premium pricing and specifications.
Two report sources claim that, in order to avoid any manufacturing delays that allegedly occurred during the initial production of the iPhone X, suppliers were informed by Apple to prepare for the two OLED models earlier than normal. Increased preparation ahead of production could fend off component shortages and quality control issues that were said to have caused last year's manufacturing problems.
"The scheduled time frame for components for the OLED models to go into iPhone assemblers like Foxconn and Pegatron for final assembly falls in July, while the schedule for components for the LCD model would be in August," one source states. "Two OLED models are likely to be ready roughly one month earlier than the cost-effective LCD model, according to the current plan."
It is currently expected that all three of this fall's iPhones will start shipping in September, rather than being released at a later time.
There is some speculation that the LCD model will be delayed, due to production yield issues surrounding its touchscreen functionality, but the situation is apparently improving. Bottlenecks in integrating the TrueDepth camera array into the LCD screen are also said to be easing, removing another hurdle that could cause manufacturing delays.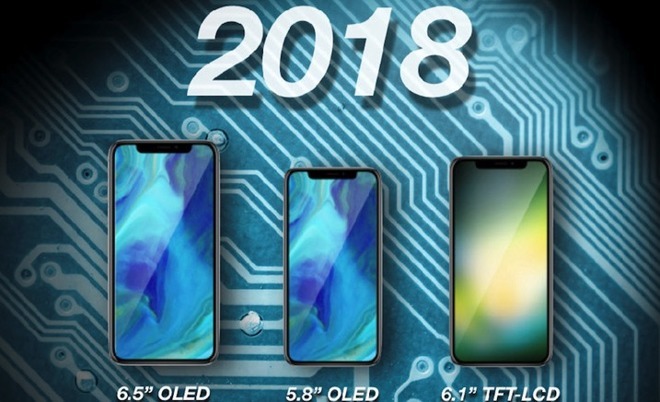 Suppliers are currently undergoing an Apple verification process ahead of mass production, one source claimed, with assembly partners Foxconn, Pegatron, and Wistron also communicating with Apple over scheduling. Finalizing the schedule will apparently influence how each assembly partner recruits its workforce.
Foxconn will continue to be the main iPhone assembler this year, with it said to handle all 5.8-inch OLED units and 80 to 90 percent of the 6.5-inch OLED version, as well as 30 percent of LCD model orders. Pegatron is identified as taking 60 percent of the LCD orders and between 10 and 15 percent of the 6.5-inch OLED model orders, while Wistron makes up the remainder.
Reports stemming from unidentified supply chain sources are not always completely truthful, and can be fabricated from hearsay and speculation without any concrete evidence. While the report's details do seem to correlate with earlier reports, there is still no proof that can confirm the reduced order claims are genuine.
Apple CEO Tim Cook has previously spoken out about such reporting and supply chain analysis, advising for industry observers to avoid relying too heavily on these types of rumors. "The supply chain is very complex, and we obviously have multiple sources for things," Cook advised in 2013, adding that some reports could be based on a "single data point," and basing assumptions on limited quantities of data is not recommended.
For example, reports in January claimed Apple had cut its iPhone X production, citing slower-than-expected holiday sales" among other claims. On February 1, Apple revealed it had continued to improve its holiday quarter revenue year-on-year, and though overall iPhone sales had dropped, it had reduced by only 1.2 percent year-on-year while simultaneously achieving the highest average selling price of $796.42.