Intel's next iPhone cellular modem could completely replace Qualcomm chips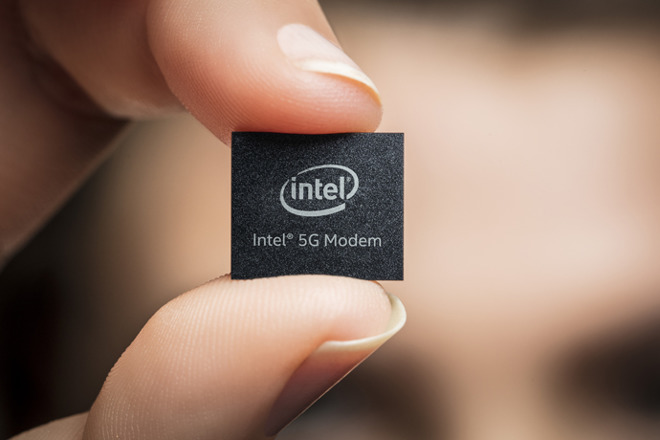 Intel has commenced manufacturing of modems that will reportedly be used in the 2018 iPhone refresh this fall, one that could be used across a wide variety of cellular communications technologies, and could eliminate the need for Apple to produce iPhone variants using Qualcomm modem chips.
The modem's production was confirmed by Intel vice president of technology, systems architecture, and client group Asha Keddy toNikkei Asian Review last week. "XMM 7560 [modems are] now in the process of being deployed," advised Keddy. "It is in trial and mass production."
The Nikkei Asian Review has a very poor track record for predicting Apple's future product plans. However, AppleInsider independently confirmed on Friday morning that the XMM 7560 modems are in mass production.
Intel's XMM7560 modem chip is part of Intel's push for so-called 5G communications, with it being the company's first to achieve download speeds of up to 1 gigabit per second. Acknowledging that it has been behind rivals like Qualcomm for some time, Keddy insists "I believe we've caught up and later we want to lead in 5G."
The modem is declared a "milestone" for Intel by Keddy, as it supports code division multiple access (CDMA), a communications technology used by some carriers including Verizon and Sprint. The majority of other carriers use GSM for communications instead of CDMA, causing smartphone producers to create multiple variants of their devices for each network.
By creating a modem that supports both communication technologies, Intel has effectively produced a modem chip that is compatible with almost all mobile networks around the world, eliminating the need to produce carrier-specific smartphones that work with their networks.
The modem also gives Apple the opportunity to switch completely to Intel for modems used in the iPhone and iPad. Currently, Intel and rival chip producer Qualcomm produce modems that are used in Apple's flagship products.
Despite the new modem entering production, a supply chain report from April claims Qualcomm will continue to provide modems for this year's iPhone refresh, but supplying a reduced 30 percent of the modems while Intel will supply 70 percent. It is speculated that Apple is trying to reduce its reliance on Qualcomm for chips, and could wean itself off the supply by 2019.
Earlier speculation from analyst Ming-Chi Kuo in February suggested Intel's modems could completely replace Qualcomm versions for this year's iPhone models.
Apple certainly has an incentive to move away from Qualcomm, as the companies are currently fighting in court, with Apple accusing Qualcomm of withholding close to $1 billion in promised payments in one suit from early 2017. The funds are alleged to be held in retaliation for "responding truthfully to law enforcement agencies," namely Apple's cooperation with a South Korean antitrust investigation that led to Qualcomm being fined $853 million, and a similar probe from the U.S. Federal Trade Commission.
While Apple stopped paying royalties until the litigation is settled, Qualcomm has retaliated by claiming Apple is using the courts to secure better pricing for components, as well as alleging Apple had infringed on the chip producer's patents.
Three crucial hearings over the matter are set to take place in the U.S., Germany, and China in the near future, with the results potentially determining the fortunes of both companies in the many ongoing lawsuits between the two firms across six countries.