AT&T uses Time Warner merger to launch WatchTV, paired with new unlimited data plans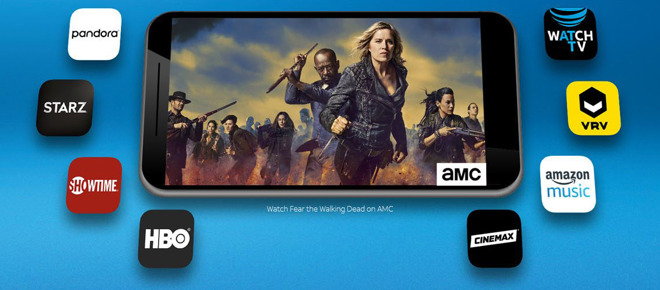 AppleInsider may earn an affiliate commission on purchases made through links on our site.
Taking advantage of the recent approval of its merger with Time Warner, AT&T on Thursday announced WatchTV, a new live TV service premiering next week — and initially tied to two new unlimited wireless data plans.
WatchTV incorporates over 30 channels, among them several under the wing of Time Warner such as CNN, Cartoon Network, TBS, and Turner Classic Movies. Sometime after launch AT&T will grow the lineup to include Comedy Central, Nicktoons, and several other channels.
People will be able to watch on "virtually every current smartphone, tablet, or Web browser," as well as "certain streaming devices." The company didn't immediately specify compatible Apple platforms, but these will presumably include at least the iPhone and iPad, given their popularity and AT&T's long-standing relationship with Apple.
The first data plan is "AT&T Unlimited &More", which will also include $15 in monthly credit towards DirecTV Now. People who pay extra for "&More Premium" will get higher-quality video, 15 gigabytes of tethered data, and the option to add one of several "premium" services at no charge — initial examples include TV channels like HBO or Showtime, and music platforms like Pandora Premium or Amazon Music Unlimited.
&More Premium customers can also choose to apply their $15 credit towards DirecTV or U-verse TV, instead of just DirecTV Now.
WatchTV will at some point be available as a $15-per-month standalone service, but no timeline is available.
AT&T's Time Warner acquisition was worth $85 billion, and strongly opposed in some quarters including by U.S. President Donald Trump and the Department of Justice, the latter of which sued to block the merger. Critics outside the government have worried about the growing hegemony the deal represents in media and communications, since it creates an entity with control over content, distribution, and communications infrastructure.