Long term review: Apple's AirPods are still the best wireless headphones around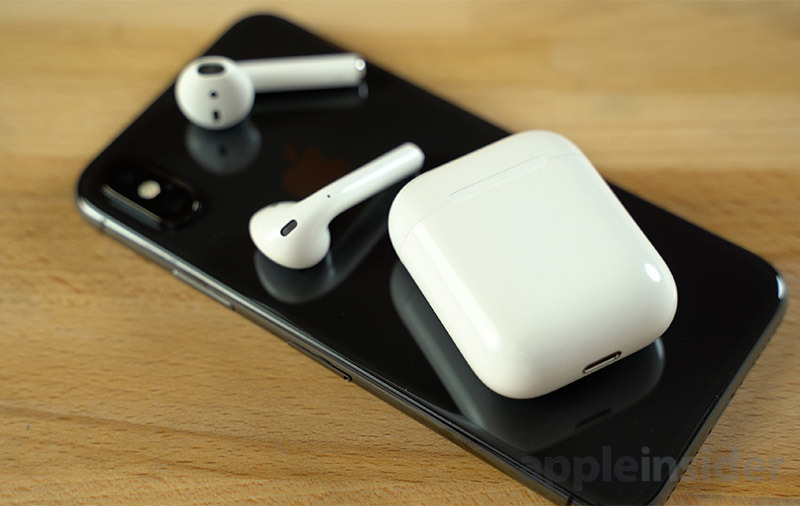 Over a year and a half later, Apple's AirPods are still considered by many to be the best wireless earphones ever made. AppleInsider takes a second look at the popular earbuds and discusses a few tantalizing rumors about what Apple has in store for its AirPods product line.
Sonically, AirPods are definitely not the highest performing earphones available, nor are they the most affordable at $160. But for us, and many other avid fans, AirPods are more than worth the price of entry.
First on our list of likes is the included charging case. Simply pop your AirPods into the plastic dental floss container-shaped puck to juice them up on the go or at home. The internal battery seems to last forever, providing more than 24 hours of listening time per charge. We haven't had our case die out once since owning them, a fact largely owing to smart design.
Whenever you pull out your AirPods, an LED indicator in the accompanying case glows green, indicating a full charge, or orange when the battery is running low. You can check exact battery life on your iPhone by simply opening the case lid near the device. When it gets low, just plug it in to a nearby Lightning cable and it's good for another week or two.
The case itself exudes quality, with a smooth magnetic hinge system. AirPods are similarly magnetized and held in to their respective slots if the case should open accidentally. The size of the case is perfect. A lot of jeans have a small pocket that fits AirPods perfectly, so we literally carry them everywhere.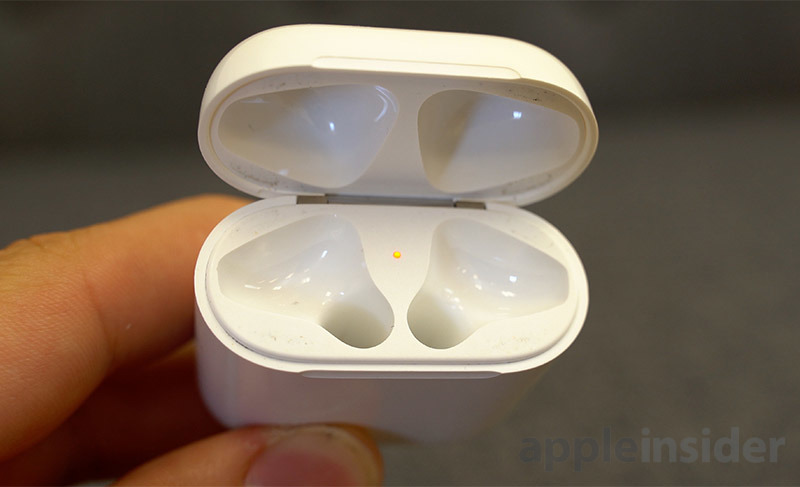 Next up, the W1 chip and proximity sensors.
The first time you open up a new set of AirPods, your iPhone instantly recognizes them. All you have to do to pair is tap "Connect," that's it, no dealing with Bluetooth pairing, settings and other cumbersome procedures.
Once set up, your AirPods are synced to iCloud and added to each Apple device that is associated with your Apple ID. That means AirPods are recognized by, and automatically connect to, your iMac, iPad, MacBook or any other Apple device. We sometimes find it takes a bit longer to connect to a Mac, but the system works fairly well overall.
Each AirPod has two infrared proximity sensors built into their chassis that detect when the earbud comes into contact with a user's ear. Inserting an AirPod automatically turns it on and pairs it to the nearest operating host device, while removing one pauses the tunes. Reinsert and the music resumes. One of our favorite features is the ability to use just one AirPod at a time. Put one earbud back in the case and the remaining AirPod will resume playback.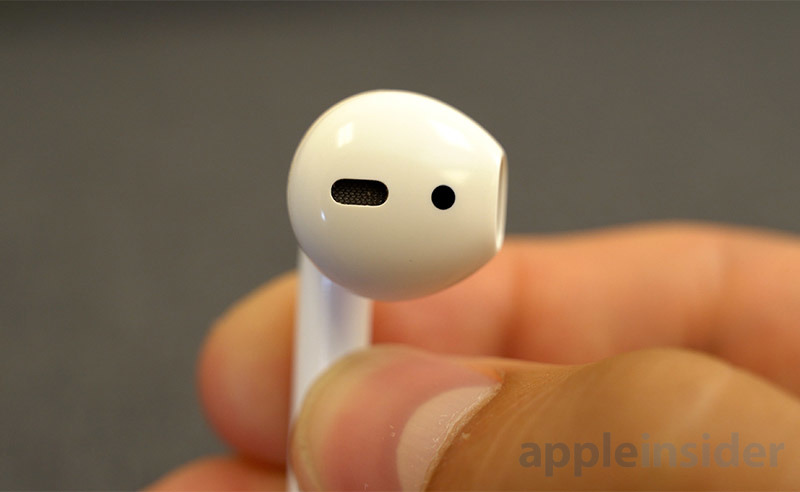 The W1 chip also extends Bluetooth range and helps manage battery life, which is why AirPods boast a fairly robust operating time at a claimed 5 hours of media playback.
We have yet to have AirPods die on us while listening to music. In fact, our AirPods reached their limit only once, and that was when we were on an extended phone call. Powering the onboard beamforming microphones and relaying audio information back and forth between our iPhone took its toll, but we found a single earbud can last over two hours on a charge.
When using two AirPods to talk, the W1 chip also plays an integral role in deciphering which earbud is receiving the highest quality audio, then filtering out background noise.
Another highlight are built-in accelerometers that are used to trigger Siri and manually engage music controls. These tap-based interactions are customizable within the settings app. Siri is useful for adjusting audio volume, since AirPods lack physical volume controls.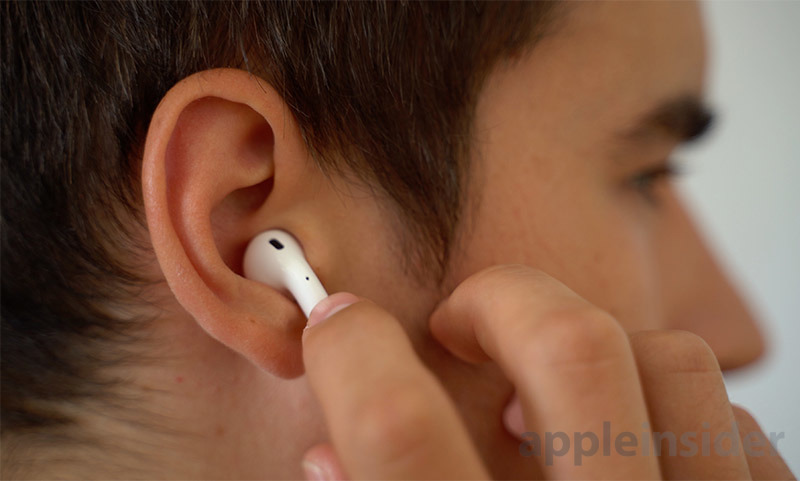 Now onto the third facet that adds value to the AirPods: design and comfort.
The AirPods are one of the most comfortable earphones we have ever used. They are so lightweight and comfortable that you can even forget that they're in your ears. Compared to Apple's EarPods, AirPods boast a better seal, perfectly conforming to each ear. While they are not designed for working out, AirPods stay in place under various conditions, even during jogging and exercise sessions.
In it for the long haul
There is one key factor some people miss when deciding not to buy AirPods, and that is they are designed and built for the long haul.
Buyers tend to choose cheaper alternatives, but end up replacing them over and over again due to issues, breakage or obsolescence. Over the years, this practice of constant replacement could end up costing users AirPods' $160 price of admission, along with a lot of trouble.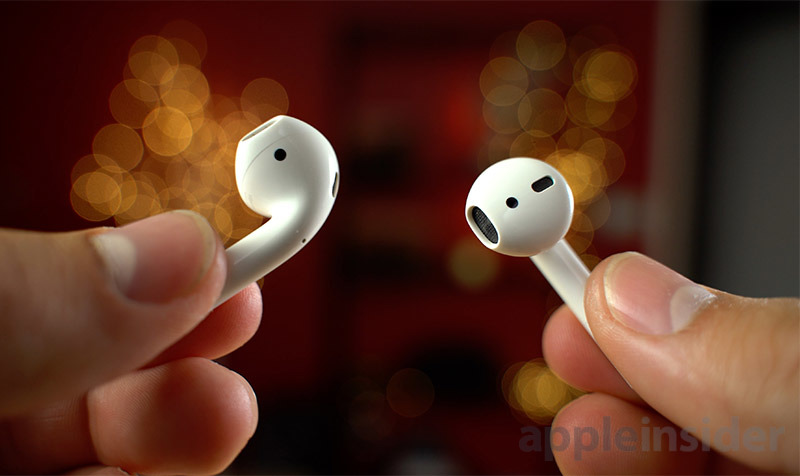 Based on the AirPods' incredible reviews, and our own from 2016, people who actually buy them are extremely satisfied. They sound amazing, the bluetooth connection and range is better than any wireless earphones we have used and build quality and design are top notch. Overall, this is one of the best products Apple has made in years.
Looking ahead
Apple is also rumored to be developing second-generation AirPods with active noise-cancellation, water-resistance and other add-on features. Perhaps most interesting among the recent batch of rumors is the potential inclusion of health tracking hardware like a heart-rate monitor. Apple patents have hinted at such capabilities for years, but those inventions have yet to show up in a shipping product.