Apple AirPower Qi charging mat headed for September landing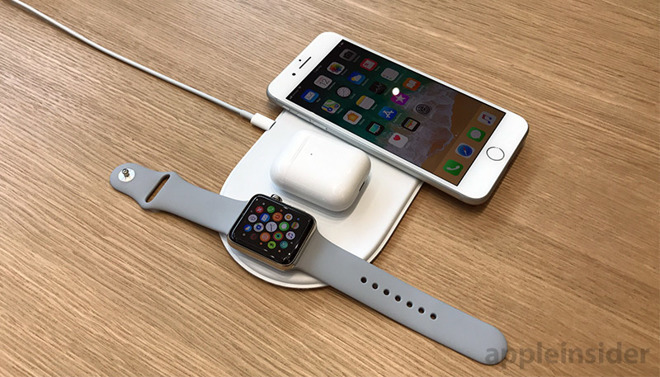 After six months of internal testing and refinement, Apple appears to be ready to launch the AirPower charging pad alongside the 2018 lineup of iPhones.
"Technical hurdles" are reportedly the main reason why the AirPower Qi charging mat hasn't been released yet. According to sources familiar with the matter cited by Bloomberg on Thursday morning, Apple engineers are also dealing with bugs in firmware further holding up the process.
Apple unveiled the AirPower alongside the iPhone 8 and iPhone X in the tail-end of 2017. Designed by Apple, the all white, oval mat can charge an iPhone, the Apple Watch, and a new wireless-compatible AirPods case at the same time.
When announced, Apple Senior Vice President Phil Schiller claimed that the device has the potential to change the wireless charging paradigm, one set in large part by handsets running Google's Android operating system. And, at the time, the only release date was "next year," meaning 2018.
Bloomberg claims that Apple was shooting for a June unveil, but employee testing found overheating problems, forcing a later launch.
But, the AirPower isn't as simple as three basic charging locations as seen in inexpensive accessories.
How Qi works, and why the AirPower is proving difficult to perfect
The Qi standard relies on induction between two coils to deliver power to a device that needs charging. The base station contains a transmitting coil that generates a oscillating magnetic field, which induces an alternating current in the receiving field.
The coils are aligned with each other in either guided positioning relying on the user to place a device in a specific position and alignment, or hardware can be built allowing for free positioning.
Free positioning is generally used in most charging plates, with relatively minor adjustments made by magnetic positioning or other mechanical apparatuses. But, it doesn't appear that Apple is using the most basic execution of the technology.
Qi also allows for free positioning to be implemented by inducing a magnetic field just at the location of the receiving coil with multiple cooperative flux generators. Devices put anywhere on the plate communicate their location on the pad, and the field is only induced under the device by the flux generators operating in tandem.
Apple appears to be using this method for a trio of devices that can be placed in any order, on any location on the pad.