Hands on with the new Apple and Blackmagic Thunderbolt 3 eGPU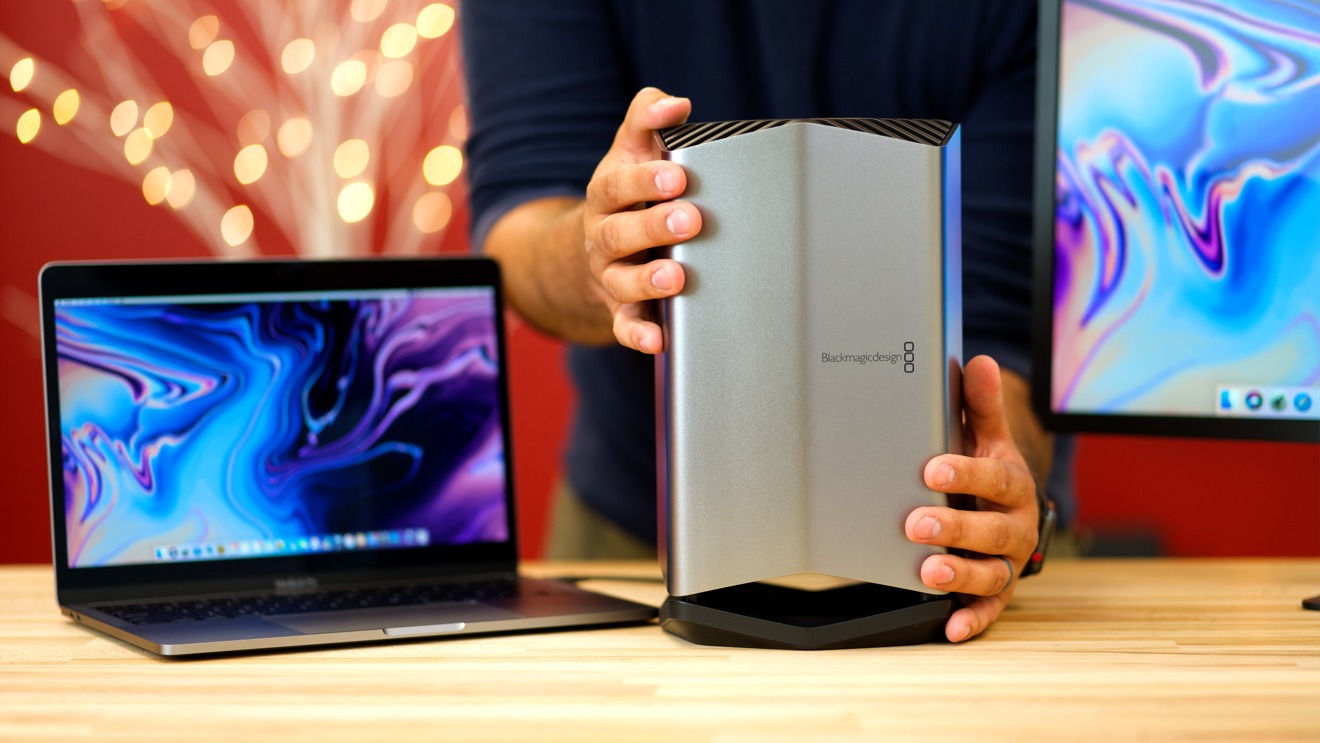 Along with Thursday's 2018 Macbook Pro refresh, Apple also announced a partnership with Blackmagic Design which resulted in a new external GPU with an 8GB AMD Radeon Pro 580 GPU — and AppleInsider has it on the test bench.
Blackmagic says that the $699 unit should boost speeds by as much as 2.8 times on the 15-inch MacBook Pro, and up to eight times on 13-inch systems.
As with the rest of the external GPU units we've examined, it connects through Thunderbolt 3, and is designed to connect to an external display for maximum performance boost. However, the Blackmagic one is the first that will accelerate a Thunderbolt 3 display without relying on hacks or other hardware workarounds — more on that in a bit.
High quality design, space grey aluminum shell
The Blackmagic's eGPU is dense, as compared to others AppleInsider has tested. The weight is about the same, but the unit is condensed, taking less desk real estate than the Mantiz or assorted Sonnet units.
The top and bottom vents look to be plastic but are also well made, The body's space grey anodizing matches the MacBook Pro pro quite closely.
The design is reminiscent of the 2013 Mac Pro with an intake vent at the bottom and an single large fan at the top. Unfortunately, also just like it, the eGPU lacks the ability to take an upgrade in the future.
The first eGPU to support Thunderbolt 3 displays
Monitor connectivity is provided by HDMI 2.0 for the most part. While other units have incorporated a pass-through Thunderbolt 3 port, the Blackmagic eGPU is the first to use the port to accelerate a downstream monitor, which we can happily confirm. Neither Apple nor Blackmagic mention native USB-C monitor support so that's something we will be looking into.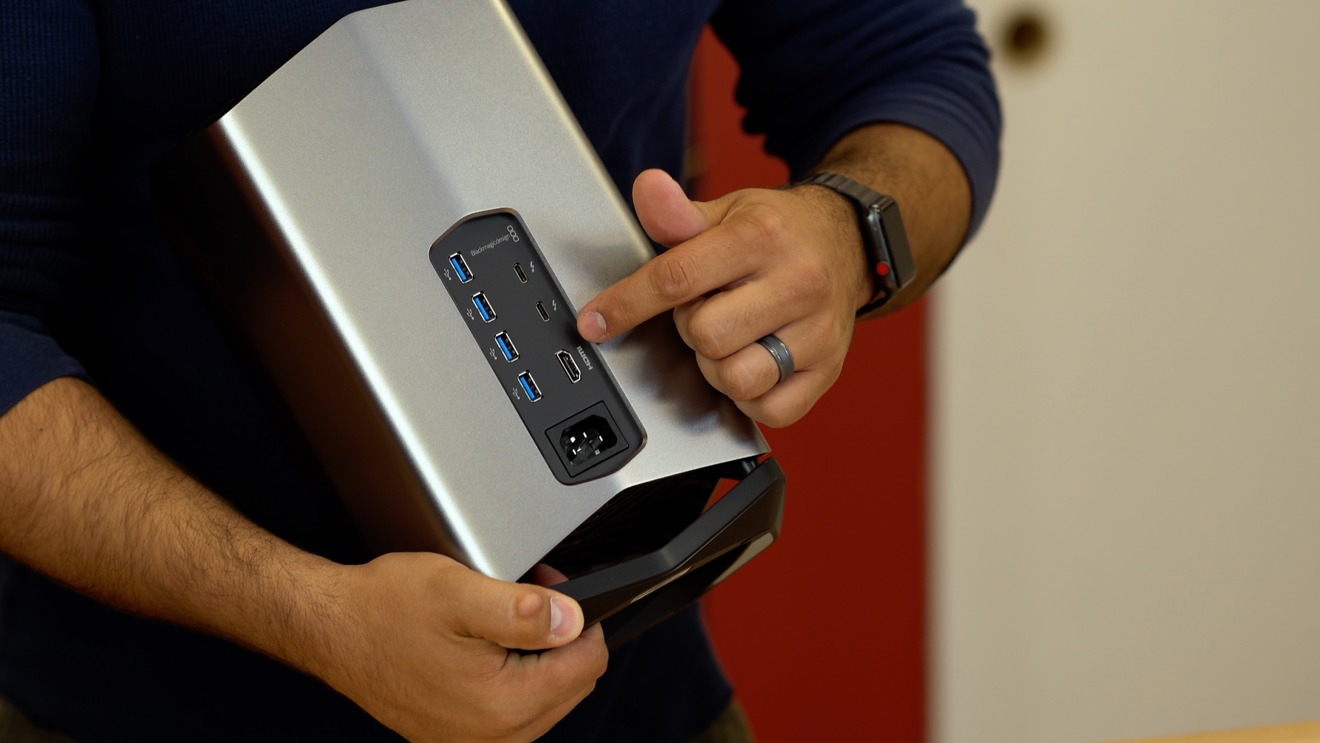 Along with the Thunderbolt 3 ports we have 4 USB 3.1 ports which run at Generation 1 speeds. As such, they are limited to 5Gbps.
One omission is a DisplayPort output, meaning those that have an older display that doesn't have an HDMI port may be out of luck. Active HDMI to DisplayPort adapters can be expensive, and problematic, and the about $90 it costs to get one probably isn't worth the effort.
This is where the differences between USB-C and Thunderbolt 3 come in to play. Thunderbolt 3 is USB-C, but not all USB-C devices are Thunderbolt 3 — so we're not sure yet how USB-C alternate modes which allow for easy monitor connectivity will work with the eGPU.
This all said, We do have a USB-C to DisplayPort cable and adapter on order. If the eGPU will connect to a monitor with a USB-C alternate mode, it will be the saving grace for those that need to connect with anything else than HDMI or Thunderbolt 3.
This thing is quiet!
One of the biggest complaints we've had with the many external graphics enclosures we've reviewed is the noise. Typically, you have a fan for the power supply, one to three fans on the graphics card, and another fan or two for the enclosure which results in a constant drone that doesn't go away, and gets worse when the system is under load.
After plugging the eGPU into our 2018 Macbook Pro and our LG 5K display, we started trying to figure out how to turn it until we realized it was on, and just super quiet. Apple quoted a sound level of only 18dB and they weren't kidding.
Foregoing upgradability and designing the GPU and other components as a coherent whole allowed Blackmagic to use larger heatsinks and a single large fan which keeps everything very quiet, even under load.
As for connectivity, our LG UltraFine 5K display worked flawlessly connected to the Blackmagic Design eGPU. Now a single Thunderbolt 3 cable will allow users to connect to an external display, external graphics, have a mix of USB 3.1 and USB-C ports, and charge a laptop with 85 watts of power coming from the eGPU.
Performance
Launching Geekbench 4, our 2018 13-inch Macbook Pro with Touch Bar with Iris Plus 655 scored 32,991 in the OpenCL compute score. After plugging in the eGPU, and selecting the Radeon Pro 580 inside the device from the menu resulted in a score of 110,507, practically the same score as our top-of-the-line 2017 5K iMac with an internal Radeon RX 580 GPU.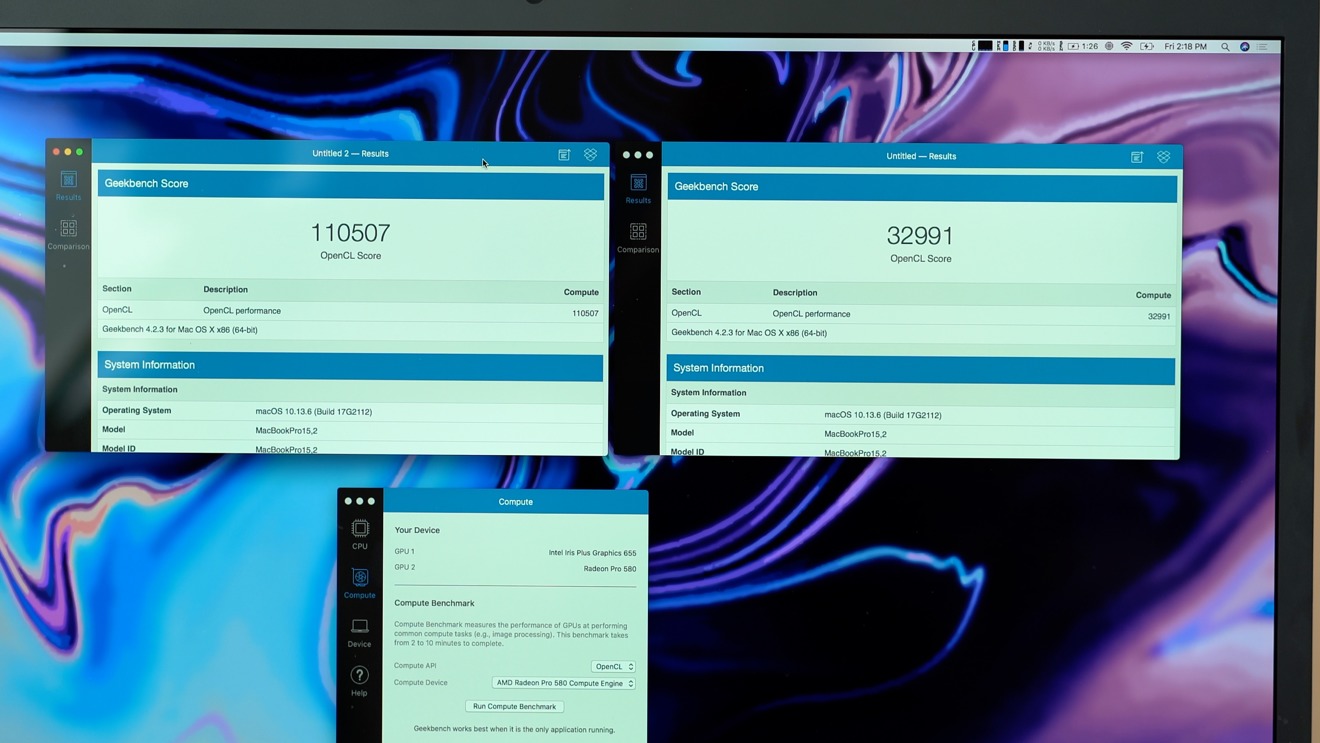 We'll do more testing for the full review.
Having access to a graphics card with this much performance along with the new quad-core CPUs in the 2018 Macbook Pro could mean that some 15-inch Macbook pro users could now downsize to a the smaller model. It would be more convenient when on the go, and there would be a performance gain when at the desk versus using a 15-inch with no eGPU.
This comes at a cost, though. The Blackmagic eGPU is $699. This is $200 more than the current retail price on the Gigabyte eGPU we looked at not all that long ago, for the same performance. The former is quieter, but the latter is yet smaller — but has a power brick, and is much louder.
AppleInsider has been living with eGPUs for some time, and have lived with the noise and size. So, we have a lot more testing to do to see how a setup like this works in the real world, stacks up against other GPUs, and how it fully lines up against a 5K iMac.
Where to buy
The Blackmagic eGPU, which is available only at Apple, sells for $699 with free shipping or in-store pickup.