Apple eats into Android, Samsung marketshare in Q2, study says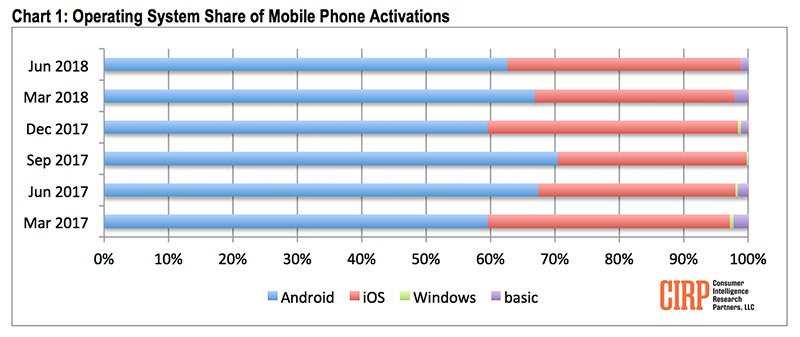 Apple improved its position in the smartphone space during the June quarter, eroding Android's share and equalizing its standing with rival Samsung in the U.S. market, according to new research.
Consumer Intelligence Research Partners found the U.S. smartphone market further consolidated in the quarter ending in June, with iOS improving its take from the year prior. Apple accounted for 36 percent of U.S. activations for the three-month period, compared to 63 percent for Android
"Apple iOS improved its share of activations relative to last quarter and to one year ago," said Josh Lowitz, partner and co-founder of CIRP. "This reverses the trend from a year ago, when Apple's share fell relative to the March 2017 quarter. As we've seen before, consumers have become increasingly loyal to an operating system."
Lowitz sees a bifurcated market, with Android ultimately settling at two-thirds of activations and iOS at one-third.
CIRP based its findings on a poll of 500 people who activated a new phone during the second quarter of 2018.
Apple's share of the market has fluctuated over the preceding quarters, dipping to a low last September before climbing back to an 18-month high in December on the back of seasonal sales.
Apple reported its best holiday quarter ever in February, though iPhone sales were down 1.2 percent year over year, reaching 77.3 million units. The downturn was offset by a sky-high average selling price of $796.42 fueled by a strong performance from the premium priced iPhone X.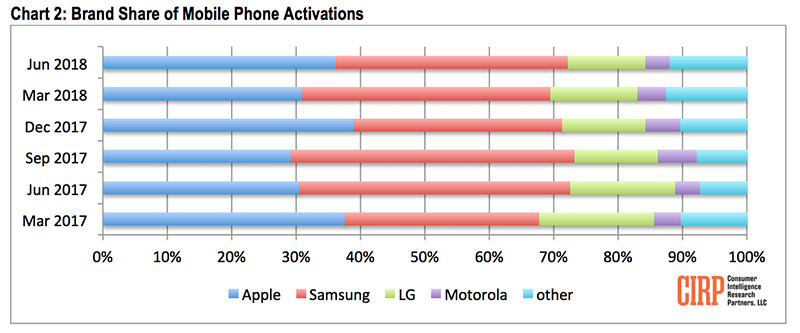 Moving to brand loyalty, Apple increased its share of the U.S. market in the second quarter, ending the period with a 36 percent share of activations. Samsung also garnered 36 percent of the market after taking the lead from iPhone in March.
"Apple improved in part at Samsung's expense, whose share of activiations [sic] declined relative to both last quarter and last year," said Mike Levin, partner and co-founder of CIRP. "In a quarter without any significant phone launches, Samsung had market share only equal to Apple's. A year ago, Samsung had a considerably greater share of sales."
Looking ahead, Lowitz sees a further consolidation of smartphone sales with Apple and Samsung leading the way. Smaller players like LG and Motorola have lost ground over the past year, a trend that is expected to continue in the months ahead.