Analysts bullish on Q4 earnings, see continued strength in Apple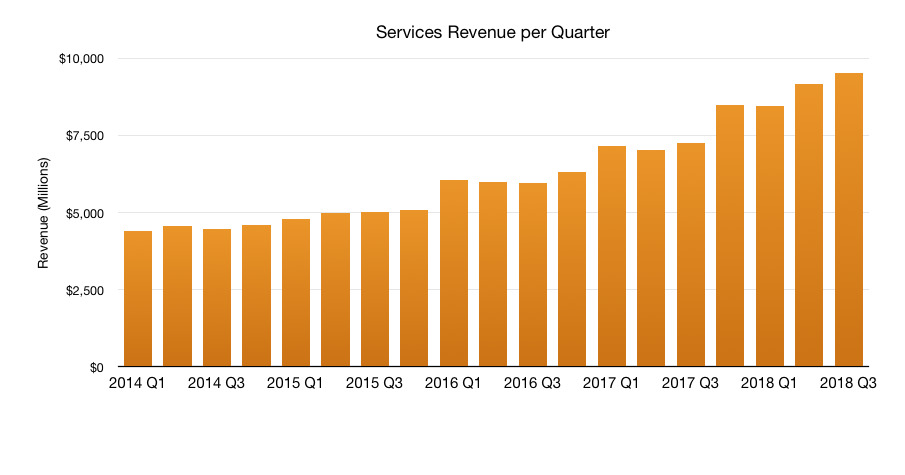 After Apple's quarterly financial announcement trounced expectations in most regards, investors and analysts have weighed in on what's next.
In third quarter earnings released Tuesday, Apple posted quarterly revenue of $53.3 billion- a 17 percent increase over the year before and the fourth consequence quarter of double-digit growth. While iPhone sales of 41.3 million were slightly below estimates, the company's growing services business pulled in revenue of $9.5 billion, which beat analyst expectations. Apple also released a fourth quarter revenue guidance between $60 billion and $62 billion, and declared a cash dividend of $0.73 per share.
After the earnings announcement, Apple analysts weighed in on the numbers and what to look for from the company in the fourth quarter.
"Apple's June quarter results are evidence that the Apple story is moving away from a focus on the iPhone toward a more predictable Services-driven business that returns $25B in capital to investors each quarter," Munster wrote.
"We see Apple's beat+raise once again driven by upside in iPhone ASPs and Services growth, with the first being key to offsetting mature smartphone unit growth and the second to expanding its P/E," Cihra and his associate Amil Patel wrote. "Sep-qtr guide looks strong into an upcoming iPhone refresh that we continue to see coming on time, with larger screen sizes noticeably absent from last year's X launch, and setting up our forecast for at least modest unit re-acceleration just in time for ASP increases that start to anniversary in FY19E."
On services, Guggenheim estimated that the App Store contributed 37 percent of services revenue, followed by Media Content with 17 percent, followed by licensing with 14 percent.
Katy Huberty of Morgan Stanley, had predicted 39.8 million iPhone units sold and 32 percent services growth. She described the earnings in her note as "A Clean Beat on the Path to $1 Trillion," as the company maintained its $232 price target.
"We see more upside than downside risk to the upcoming iPhone product
cycle and a building Services narrative," Huberty wrote, along with associates Erik W Woodring and Elizabeth Elliott. "Even if device revenue growth slows, Services and Wearables can pick up the slack, delivering 7 percent revenue and 21 percent EPS growth annually through CY20."
"We believe Apple will ramp up production of the new LCD iPhone model earlier than expected, and production volume will be larger than the market expects for the September quarter," Zhang wrote. "We are raising our price target to $200 due to solid iPhone shipments, strong service revenue growth, and other new product ramping, including the iPad Pro and new wearables."
Macquarie Research's Ben Schachter described the results as "another quarter of solid, and most importantly, diversified growth.
"There is less clarity in growth drivers for Services, but we think many businesses embedded in Services are doing well, including App Store, Apple Care, Google revs, Music, Subscriptions, Cloud, Apple Pay, and others. While the Google lift will likely end next qtr, we expect Services can continue to grow well into double digits for the foreseeable future and think AAPL's goal to double FY'16 Services revs by FY20 may come to pass almost a year early," Schachter wrote, affirming his "outperform" rating.
The analyst did express concern, however, that Amazon may take another run at the smartphone business, "with a Prime related offering that MIGHT be disruptive." The Amazon Fire Phone was a notorious flop when it was released in 2014, and Amazon dropped the product before ever making a second one.
"The bottom line is that AAPL continues to deliver," he wrote. "The company is positioning its focus on privacy as a key positive differentiator. Cook's comments about cord-cutting highlight that AAPL's content play is coming and is not in anyone's numbers yet."
Daniel Ives of GBH Insights titled his note Apple Delivers Solid Results/Guidance as a Trillion Dollar Valuation is Now on the Near-Term Horizon.
"To this point, the "star of the show" was better than expected FY4Q/September guidance which will be the focus of investors digesting results and a clear feather in the cap for the bulls as Apple's valuation marches towards the elusive trillion-dollar market cap club," Ives wrote.
AppleInsider has affiliate partnerships and may earn commission on products purchased through affiliate links. These partnerships do not influence our editorial content.