Apple supplier earnings suggest TrueDepth coming to three new iPhone models in 2018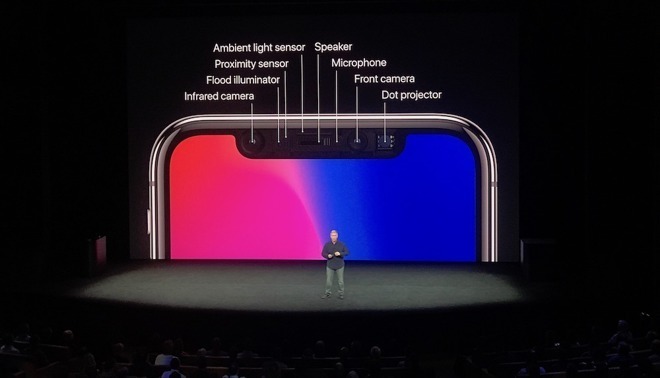 AppleInsider may earn an affiliate commission on purchases made through links on our site.
Apple TrueDepth parts supplier Lumentum reported better than expected results for the June quarter, with anticipated order volume suggesting the depth-sensing camera system will arrive on three new iPhone models this year, according to analyst predictions.
In an earnings report this week, Lumentum, which furnishes the lion's share of vertical cavity surface emitting laser (VCSEL) modules used to power Apple's TrueDepth camera array on iPhone X, noted an end-of-quarter ramp in 3D sensing component shipments to key customers.
According to analyst Gene Munster of Loup Ventures, the higher shipping volumes, paired with an expected acceleration of orders set to play out over the coming two quarters, bodes well for Apple's product pipeline.
For the just ended quarter, Lumentum posted revenues of $301 million, beating Wall Street expectations of $287 million. Of the $301 million figure, 3D sensing revenues, a figure tied to VCSEL production, contributed between $60 million to 65 million. While "compressed" due to seasonality, 3D sensing numbers are anticipated to pick up significantly in the second half of 2018 as Apple refreshes its iPhone lineup.
Munster believes Lumentum's earlier than expected ramp in VCSEL arrays hints at future iPhone model specifications. In particular, accelerated order volume suggests Apple plans to incorporate TrueDepth into three distinct products this year.
"Given the sooner than expected ramp in VCSEL arrays, we believe this fall, Apple will have 3 (including iPhone X) iPhone models with the VCSEL laser," Munster said. "Furthermore, Lumentum results suggest current iPhone X demand is healthy."
Apple is widely rumored to offer three handset formats for 2018. Alongside a refreshed 5.8-inch iPhone X, the company is anticipated to field a larger 6.5-inch OLED variant and a mid-tier model with 6.1-inch LCD screen. Each of the new smartphones are believed to include Face ID functionality, a biometric authentication feature powered by Apple's TrueDepth camera array. The advanced depth-sensing technology also powers augmented reality features built on Apple's ARKit framework.
In addition to iPhone, Munster believes Apple is looking to integrate TrueDepth into other product lines like iPad. Reports have suggested TrueDepth and Face ID will show up in the next-generation iPad Pro lineup, replacing the home button to free up valuable space for a thin bezel design and edge-to-edge display. A similar design was seemingly revealed in iconography found in Apple's latest iOS 12 beta release.