Apple has big ambitions in expanding vital sign monitoring, continuing hiring spree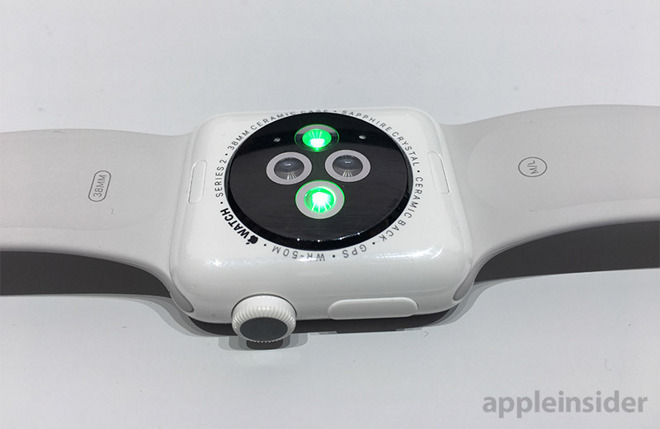 Media lit up on Tuesday afternoon following a speculative report that Apple was starting work on a new chip to facilitate user health data collection. But the project is neither new, nor particularly surprising.
The report, published by CNBC cites recent job postings by Apple, and attempts to glean future product specifics from the listings. Three listings are specified by the publication, and are claimed to point to a new chip family developed in-house.
"We are looking for sensor ASIC architects to help develop ASICs for new sensors and sensing systems for future Apple products," says the July 10 job posting cited by CNBC. "We have openings for analog as well as digital ASIC architects."
Other listings that are cited by the report are equally vague, and are looking for engineers to "develop health, wellness, and fitness sensors."
Apple's heart rate sensor on the Apple Watch is presently optical, and it isn't a big leap of faith to assume that Apple wants to evolve not just the sensor, but the silicon controlling and interpreting that data, in future products.
Not a big surprise
Apple has invested heavily in the Apple Watch, and healthcare initiatives surrounding it.
In 2014, Apple patented headphones loaded with sensors, many optical, to keep tabs on a user's health. To fulfill that goal, the company hired Marcelo Malini Lamego that same year, an expert on optical monitoring of the user's blood stream.
Lamego's work prior to being hired at Apple measured total hemoglobin, oxygen content, carboxyhemoglobin, methemoglobin, and much more in optical, non-invasive sensors. As designed, The "Rainbow Technology" platform uses more than seven wavelengths of light to acquire blood constituent data based on light absorption.
The same concept popped up with the AirPods in a filing from 2017. Both the 2017 and 2014 filings point to a much longer term effort to enhance healthcare data collection, and certainly not a newly spawned effort.
At present, there is a Broadcom chip bridging the sensor in the Apple Watch. it is only logical that Apple would seek its own silicon to control this, in much the same way it developed its own GPU for the iPhone and iPad, may move to its own power controllers, and might even shove out Intel on the Mac.
Apple has had calls out for ASIC designers nearly constantly for the last decade, so Apple looking for a chip designer is neither new, nor particularly noteworthy. It has also been seeking, and hiring, experts in healthcare for over a decade, more so since 2012.
So, it is possible, and even likely, that Apple is indeed working on its own chip to enhance user vital signs collection. But, the effort has likely been going on for some time, in much the same way that the W1 chip had been in the works for years prior to being unveiled in the AirPods.