Testing an AMD WX 9100 eGPU with the 15-inch i9 MacBook Pro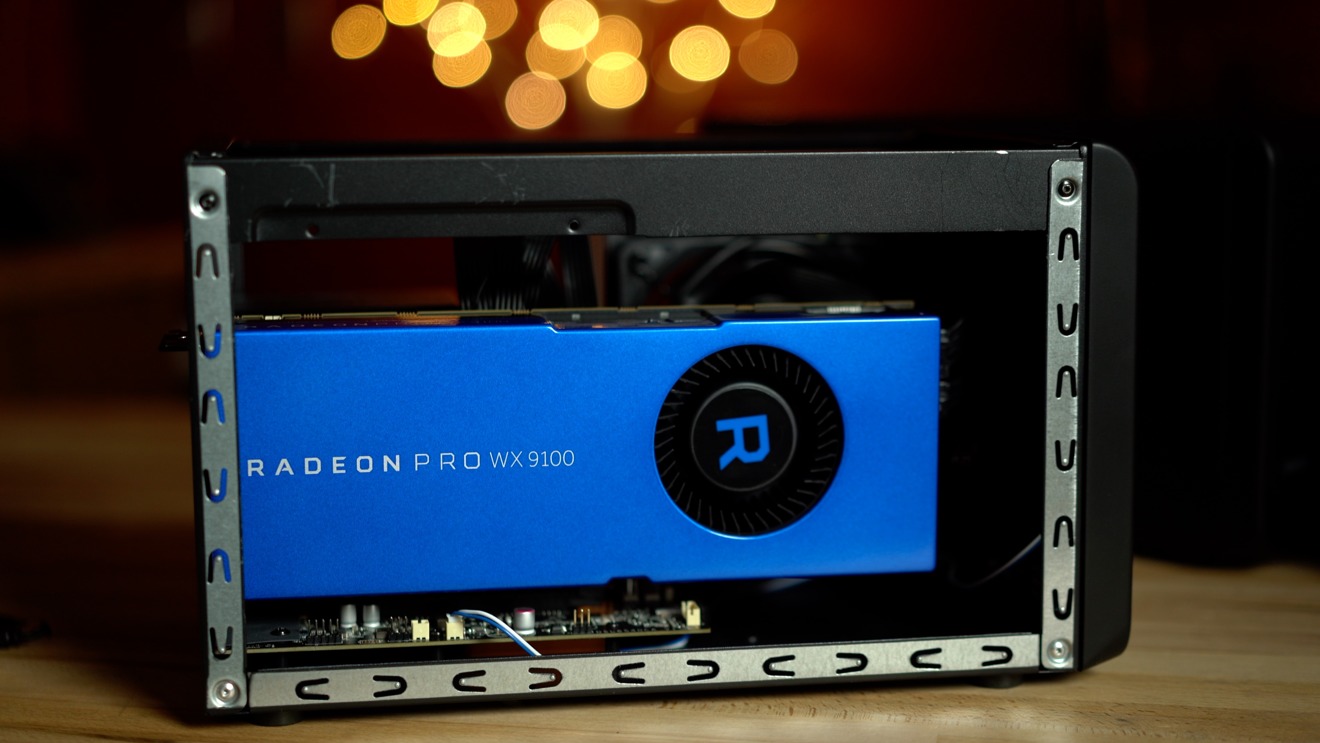 Apple's eGPU support extends beyond consumer-grade cards. AppleInsider takes a look at the AMD Radeon Pro WX 9100 GPU workstation card, inside a Sonnet eGFX 650 Breakaway Box.
The WX 9100 is a high-end professional workstation card that supports ECC memory is intended for large computing jobs or a high volume of them in a zero-fault environment.
To support this goal, the WX 9100 comes with 16GB of HBM2 memory, 4096 stream processors and is based on AMD's latest 12nm Vega architecture. For outputs, the card has six Mini-DisplayPort 1.4 connections supporting 10-bit output.
All of these features add to a graphics card costing $1500 which will definitely seem high for the consumer market, now that the BitCoin squeeze on pricing is over. But, to those needing that kind of computational heft, it's not a bad buy even when you add the eGPU enclosure.
We'll be comparing the WX 9100 and Sonnet combo to the best graphics card available in our 2018 15-inch i9 MacBook Pro, the 4GB Radeon Pro 560X. We'll also be connecting that machine to the AMD 580 Pro Blackmagic eGPU which houses a Radeon Pro 580 graphics chip with 8GB of memory.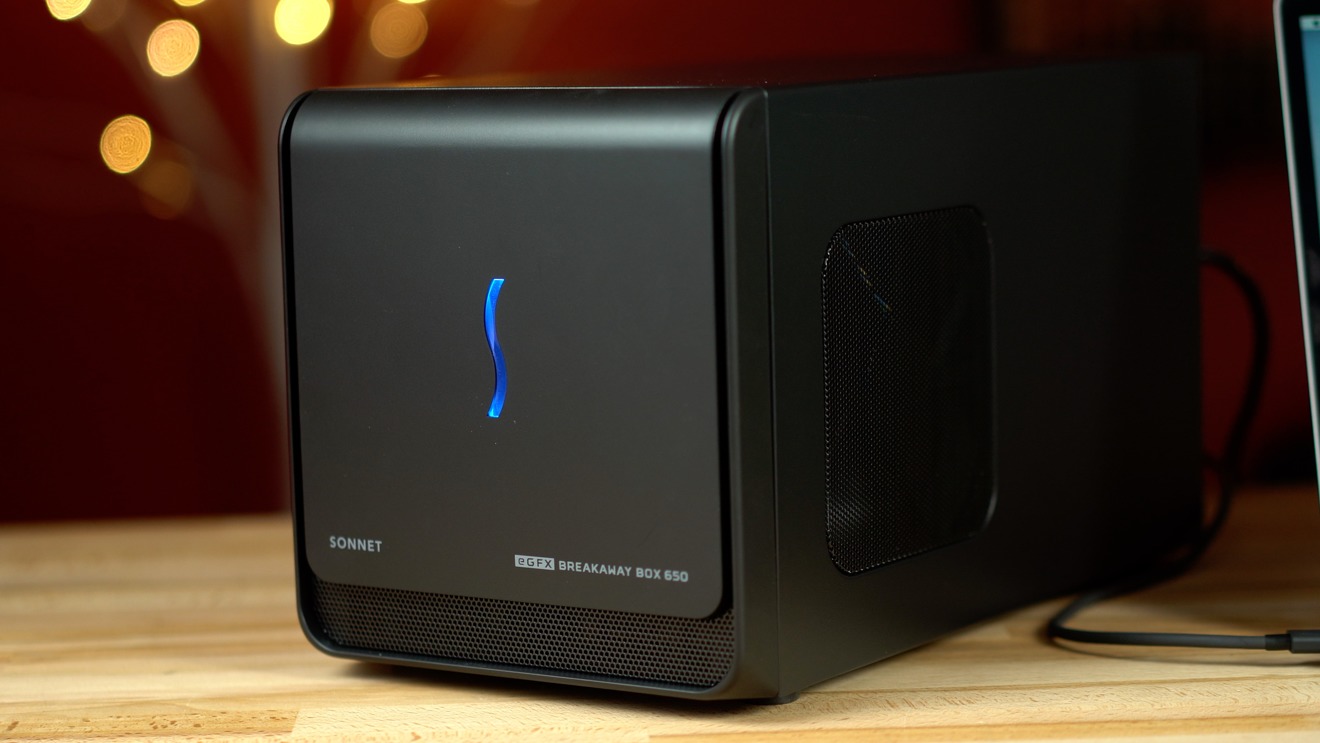 We used the Set-eGPU script to force all applications to use the eGPU, but this shouldn't be required with MacOS Mojave.
Starting off with Geekbench 4's OpenCL test, the WX 9100 scored more than double that of our MacBooks internal graphics and a bit higher than Blackmagic's unit.
Doing a quick benchmark run in Unigine's Heaven benchmark which tests gaming graphics performance, the WX 9100 once again performs more than twice as good as the 560X and about 45% faster than the Blackmagic eGPU.
MacBook Pro 560X
Blackmagic 580 eGPU
WX 9100 eGPU
Unigine Heaven FPS
21.1
36.3
51.6
GB4 OpenCL
52,499
110,423
131,102
Moving on to video editing tasks, we first ran the Bruce X benchmark for Final Cut Pro which mostly taxes the graphics cards.
Running the Final Cut X stabilization filter on a 20-second 4K video clip, the WX 9100 eGPU performed the task in just 7 seconds, compared to 13 with both the integrated 560X and Blackmagic's eGPU.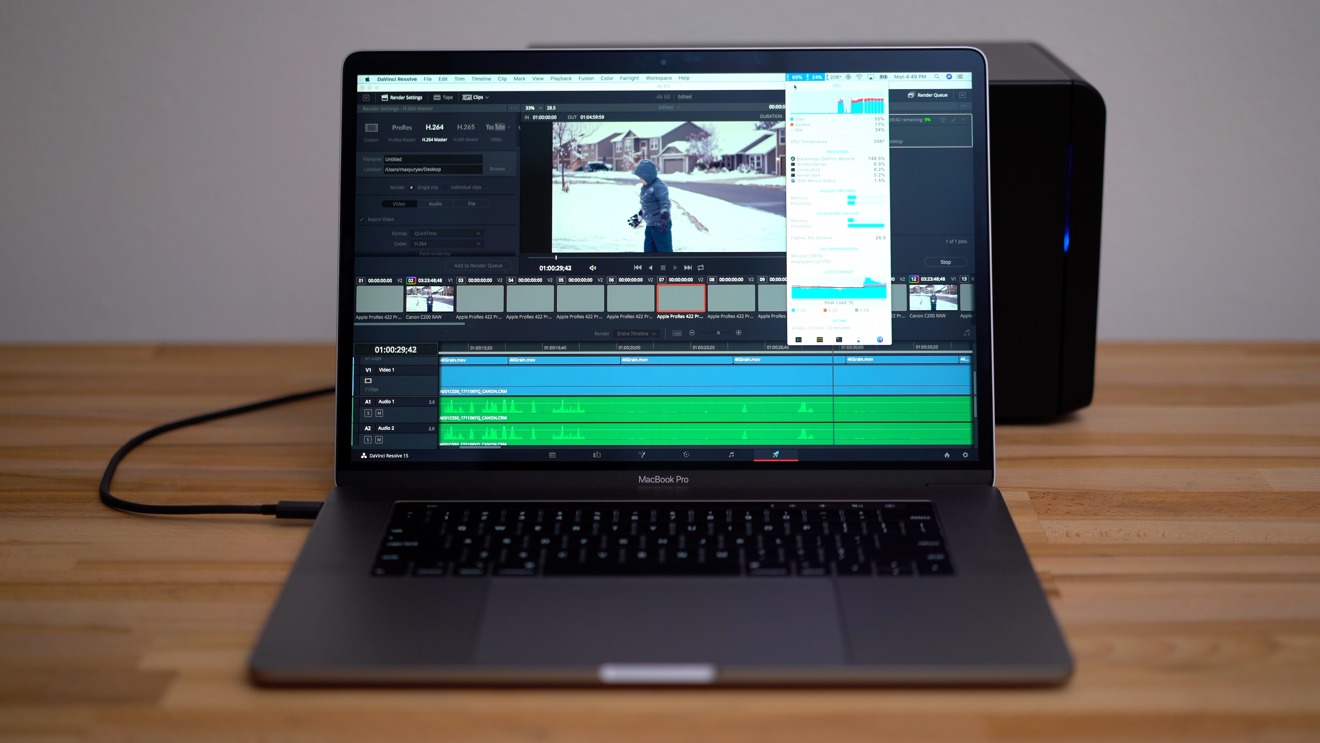 In Davinci Resolve, this task went from 28 seconds to 17 seconds with Black Magics eGPU and then to 14 seconds.
MacBook Pro 560X
Blackmagic 580 eGPU
WX 9100 eGPU
FCX Stabilization
0:13
0:13
0:07
Bruce X - FCX
0:46
0:30
0:22
We do video editing tasks daily, obviously — a task that many are looking to improve with an eGPU. Starting with rendering a 5 minute 4K project using standard h.264 footage with color correction and effects, we didn't see any improvement in Final Cut X, with the Blackmagic eGPU actually slowing it down.
We suspect that the highest-end graphics available in the 2018 15-inch MacBook Pro is already fast enough at rendering this footage with effects to the point that CPU isn't limited. On top of that, there is some bandwidth constraints made worse by having to send the data through Thunderbolt 3 not only to the GPU to be rendered, but also back to our software.
MacBook Pro 560X
Blackmagic 580 eGPU
WX 9100 eGPU
H.264 4K - Resolve
4:53
5:56
8:24
H.264 4K - FCX
3:44
4:06
3:46
As we move on to much tougher codecs like Canon Cinema RAW Lite where internal graphics are a huge bottleneck, we see some major improvement even with a short one-minute timeline. Not only did our render go from almost four times longer than the project itself to less than half that time, but our timeline performance went from and unusable 20 frames per second, to 55 frames per second which is a massive improvement.
In Davinci Resolve, we went from 20 minutes with the internal 560X, to 15 minutes with the Blackmagic eGPU, and just 8 minutes with the WX 9100.
MacBook Pro 560X
Blackmagic 580 eGPU
WX 9100 eGPU
FCX Playback FPS
20
36
55
Canon 4K 60 RAW - FCX
3:42
2:17
1:41
Taking a look at a 1 minute 4.5K RED RAW project with color correction and effects, we don't see much change in Final Cut Pro because our CPU is the bottleneck. Davinci Resolve uses the graphics cards more so we see about 60 percent faster speeds with the WX 9100.
Applying noise reduction is often needed with RAW footage, and it usually makes anything but the highest end computers like a higher spec iMac Pro choke. With temporal noise reduction added in Resolve, our WX 9100 finished the job in nearly one-third of the time than the 560X and the timeline had very few dropped frames making it workable where the MacBook wasn't.
MacBook Pro 560X
Blackmagic 580 eGPU
WX 9100 eGPU
4.5K Red RAW - Resolve
1:14
1:19
0:46
4.5K Red RAW - FCX
2:22
2:18
2:05
To finish off this first round of testing, we used Blender to test the 3D Rendering capabilities of the Radeon Pro WX 9100 vs the internal Radeon Pro 560X. We used the 1225 BMW test Project available on Blender's website and used the graphics cards to render. Here, the WX 9100 completed the task at just 5 minutes vs close to 27 minutes on the MacBook Pro alone.
| | | |
| --- | --- | --- |
| Blender BMW GPU Render (1225) | 26:48 | 5:02 |
In Conclusion, the WX 9100 is a very powerful card that can greatly speed some professional tasks. On top of that, tasks that require dual precision GPU's and ECC memory are now possible, without purchasing a dedicated workstation computer capable of this.
We at AppleInsider are very excited about the possibilities that eGPU's offer and are looking forward to even better support in MacOS Mojave.
Where to buy
AMD's Radeon Pro WX 9100 Graphics Card is currently available from third-party sellers on Amazon for $1,449.99. B&H also has the video card in stock for $1,499.99 with free expedited shipping and no tax collected outside New York and New Jersey*.