Apple buys AR headset lens maker Akonia Holographics, fuels 'Apple Glasses' rumors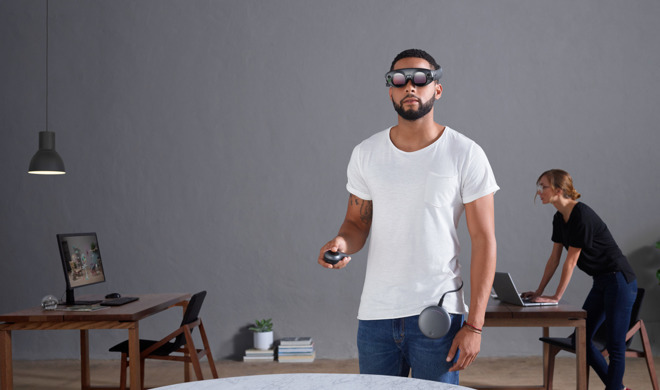 Apple on Wednesday confirmed the purchase of Colorado-based Akonia Holographics, a startup focused on the development and production of specialized lenses used in augmented reality headsets.
"Apple buys smaller companies from time to time, and we generally don't discuss our purpose or plans," Apple said in a statement.
According to an AR industry executive, the team at Akonia became "very quiet" over the past six months, suggesting Apple completed the purchase sometime this year.
Founded in 2012, Akonia's initial goal was to develop holographic data storage solutions, but the firm quickly transitioned to making displays for AR glasses. The company's flagship product, called HoloMirror, uses "proprietary volume holographic media and know-how to uniquely enable thin, transparent smart glass lenses that display vibrant, full-color, wide field-of-view images," according to its website.
Akonia claims its technology "will revolutionize" the smart glass display industry, offering manufacturers "ultra-clear, full-color performance" in thin and light headsets. Unlike similar solutions from the likes of Magic Leap, which use waveguides to funnel graphical information to multiple display planes positioned in front of a user's eyes, HoloMirror utilizes a single layer of media. The method not only reduces system complexity, but allows for integration into small form factors like common glasses.
The company holds a cache of more than 200 patents relating to holographic systems and materials, though it is not clear how many cover AR wearables.
Perhaps more importantly, Akonia says it "defined the technology" that will pave the way for improvements including greater field-of-view. In respect to AR, FOV is a key ingredient in AR immersion. Using a low-FOV AR device overlays computer generated graphics atop real-world objects, but the illusion ends abruptly at the edges of each display. High-FOV devices are, ostensibly, more immersive, extending the CGI field to the outer reaches of a user's vision.
The acquisition provides insight into Apple's rumored "Apple Glasses," an in-house designed AR headset expected to ship in the next few years. A report last year claimed the tech giant is developing its own display and processor for the project, a route expected to require substantial assets in both hardware and software engineering.
Reports earlier this year claim the device, referred to internally as "T288," currently employs ultra high-resolution 8K displays and a separate processing unit to overlay virtual images over real-world objects present in a user's field of vision. If Apple intends to slim down the package and release it as an aesthetically appealing product, said displays would necessitate extremely thin and transparent lenses. Akonia's technology could provide such a solution.